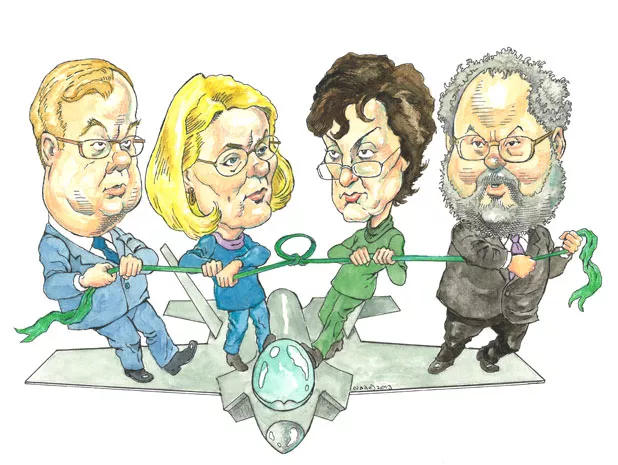 From the outside, a pair of lively city council races in South Burlington might appear to be a referendum on the local basing of the F-35 fighter jet.
The divisions between the candidates are clear-cut. Incumbents Paul Engels and Sandy Dooley both voted against the "bed-down," while challengers Patricia Nowak and Chris Shaw are in favor of bringing the new warplane to Vermont's largest airport, which is owned and operated by the city of Burlington within the geographic borders of neighboring South Burlington. Engels, a 65-year-old retiree who is seeking a second two-year term on the council, suggests that the March 5 election "could turn" on how voters feel about the noise of the jets and their purported preservation of hundreds of Vermont Air Guard jobs.
But Nowak, a 67-year-old investment adviser who is running against Engels, views the plane as only one issue among several that will determine the outcome of the two intensely contested races.
Shaw, a South Burlington civic activist vying with Dooley for a three-year seat, laughs loudly in reaction to Engels' assessment of the election. Shaw claims few South Burlingtonians are focused on the plane. While a significant amount of money is being spent in the council campaigns, neither pro- nor anti-F-35 groups are writing checks.
In Shaw's view, the Town Meeting Day showdown will be "a referendum on the performance of the current city council." He sees last year's 4-1 vote against the F-35 as one element of the council's thoroughly objectionable record.
If Shaw and Nowak win their races, the city council will likely take on a sharply different political complexion. That 4-1 majority against the F-35, for example, would become a 3-2 majority in favor of the plane.
Shaw and Nowak, who are running as a team, also criticize their respective opponents for supporting a local development freeze and for their handling of both a proposed addition to the Cairns Recreation Arena and the city's relations with the National Gardening Association. The insurgents cite the recent ouster of City Manager Sandy Miller as another example of the tumult they associate with a council that, in Nowak's words, "can't get much of anything right."
Longtime city resident Lisa Ventriss, president of the Vermont Business Roundtable, agrees. "The business community in South Burlington is interested in a lot more than the F-35," says Ventriss. As a supporter of Nowak and Shaw, she cites the range of issues being raised by the challengers, along with their contention that the council behaves arrogantly in its decision-making process.
"There's a way to address contentious issues without being so antisocial," Ventriss declares.
The two incumbents acknowledge that the city mismanaged a local benefactor's offer to build a $1.8 million link between two buildings at Cairns. Dooley and Engels also say they regret the breakdown of lease negotiations that has led the National Gardening Association to move from Wheeler Nature Park on Dorset Street to a building in Williston.
Both black eyes were inflicted in behind-the-scenes battles that featured former manager Miller as a central combatant, according to Dooley and Engels. They both admit the council did not vet Miller adequately when it hired him in 2010. But Engels, who made the motion earlier this month to fire Miller, points out that he was not on the council at the time of Miller's hiring.
Dooley and Engels add that the council is seeking to soothe relations with the private association that runs Cairns so that the addition can be built. And Dooley says she has written to the gardening association asking it to reconsider its move.
But their challengers are using both flaps to put the incumbents on the defensive — and in money-raising mode. Engels says he's already put $1300 into the race in contrast to "about $60" he spent on his council campaign two years ago.
In their attacks on the incumbents, Nowak and Shaw emphasize the council's process as much as its products. At times, their complaints seem to be based more on political aesthetics than on substance.
"They've polarized this community," Nowak declares in regard to the council's majority. In shared full-page ads running in South Burlington's Other Paper, she and Shaw promise "a thoughtful process and a civil and respectful approach to city government." Nowak says current councilors are often rude to residents who take dissenting positions at public hearings. "They just don't listen to the community's voices," she says.
Engels sees it differently. "They don't like the decisions we've made," he says of Shaw and Nowak. "When they say voices aren't being heard, they mean the council isn't doing what they want."
Shaw and Nowak are representative of a South Burlington "old guard" aligned closely with developers and other business interests, Engels says. He sees the council majority as a "progressive" formation that is acting on behalf of the majority of residents. Engels likens South Burlington of 2013 to Burlington in the early 1980s. He equates council chair Rosanne Greco with then-insurgent mayor Bernie Sanders and depicts himself and Dooley as similar to the first Progressive Burlington councilors who went to war against unresponsive politicians who had fallen out of touch with a changing constituency.
Dooley doesn't fully endorse Engels' analogy, but the retired social worker declares, "I'd never shrink from being called a progressive."
Engels says today's South Burlington electorate is significantly more liberal than it was 20 years ago. The city's four representatives in the Vermont House are all Democrats, and South Burlington voters gave Barack Obama a 70 percent majority in November. Engels himself won a seat on the council two years ago by a 1234-758 margin. Council chair Greco was elected at the same time with the same number of votes as Engels.
Engels says his opponent campaigned for Republican presidential candidate Mitt Romney. Nowak refuses to say whether she considers herself a Republican, saying "this election isn't about partisan politics." In 2006 however, Nowak donated $200 to congressional candidate Martha Rainville, according to federal fundraising records.
But many of the 2000-plus South Burlingtonians expected to vote on Town Meeting Day are likely unaware of Nowak's political affiliations, says a locally elected official who does not want to be named in connection with the council showdowns. "That's not the sort of thing that has much influence on these kinds of races," this official says. "It's much more about nitty-gritty stuff that wears no labels."
Shaw, for his part, is a Democrat who rejects the portrayal of the council races as a struggle between left and right. South Burlington races are nonpartisan; candidates do not run with party designations. Shaw, a 56-year-old Stern Center teacher and former chair of the South Burlington Planning Commission, says it's "unfortunate" that partisan ideology is being introduced into the campaigns.
Shaw lost by two votes in his race last year for a two-year council seat. The winner of that contest was Pam Mackenzie, who is now buying ads in the Other Paper to help elect Shaw — her former opponent. Mackenzie, the CEO of the locally headquartered DeckerZinn management consulting firm, says she has so far spent $1300 on behalf of Shaw and Nowak and plans to spend more.
Council members, all of whom are elected on a citywide basis, "need to be representing the entire community," says Mackenzie, who cast the lone vote last year in favor of the F-35 bed-down. "They need to be listening to all voices. They need to be civil and respectful."
Anti-incumbent attention is also being directed to the council's decision to impose a two-year freeze on development. This initiative, referred to as interim zoning, does allow construction to occur in the city's industrial and technology parks, but bars housing development not already in the pipeline unless approved following a special council hearing. The council has approved nine out of 12 housing developments it has considered.
The objective of interim zoning, Engels says, is "to get a grip on what's been happening here in terms of development." The two-year timeout is meant to enable local officials to chart a direction that "will make South Burlington a more livable place for all its residents," Engels adds.
Four interim zoning study groups are focused on a citywide zone change that would encourage mixed-use development, preservation of the city's open spaces, encouragement of sustainable agriculture, and development of affordable housing. Dooley observes that about 100 residents have gotten involved in these committees, each of which is supposed to produce a study. But Nowak complains that others have been excluded because of their views, while Shaw argues that the council's interim zoning action is "too broad" and will prove "too costly." The studies could require $300,000 or more to be carried out.
Some local developers strongly oppose interim zoning. Nowak says that by alienating them, Engels and other supporters of the freeze have made it less likely those interests will want to build affordable housing or the ambitious and long-planned City Center project that would give South Burlington a downtown.
Engels responds that he works with developers on the study group that is formulating a mixed-use, pedestrian-oriented blueprint for City Center and all of South Burlington. "They like me," Engels says of builders such as Ernie Pomerleau. "They respect me."
South Burlingtonians can decide for themselves at a 7 p.m. debate featuring all four candidates on Wednesday, February 20, at South Burlington High School.