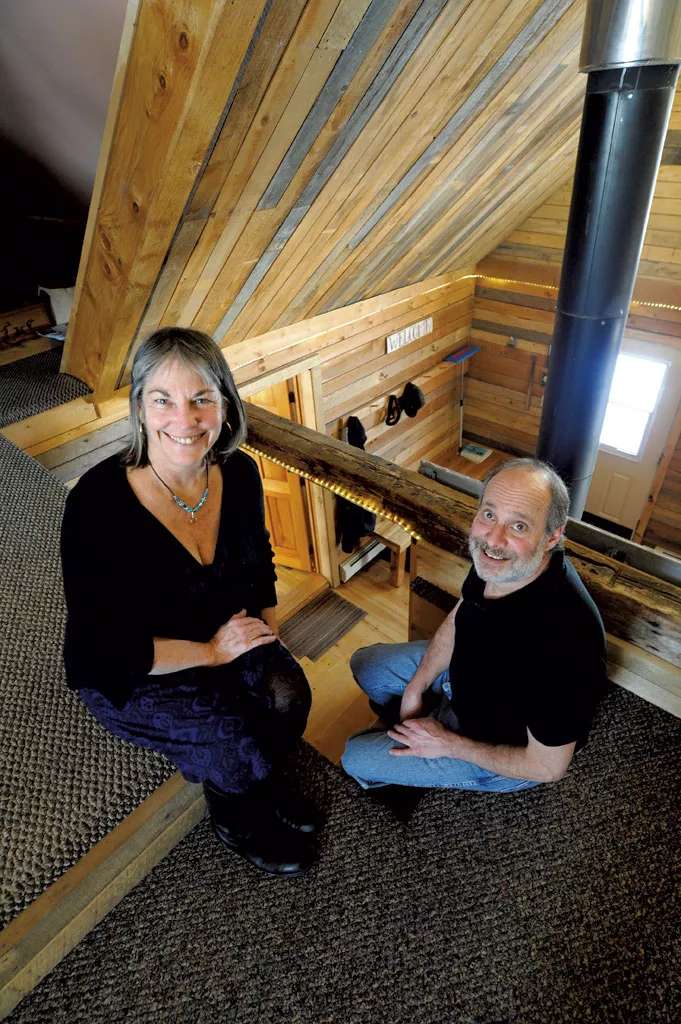 Jeb Wallace-Brodeur
Cathie and Israel Helfand
When a sexually stressed couple shows up at the Cabot homestead of Dr. Israel and Cathie Helfand, typically one of the pair is planning to leave the relationship. It's not uncommon for that one to have a lover waiting in the wings for the union to tank, and to assume that couples' therapy is just a way to let his or her partner down easy.
But often, much to their surprise, that couple leaves the Helfands' Sexploration Retreat having rekindled their frigid sex life and saved the marriage. In fact, the Helfands say they have an 80 percent success rate with their intensive, three-day couples' sex-therapy program. That's impressive, given that they often deal with spouses who have bigger problems than just wanting to "spice things up."
After more than 25 years in practice, the Helfands have pretty much seen it all. They deal with the garden-variety sexual dysfunctions — sagging sex drive, erectile difficulties, performance anxiety, trouble achieving orgasm — as well as more complex issues, such as a bisexual spouse, the desire for a sexually "open" relationship or an interest in bizarre sexual practices.
Evidently, the Helfands are pros at treating them. Many of their clients travel from as far away as India; just last week, one couple flew in from Bali. Couples have come from Texas, California and British Columbia. Some are celebrities, including entertainers and professional athletes. Others are individuals at the top of their careers — CEOs, doctors, therapists. The Helfands also see a lot of Southern Baptists and other fundamentalist Christians, they say, especially ministers. Why?
"That's easy," Israel Helfand explains. "They want to work with me because they know I'm Jewish and I won't be judgmental."
The Helfands' "sexpert" consultations don't come cheap — Israel will only say the three-day workshop runs "many thousands of dollars." But to their clients, the advice can be invaluable in saving marriages that have been given up for dead.
Israel and Cathie Helfand offer Seven Days some unconventional insights about couples' sexuality, including their thoughts on the fragile male libido, the reason spouses cheat and why so many women masturbate to "The Daily Show."
SEVEN DAYS: What causes most sexual dysfunction in relationships?
ISRAEL HELFAND: Ninety percent of all the mishegas [craziness] in relationships comes from family of origin, culture, religion and background. Only 10 percent is born out of the relationship itself. When couples come in complaining about their relationship, what they're not understanding is that they brought this problem into the relationship.
SD: You got started together in sex therapy in the 1970s, when open relationships were big. What's your take on them now?
CATHIE HELFAND: For the majority of couples, it doesn't work. There are some couples who are polyamorous and it works for them. But the typical scenario is, the guy says, "C'mon honey. Let's do this. It'll spice up our life." So she says, "OK," and ends up falling in love with one of the people they're fooling around with, and then there's no turning back. It's a Pandora's box.
SD: Do you ever come out of the three-day retreat and tell a couple they're just not sexually compatible?
IH: I'm usually there by the second day. I don't wait until the third. Compatibility tends to be a big issue. So in interviews, I ask couples: "When you started having sex, were you attracted to each other's tastes and smells?" That's the biggest compatibility issue. The only thing that skews that answer is if the woman is on the birth-control pill, because that changes her pheromones. It changes both how she tastes and smells as well as what she finds attractive in others' tastes and smells.
SD: Woody Allen once said, "Men learn to love the woman they are attracted to. Women learn to become attracted to the man they fall in love with."
CH: I disagree. I think there needs to be attraction first in order to endure a life. People are living to be 80, 90, 100 years old. If the marriage is going to last 50 or 60 years, there needs to be sexual chemistry. And I'm not even talking about how good the sex is. There has to be chemical attraction, because you can't make that up. It's one reason people have affairs. They married their best friend, someone they really liked; they had a lot in common and they travel well together. But all of a sudden he's on a business trip, someone catches his eye and he can't get her out of his mind.
IH: Sometimes, affairs happen as a way of trying to save the marriage. I can't tell you how often I've said that and seen the tears roll down someone's face. They'll say to me, "I get everything else from my spouse that I want. The only area that's not satisfying is the sex, so I got that elsewhere."
SD: What do you tell them?
IH: After I vindicate them a bit and say they're not alone, that's when we have to go into what is the core erotic theme in their life that they don't know and haven't shared with their spouse. We fall in love because of the things we see and like in each other. That's obvious. But what you might not know is, what really cinches the deal in making the decision is not just the attraction to the traits and attributes we like. It's the areas that feel familiar that we don't particularly like but that are familiar because we've lived through them in our family of origin. That's why, when marriage is done properly, it can heal our childhood wounds.
SD: How so?
IH: Core erotic themes come from childhood experiences, and, more often than not, from traumatic childhood experiences. So, if it's the guy who jerks off in the public restroom, chances are good that he has a story that goes something like this: "When I was 12 years old and started to masturbate, I grew up in a strongly ethnic family and my father never thought he should knock on doors because he thought the house was his domain. And I would sneak a magazine into the shop to masturbate, but I was always vigilant that any moment someone might walk in." So this guy began to set up a stimulus response of being hypervigilant, feeling the excitement of getting caught tied to his masturbation ritual. Something as simple as that translates into him later in life trying to recreate that excitement of getting caught.
SD: After 25 years, have you discovered any fundamental differences between the ways men and women think about sex?
CH: Obviously, there's the stereotypical belief that women need to feel emotionally safe before they open up sexually. I don't know for what percentage of women that's true, because so much crosses gender and cultural lines. But I do think most people assume you have to have emotional intimacy.
IH: Research shows that in almost 100 percent of all sexless marriages — defined today as intercourse less than six times a year — it's the man's decision, not the woman's.
SD: Why?
IH: Because men are more sensitive than women when it comes to sex, and here's why. Men's sexual organs are outside their body, so they can't fake being aroused. Either they have a boner or they don't. A woman can fake it. A woman can slap a little oil on and you'd think she has a puddle in her pants. Men tend to be more emotionally vulnerable because there's that performance anxiety, which women don't experience in the same way. On top of the actual performance, if men don't feel desired, that registers negatively on the peter meter.
SD: Are there gender differences when it comes to extramarital affairs?
IH: This is a generality, but men tend to externalize them. They'll say, "Well, of course I had an affair because I'm not getting it at home. She's a beautiful woman and came on to me. What do you expect? I'm just a guy!" Whereas, women tend to internalize it and blame themselves. They'll say, "I was weak. I was lonely. I was horny."
SD: Your website says you treat chronic masturbation. Doesn't that define most of the male population?
IH: It does. It becomes a pathology in the relationship when it interferes with your work and you're getting fired because of it. You might be masturbating three times a day, but that's normal because you're 25 years old and need to masturbate three times a day. But if you're married and you're masturbating three times a day and don't have the stamina to have sex with your wife, that's a problem.
SD: Are there behaviors you come across that still surprise or shock you?
IH: One of the things I still can't get used to is people who get turned on by piercing and blood, women who like to have needles through their nipples. That still tweaks me out.
CH: This was about 10 years ago. We had this man who was called an adult baby, somebody who wears diapers. He wanted his wife to change his diaper for him. He claimed there was no sexual turn-on there. I just can't believe that's not erotic. At the time, we didn't push him. We were more dealing with how she was handling it. Today, I know we'd deal with it differently.
IH: What's interesting about that case is that the couple were only a few months into their marriage, and she married him not knowing he was an adult baby and found out the hard way. It's another example of how couples don't talk to each other.
SD: Tell me about this theory you have about Jon Stewart.
CH: I often joke with Israel how I think Jon Stewart, on "The Daily Show," uses words — and I don't know whether it's on purpose or not — that have double meanings. He uses sexy words but not in a sexual context. So it's a very erotic show.
IH: There are a lot of women who masturbate to Jon Stewart. You should put that in your next sex survey: "Do you masturbate to a nightly TV show, and which one?" I bet Jon Stewart takes the cake.
The original print version of this article was headlined "Coming Around"