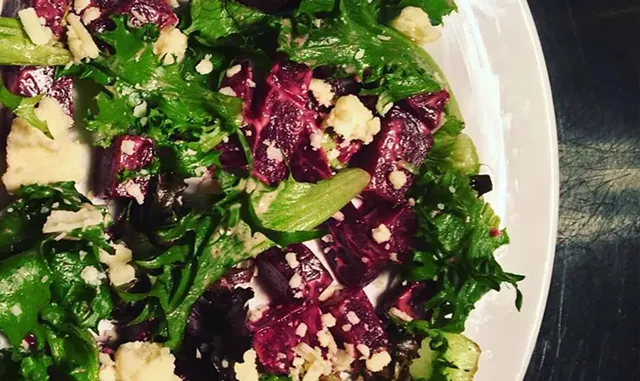 Last winter, as they prepared for a renovation, the owners of Middlebury's Two Brothers Tavern decided to build a temporary kitchen so they could keep serving food. "We didn't want to lay off any of the staff," said co-owner Holmes Jacobs. From that kitchen, they served thin-crust Neapolitan-style pizza and a handful of complementary dishes.
The pizza was so popular, Jacobs said, that they didn't want to stop. In early December, he and co-owner Beal Jacobs opened Notte — meaning "night" in Italian — in the space that used to serve as the eatery's lounge. Executive chef Matt Corrente, who runs the Tavern's kitchen, is in charge of Notte, too.
The Notte pizza offerings lean toward classic preparations topped with prosciutto and mozzarella; pomodoro sauce and peppers; or roasted wild mushrooms and Parmesan. Among the Vermont variations is a pizza made with kale, squash, apples and cheddar.
The space doesn't have a wood-fired oven, Corrente said, but an oven lined with firebricks enables him to turn out pies that have "contrast between slightly charred bubbles and a kind of chewy interior." To create the dough recipe, Corrente researched traditional Italian methods and spent time chowing down at Burlington's Pizzeria Verità.
Notte diners can round out the meal with dishes such as meatballs, white bean soup, meat and cheese boards, and a beet and arugula salad with black truffle vinaigrette. To drink, there's an "old-world focused" wine list and creative cocktails, Corrente said.
Although the lounge is now a restaurant, it remains a music venue. "We're still doing live music there most nights," said Corrente.
Business has also been heating up for Corrente's wife, Caroline Casey Corrente, who owns Haymaker Bun Co. She's popping up at events all over the county, such as Stonecutter Spirits' Procrastinator's Paradise Holiday Sale on Friday, December 22, selling holiday sampler packs of buns in varieties including chocolate mint, eggnog, and gingerbread with molasses caramel.