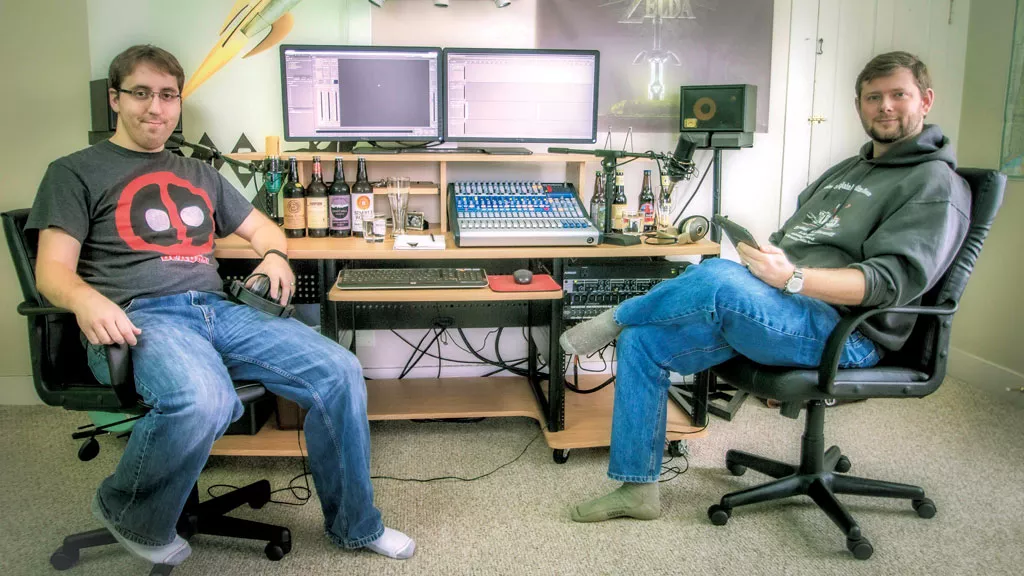 Courtesy Of Two Brews
Matt Gadouas and Kris Jarrett
Kris Jarrett and Matt Gadouas — cohosts of Two Brews podcast, the beer-tasting web-radio show that aired its first episode last December — are not authorities. "We are not experts," Jarrett says, cradling a dark, malty brew at Winooski's Mule Bar. "From day one we've said we're not industry insiders. We can't pronounce half the hops to save our lives—"
"Oh, my God," Gadouas interjects with a sheepish smile. "On show No. 2, we tried Fiddlehead's Brett Cherried Alive, which is an amazing beer. We now know what Brett is," he adds, referring to Brettanomyces, the unpredictable, wild-ish yeast strain many envelope-pushing brewers now embrace for its complex, funky character.
"Contrary to what we mentioned on the show," Jarrett says, "it turns out that Brett is not, in fact, the name of the brewer."
"But if you listen to the show now," Gadouas says, "we've learned so much! And that's half the fun!"
The cohosts met as students at Swanton's Missisquoi Valley Union High School in the 1990s. "You were one of my first live-band shoots," recalls Jarrett, a photographer by trade. Gadouas only sort of remembers the shoot in question.
After graduation, they kept in touch through mutual friends. Jarrett cultivated a career in photography and media production, while Gadouas continued recording and mixing music and other audio. For 10 years he hosted "The Homebrew Show," a local music showcase on 99.9 the Buzz FM.
Last year, the two got to talking about how it might be fun — and doable, given their combined skill set — to create a web-radio show. "We were like, we have this capability [and] we want to do a show. What are we going to do it about?" Jarrett looks pointedly at the beer in his hand, then at the one Gadouas is holding.
"I don't know, what are we going to do it about?" Gadouas mimics, laughing into his glass.
No one else was podcasting beer locally, so beer it was. Never mind that Jarrett didn't even drink until mere months before launching the show, or that Gadouas previously limited his consumption to a few "go-to beers." The two view their outsider status as an asset. "You know what I think?" Jarrett says, straightening up in his chair. "What I think it might have taken to make a successful show about beer is not beer guys."
As AV geeks first and beer dudes second, the cohosts can relate to the average drinker out there in web-radio land. And though they've started producing videos in which they pop into breweries on brew days, the show doesn't get into the more technical aspects of the process or assess whether a beer will perform well on the competition circuit. "It's just, do we like it? Are we gonna go buy it?" Gadouas says.
Since December, he and Jarrett have reviewed 100 beers on 25 episodes, released weekly on Saturdays. Those shows have generated more than 12,000 downloads and almost 3,000 page likes on Facebook. Weekly listenership is edging toward 1,500 per episode.
While the traction is nice, Gadouas says he most enjoys learning. "The No. 1 thing I've taken from this is the education," he says. "I'm trying so many new things, and that's awesome."
While the hosts started the show as something fun for themselves and their friends and whoever else wanted to listen, "We've grown exponentially larger than we ever expected," Gadouas says. Breweries welcome them and listeners recognize them around town.
"I was at [Winooski's] Beverage Warehouse in the checkout line the other day, and I'm paying and talking to the cashier, and the guy behind me goes, 'Do you do Two Brews?'" He recognized Gadouas' voice from the show and said he enjoyed the occasional brewer- interview specials. "When someone walks into a brewery, they get to buy beer, maybe talk for two minutes with the brewer," Gadouas says. "But they don't get to have anything in-depth. We get to bring that to them."
Providing that behind-the-scenes access and perspective is one of his favorite things about the job. "It's fun to be able to share that," Gadouas says. "It's our driving force, for sure."
Interest in Two Brews isn't just local. In April, regional industry rag Yankee Brew News put Two Brews on its cover. And, according to data gleaned from listener IP addresses, more and more beer fans around the country have been tuning in.
"The East Coast has been lighting up," Jarrett says. "But then it's like, Why are people in California listening to this show?"
This all bodes well for Two Brews, because last week Gadouas moved to Ohio, where his wife grew up. In addition to a house full of worldly possessions, he brought more than 200 bottles of Vermont beer with him, which he plans to drink, trade, cellar and share. "Mostly, it's to show people in the Midwest what Vermont beer is like, and not have it just be Heady Topper or Sip of Sunshine," Gadouas says. "Although I do have three cases of Heady Topper."
Within a month, Gadouas will broadcast the first midwestern episode of Two Brews, while Jarrett will continue to anchor the northeastern shows from his home studio in Port Henry, N.Y.
More than anything, the move represents an opportunity for expansion. "Really," Jarrett says, "we're just going to have twice as much as content." They hope that covering the Midwest — and everything between Indiana and Maine, south through the mid-Atlantic states — will further build their audience.
The transition has forced them to think about the show's long-term viability. It clearly has value, but, like so many things in modern media, that value is yet to be determined. What used to make money for talk radio no longer applies.
"Radio's gone," Jarrett says. "It doesn't exist anywhere. But when I step into my car, [my phone] Bluetooth connects, and there are all of my radio shows. I'm listening to far more now than ever before. But how you go about monetizing that is very, very different ... We're not going to get a check from CBS Radio for doing a show. It's going to come from little bits and pieces here and there."
Since their show has a critical component, Jarrett and Gadouas have forsworn brewery sponsorships. But they have discussed offering advertising to local beer stores, bars, distributors and the like, and the possibility of finding a national broker who would fill sponsor spots independently.
"We're trying to feel it out," Gadouas says. "When we first started, it was just supposed to be something fun for everyone. Then we realized that people like what we do. But as we're getting bigger, it's starting to cost us money."
The two say they're not looking to make a career of Two Brews, but they'd like it to support itself. "It's about, how can we sustain the model?" Jarrett says. "This is a new media landscape. It's not easy to make the full monetizing jump.
"If I could have my cake and eat it, too ... [my wish] would be to be able to do this for a living. To be a craft beer personality in the industry. To be the voice of the public." But not yet. Jarrett and Gadouas say they've received offers from podcast networks, but have declined. "We're not ready," Jarrett says. Better to hold back, grow their audience in both regions and see what happens — both with the show and the format.
"I feel like we're about to go into the great unknown with this expansion," Gadouas says. "Kind of like how we started." Except this time, each host will have to go it alone. "One of my favorite things," Gadouas says, "is that Kris and I, because we know each other so well, we get to banter. And people have told me that they dig it. And we have fun with that."
How they'll keep that banter alive with hundreds of miles between them remains to be seen.
But web-based platforms such as Skype mean that both hosts can call in to a central online "location" and chatter away on record. They also plan to bring guest cohosts into the mix. "Having other people in the room is fun, too," Jarrett says. "Everybody's drinking and having a good time."
"Right," says Gadouas. "If everybody's drinking and having a good time — hell, yeah! We're having fun on the show."