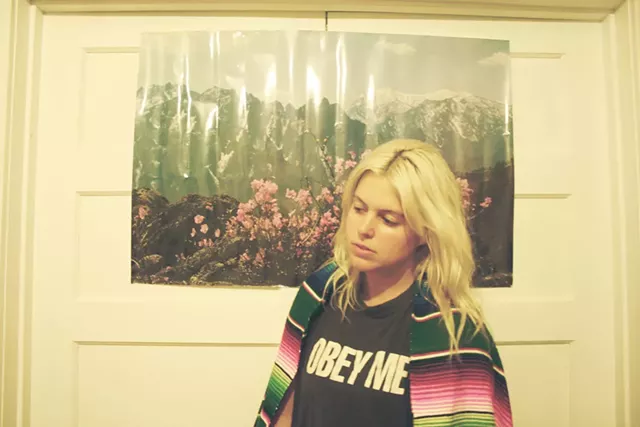 Courtesy Of June Lee
Twist's Laura Hermiston
In September, the New York Times published a series of pieces — including a roundtable discussion, an interactive multimedia feature and an episode of its pop-music podcast, Popcast — asserting that women and nonbinary musicians are making the best and most relevant music in rock today. The interrelated pieces feature conversations with Sadie Dupuis (Speedy Ortiz), Christina Halladay (Sheer Mag), Alex Luciano (Diet Cig), Laetitia Tamko (Vagabon), Victoria Ruiz (Downtown Boys) and many others who seem to be at the forefront of a cultural shift in guitar-centric rock.
Though not included in the New York Times series, Toronto's Twist, led by singer-songwriter, guitarist and front woman Laura Hermiston, would have fit the bill to a tee. Signed to the boutique label Buzz Records — alongside fellow female-fronted acts including Weaves, Dilly Dally and PONY — Twist are a perfect example of cutting-edge, guitar-driven music that rises from a feminine point of view, as opposed to XY insouciance.
Twist blend grunge, garage and punk rock with a light sprinkle of electronic elements. Hermiston, 28, transitioned into her current project after fronting a more traditional rock band called the BB Guns in the late aughts. While working in that band, she met Brian Borcherdt of Canadian electro-rock band Holy Fuck; he lent his production skills to material that would become the earliest of Twist's catalog.
Now in the middle of a prolific hot streak, Twist are set to release their sophomore LP sometime in 2018. Their 2016 debut, Spectral, is a collection of material recorded over several years. More recently, they dropped a four-song EP called Benefits. Twist are currently touring in support of that EP, including a local stop on Friday, October 13, at the Karma Bird House Upper Roost in Burlington.
Not only multitalented, Hermiston is also a multitasker. Seven Days caught up with her by phone as she was driving her band from Toronto to Detroit.
SEVEN DAYS: How do you think Benefits bridges the gap between Spectral and your forthcoming LP?
LAURA HERMISTON: We definitely found ourselves as a band. A few songs [on Benefits] were older. They were written and recorded around the time Spectral was finishing up. "Going Home" and "Leave This Town" were recorded around March [2017] when we got back from tour. So we combined them into this EP. I think it bridges the gap between our lo-fi sound, and ... we're obviously growing as a band and getting better at writing songs.
SD: I really like the song "Where to Lie." I feel like it stands out — not just because it's the last track on Spectral, but also because it has no percussion. What can you tell me about the choices you made with that song?
LH: That [song] is 4 years old. I don't know. We never play it. I just recorded the guitar and vocal and decided to just leave it as is. It's definitely very, very old and not representative of what we sound like. But I do like that song a lot. And yes, it probably stands out because there's no percussion. Or bass.
SD: I think it also stands out because it's one of your music videos — which I love. I think your director, Brittany Lucas, is kind of a visionary.
LH: That's so nice!
SD: What's your working relationship like?
LH: I'm very lucky. She's really talented and comes up with really good concepts. And she's really good at figuring out how to pull them off with, you know, different budgets. Usually small budgets.
I usually send her lyrics, and she'll come up with a concept. She knows what I like, and our aesthetics complement each other. We just put out a video for a song called "Freak" from the new EP this week.
SD: I saw it! What's up with the intermittent text that appears during the video?
LH: She and the other director, Jacq Andrade, turned [the song] into this concept of the eight stages of love. They based it off the lyrics I sent them. It's about regaining control. They took that and focused on the "psychotic woman [archetype] in film."
SD: There seems to be a theme of being captive in your videos. Is that a feeling that comes up in your music?
LH: Maybe on Spectral and a little bit of [Benefits], there's a yearning to leave a situation — to travel, or to move. I don't think the new record is like that. The new one is more focused on a collective conscious — like a group feeling, not a singular person writing about being in a terrible relationship or being in love. The earlier stuff was more about being young and confused.
SD: Did something happen in your life that led to that shift?
LH: I like writing about an idea as opposed to just [writing] in a free-form way about whatever's on my mind. Like, I'll want to write from this perspective, or I'll want a song to express this feeling or emotion. It wasn't a moment. I think it was just being young and then growing up and growing out of old points of view.
SD: I understand that when you first started playing music you, played the flute and the violin.
LH: I grew up reading music and playing violin and flute. I don't think I could play violin anymore. I could probably play the flute. I don't practice reading music anymore.
SD: Would you ever integrate those sounds into Twist?
LH: Probably not with me playing them. There are musicians I know who are way better, and I'd rather include them.
SD: Who is your guitar icon?
LH: The guitar player in my band, Matt [Buckberrough].
SD: Aw, that's sweet.
LH: Actually, I'm going to change my answer. St. Vincent. I love the guitar that she made.
SD: If you could form a supergroup with prominent musicians from various eras, who would they be?
LH: The dude from ABBA [Björn Ulvaeus], Giorgio Moroder and Kate Bush.
SD: The title Spectral reads as very mysterious, whereas Benefits sounds more practical. How do you choose your album titles?
LH: With Spectral I had so much time to think about it. And I thought about the artwork I wanted. Benefits was just the single's title.
SD: What's something you could never live without? And it can't be related to making music.
LH: Essential oils.
SD: Ooh. Any ones in particular?
LH: Eucalyptus and patchouli.