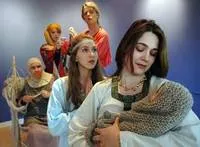 Front To Back: Mia Adams, Becca Chodorkoff, Patty Orgain Wood, Monica Callan, Emily Lee
by Erik Esckilsen (06/20/07).
True goodness is the agency of life in longing for itself, and its other name is love." So says young Beatrice in Twist in the Rising, a play by Vermonter Sarah Dawson Brock that is currently running at Harwood Union High School. Beatrice's words — innocent, hopeful, pious — conjure a familiar image of the cloistered castle maiden circa the Crusades. As the drama unfolds, however, her speech casts a different sort of light on her situation, as she and the three women around her must combine their "agencies" to survive. True goodness yields to relative goodness as the women find solace, strength and solidarity in their bonds with one another — and against the bonds of feudal society. The play's title refers to the struggling and "twisting" against hardship that many living things do to persevere.
Twist in the Rising begins in the wake of the death of the lord of Hayden Castle in Yorkshire, England. The castle's four female residents — ranging in age from maiden to crone — are left to fend for themselves. They hope. Under the law of the land in 1274 A.D., dominion over the property passes to another member of the lord's family unless his wife produces an heir. In the play's tense early scenes, that hope is dashed when the lord's widow, Helen (Mia Adams), delivers a stillborn child. An ominous gloom pervades the "solar," the single room where the play unfolds — Peter Holm's set design makes it resemble a simple cabin with a fireplace. Exacerbating the women's woes is the well-founded apprehension that the lord's brother, the lecherous and cruel Baldwin, will soon arrive to claim his inheritance.
No sooner has this prospect been broached than Beatrice (Becca Chodorkoff) finds an infant nestled in a tree. She views the discovery as heaven-sent, a miracle, and brings the wee one home. Her housemates have a more secular view, but they nonetheless see the foundling as a possible answer to their prayers and a way to evade Baldwin's tyranny. That is, so long as no one outside their small circle learns the child is not Helen's.
Brock's script — her debut as a playwright — has been in the works for roughly five years. She received a Vermont Studio Center Fellowship grant in 2002 to develop the play, which was initially titled Spinsters. A FlynnSpace award for works in progress followed in 2004, and last year, Twist in the Rising won the Vermont Contemporary Playwrights Award. It's a credit to Brock that the cumulative effect of all this attention and, presumably, revision is a tightly plotted play that pulls up short of overwrought. Period dramas — of decades, centuries or millennia ago — are especially prone to infiltration by archaic language. Brock avoids this pitfall. The action here is buoyed along by fluid dialogue that's crafted to hit mannered notes and create the illusion of the time frame without sounding too stilted.
Play and player meet an equally high standard in Patty Orgain Wood's portrayal of the crone Emma. Toiling away at her spinning wheel, she alternately expresses sorrow over the recent death of the castle lord and anxiety about where her peers' scheme — to pass the foundling off as Helen's — could lead. Emma can be a little slow on the uptake, but her halting thoughts and pensive pauses mesh with a direct, plainspoken delivery; she establishes the language characters in Twist employ.
Emma occupies a subservient role in the household, and her age diminishes rather than elevates her status, particularly when she tries to resist the plan favored by headstrong Judith, played by Monica Callan (who is also the show's producer). Despite the power imbalances inherent in the castle hierarchy, every character has some say in what to do with the foundling, and their differences along these lines define their relations to one another.
The characters' clashing motivations give rise to generally strong performances — a credit both to the actors and to director Teresa Langston. Callan's Judith is both the brains and brawn of this outfit, a responsibility she bears with convincing bitterness as she thunders about in the late lord's boots. Her fury is effective for much of the play, but in later scenes it begins to grate a little. Teenager Chodorkoff seemed tentative in early scenes on opening night, but she plays Beatrice with an endearing, and enduring, sense of naiveté. She clings to her faith as long as she can, and when she finally complies with the other women's ruse, it's clear that a moral rampart has been breached.
As the traveling entertainer Cat, Emily Lee plays a smaller supporting role, but she plays it well. On stage alone, she holds the audience's gaze with confidence as she sings and dances in a kind of one-woman chorus. A scene between her and Chodorkoff's Beatrice allows the two to play off each other effectively as opposing values — streetwise and sanctimonious, respectively.
As the new "mother" Helen, Adams turns in the most fully realized performance, moving with seeming ease along an emotional spectrum that ranges from grieving widow to emboldened architect of her destiny. The play also calls on Adams to sing, which she does with notable skill and emotional nuances that fit the scene.
While individual performances are strong, Twist in the Rising languishes occasionally between plot turns. Some scenes find characters immersed in dialogue that begins to sap the urgency from otherwise crisp storytelling. For example, as Baldwin draws near, the tension ignited by his impending arrival is left to dissipate in lengthy conversation. Moreover, the play's final scenes leave some confusion regarding the foundling's fate as well as her origin. And, at least on opening night, the actors seemed to have reached only a shaky consensus on how to greet Baldwin when he is standing on the other side of the door.
That this tale of strong women ends with a bit of a whimper doesn't undo the impressive work accomplished over its two acts. The world of womenfolk in the period just after the last Crusade is compellingly implied by the action within the set's small chamber, and enhanced by composer Eliza Moore's period-style music. While the play reaches far back into the past, it brings a contemporary resonance to its historical depictions. Twist in the Rising is a story of damsels in distress — who hope their "knights in shining armor" will stay far away.