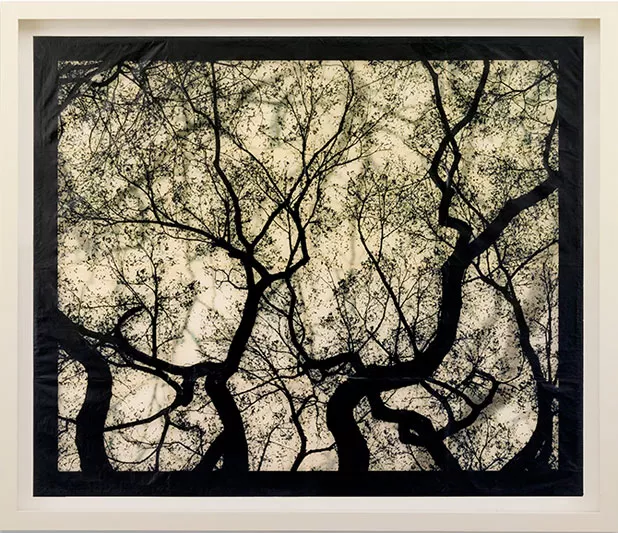 "Structure of Thought" by Doug and Mike Starn
Brooklyn-based Doug and Mike Starn are identical twins who've been making art together since childhood — and are now making it big in the art world. Where one brother's handiwork stops and the other's begins isn't known; they simply share credit for all their creations. Their current exhibit at the Middlebury College Museum of Art, titled "Art Now: Doug and Mike Starn," is made up of six installations that are both physically and conceptually multilayered. Among the references are snowflakes, black tree branches and mouse synapses.
The exhibit actually presents samples from two separate bodies of work. "Alleverythingthatisyou" is a series of snowflakes, parts of which have been exhibited internationally. The "Structure of Thought" installations echo a 250-foot-long commission for New York's South Ferry subway terminus that is supposed to be completed this winter.
The "Alleverythingthatisyou" installation at Middlebury is a 24-piece grid of 16-by-16-inch enlarged ink-jet prints of snowflakes, mounted on Plexiglas. The Starns brought it to Vermont in homage to the legendary Jericho photographer Wilson A. "Snowflake" Bentley (1865-1931). Bentley was the first person in history to photograph a single snowflake, and his work is both scientifically notable and beautiful. Like his photos, the Starns' snowflakes show both the uniqueness of each crystalline structure and their geometric similarities.
The singular 64-by-50-inch snowflake in "Sno 8 215 (blanket)" isn't labeled as part of the "Alleverythingthatisyou" series, but shares its concept. Its narrative however, is unique. A posted curatorial statement points out that the title obliquely refers to a Japanese folktale with a melancholy ending — in the story, a blanket of snow peacefully and terminally enshrouds two sleeping orphans.
Tree-branch silhouettes in the "Structure of Thought" series have been described by the artists as "symbols of thought itself." "Structure of Thought 11" is a monumental 6-by-8-foot photograph of tangled branches, which visually evoke the cerebellum's Arbor vitae veins and capillaries.
But there's more beneath the surface image. Wax, encaustic varnish and paint, along with a hidden structure of gridded rectangles, can be glimpsed under the outer layer of paper. "The structure of thought," write the artists, "is a living dendritic mess, a mass of intersections and layers." They impose order on that "mess" by breaking it into the 12-by-28-inch obscured rectangles. Two vertical axes of very fine lines also run down the image, turning it into a subtle triptych.
"Structure of Thought 16" approaches the thinking organ more directly. The 18-foot-by-28-inch composite photograph diagrams activity generated by synapses in a mouse brain. It resembles a jagged black skyline — upside down. As in the rest of the series, a matrix of orderly rectangles resides just beneath the surface layers. These are subtle, like the watermarks embedded in a $10 bill.
One might not expect the Starns' images to appeal to Vermonters in midwinter; we've already had our fill of snowflakes and denuded trees. But the intricacies of the Middlebury show are intriguing. And the more time you spend with the installations, the more connections your own weather-weary synapses are likely to make.