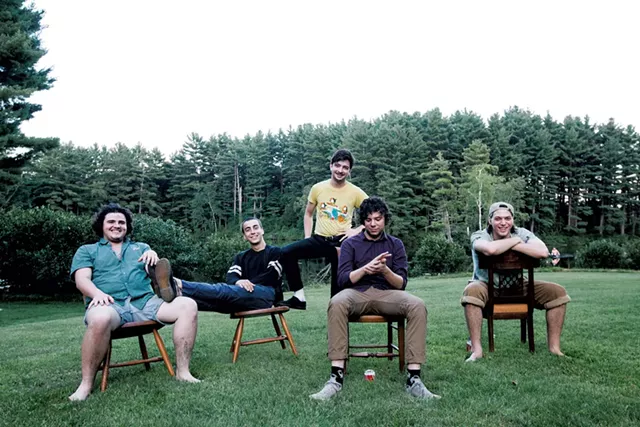 Courtesy of Daniel Topete
Left to right: Connor Brodner, Clay Frankel, Colin Croom, Jack Dolan and Cadien Lake James
Following the release of Twin Peaks' 2016 album, Down in Heaven, a judgment began floating around the music-sphere that the Chicago-based DIY rockers had "matured." That's a somewhat flawed narrative for two reasons. First, it implies that everything that came before the new release was immature. The band's first two albums, Sunken and Wild Onion, certainly offer more basement-rock fury than the more subdued, Americana-by-way-of-the-Rolling Stones on Down in Heaven. But the subject matter on all three, in the words of singer-songwriter and guitarist Cadien Lake James, is largely the same: "angsty, teenage-girl shit."
The second reason, and what really irked James, is that he found the word "mature" to be a kind of verbal castration. Ouch. Keep in mind that Twin Peaks' members — Connor Brodner, Clay Frankel, Jack Dolan, Colin Croom and James (aka Big Tuna) — are all in their early twenties.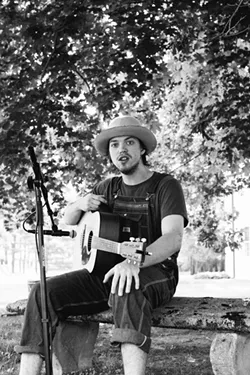 Courtesy of Daniel Topete
Cadien Lake James
Whatever evolution one might perceive on the new album could relate to its production values. Famed producer John Agnello, who has worked with big-time acts including the Breeders, Dinosaur Jr. and Mick Jagger, mixed it. But that doesn't mean the band has mellowed.
Despite their youth, these players are experienced. They've been making music together for half a decade. The group spent its formative years on the road, touring extensively throughout North America and Europe. The four original members — Brodner, Frankel, Dolan and James — all serve as songwriters. Too many cooks in the kitchen could lead to rock-and-roll turmoil, but the guys make it work with little drama.
That is a point in the maturity column. Wasn't there a British group with two brothers whose differences destroyed the band and now they don't even speak?
Seven Days caught up with James by phone in advance of Twin Peaks' show on Monday, December 5, at Signal Kitchen in Burlington.
SEVEN DAYS: Why are you called Big Tuna?
CADIEN LAKE JAMES: On the first day of our first tour back in 2012, Connor [Brodner] said, "We need to come up with nicknames." He called me Big Tuna, and I hated it. People used to call me Fish Eyes and Fish Lips back in elementary school, because I have large features. Whatever. I started embracing it. And now I just like it. I tattooed it on myself on our last tour of the states. I did a really bad job.
SD: So it has nothing to do with NBC's "The Office."
CLJ: No, I've never seen it. I know that's a character, right?
SD: It's a nickname that Andy gives to Jim, and Jim hates it.
CLJ: See, that's how this kind of started. I guess we have a similar history.
SD: Tell me about your "Let It Bleed" clavicle tattoo.
CLJ: I decided to get it when I was a little drunk. I was at a friend's house, who does stick-and-pokes. I just really love the Rolling Stones album [of the same name]. They did Americana better than any American band. [At] my dad's first [wedding], he got married to the song "Let It Bleed." And — no? Sorry, my mom was trying to correct me, but I think I'm right. Yeah, I'm sitting next to my mom right now. The only time I regret [the tattoo] is when I think it makes me look scary to people.
SD: There's been a lot of talk about Twin Peaks having matured on Down in Heaven. Why do you think that is?
CLJ: I think part of it is, it's a very easy narrative. I'm not trying to say that writers are lazy, but they probably think, This band has been around for years now, they're getting bigger, putting out records with slightly better production value — they're maturing. That's what I'll write. [Also,] we had some songs that weren't just straight-up punk. Then again, Wild Onion had a few tracks that were pretty dang chill, but I think that record was more known for all-out bursts of aggression.
At the end of the day, whatever people want to write — I don't really care anymore. I don't know why I rejected [the maturity narrative] so much. It pissed me off for a second, probably because I'm still young and angsty. I was saying, "Oh, they're saying we're maturing. We're not; we're still hard core!"
SD: That sounds frustrating.
CLJ: I almost feel silly, because when I first read that I was livid. Looking back on it, I feel like it was a really silly thing to be aggressive about.
SD: Aww, you are maturing.
CLJ: We're growing up in front of everyone. I've got tax problems already, so I'm getting forced to mature. I own a business, and we're getting our first taste of, like, "Oh, yeah, you owe 40 percent of your profits to taxes, because you started the wrong kind of business." It's like, "Oh, man, we own a company, and we don't know what the fuck we're doing. We need a business manager." My older siblings aren't worrying about taxes like I am.
SD: I've read some things that paint Twin Peaks as having a kind of "hive mind." Is that true?
CLJ: I think we do work together as a unit pretty well. It's certainly exaggerated that we don't ever get into discussions about what we're going to do and argue about songs. It's a democratic band of five very loud minds. And I think that's why we haven't worked with producers yet, because the way we look at it is, we already have so many strong opinions in the room. Adding another one seems detrimental. Who knows? Maybe [a producer] would help unify us. For a band that could have so many problems, with four songwriters, we really get along pretty damn well.
SD: Clay Frankel was quoted as saying he wants a person's first time seeing Twin Peaks to be an enlightening, religious experience.
CLJ: Fucking Clay.
SD: Tell me about a band you've seen that made you feel that way.
CLJ: The first time I saw the Black Lips really blew my mind. I was 12 or 13. I went with my brother and some older friends to see Be Your Own Pet. It was the first time I'd gotten turned on to something that visceral and raw. Everyone ended up dancing onstage with them. It was pretty special.
SD: Do you have any musical guilty pleasures?
CLJ: I guess Charles Manson. I feel kind of guilty, [but] his music is pretty tight. I can get into really schmaltzy shit, like Frankie Valli. I don't know, I'm pretty fucking into everything I listen to, even if it's cheesy. Have you ever heard of Mort Garson? He has this record, Plantasia [1976]. It's this ridiculous synth-baroque stuff that people were supposed to play for their plants, to help them be happy plants. I'll jam on that.