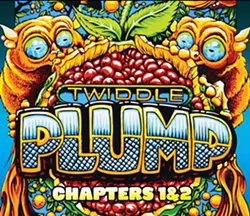 Twiddle, PLUMP (Chapters 1 & 2)
(Sono Recording Group, CD, digital download, vinyl)
Here's a dirty little secret: Twiddle are presently Vermont's biggest band (non-Phish/Grace Potter division). While certain other homegrown acts might garner more critical fawning, none draws crowds, at home or abroad, like the Castleton quartet. But success can also breed enmity, as the Phab Four and Potter could attest. And that means Twiddle are also Vermont's most polarizing band — for proof, google "Twiddle Venn diagram." Few groups, local or otherwise, inspire more fevered bickering on fan forums: Are Twiddle the heirs apparent to the throne? (If and when the sitting caliphs lay down the scepter, that is.) Or are they simply the latest in a long succession of pretenders?
In the sprawling realm of jam music — a genre whose followers are eternally waiting for the princes who were promised — this is an ancient (and fundamentally stupid) debate. Fairly or not, Twiddle are hardly the first to be subjected to it. Their latest release, the epic double album PLUMP (Chapters 1 & 2), will only fan the flames.
Since their 2004 inception, Twiddle have primarily thrived as a live band. This raises another long-standing quarrel in the jam scene: Should studio albums aim to capture concert magic, or should they exist as an independent artistic experience? On PLUMP, Twiddle split the difference, navigating both tightly crafted, pop-centric songs and lofty flights of improvisational indulgence.
Chapter 1 was actually released in December 2015 but has been re-mastered for the double set. It's a subtle but significant improvement. In the hands of producer Ron Saint Germain — whose credits include Living Colour, Bad Brains, Sonic Youth and Kashmir, among others — Twiddle's opus feels consistent and sharp, despite the near constant stylistic detours. Keys sparkle, guitars soar and bass and drums snake around rubbery grooves, as they should on any good jam record. But Saint Germain is particularly adept at highlighting a strength not typically associated with jam-oriented bands: compelling songwriting.
Amid Twiddle's sonic shenanigans, it's easy to overlook front man and guitarist Mihali Savoulidis' way with words. He's an ambitious and imaginative writer with a gift for storytelling. Cuts such as "Be There" and "The Fantastic Tale of Ricky Snickle" unspool as detailed and fanciful tales. But Savoulidis is equally adept at confessional writing. The opening track, "When It Rains It Pours" is as vivid a portrait of being down on your luck as anything you'll find on your average sad-sack indie-folk record. Predictably, clunkers exist among the 28 cuts. But Savoulidis often shows smarts and savvy.
Of course, most fans will come for the heady jamz. And Twiddle don't disappoint. Particularly on Chapter 2, Savoulidis, Ryan Dempsey (keys), Zdenek Grubb (bass) and Brook Jordan (drums) ably shred with flair and precision. They even (mostly) manage to avoid noodle wankery with focused and well-arranged freak-outs. PLUMP is indeed a chunky record and one that should both sate finicky jam fans and perhaps even achieve some crossover appeal.
PLUMP (Chapters 1 & 2) by Twiddle is available at twiddlemusic.com. The band headlines its annual Tumble Down festival on Friday and Saturday, July 28 and 29, at Waterfront Park in Burlington.