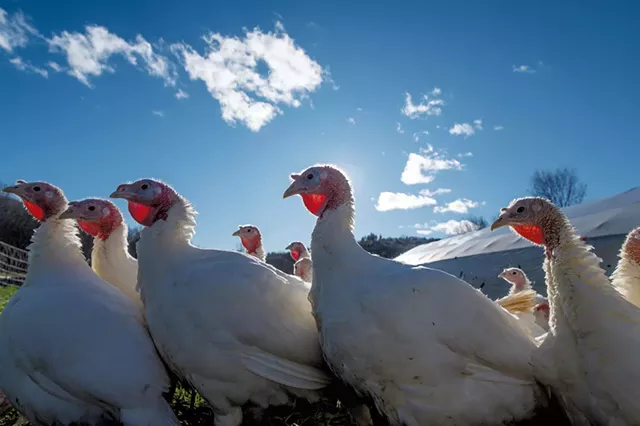 Glenn Russell ©️ Seven Days
Turkeys at Maple Wind Farm in 2019
Thanksgiving gatherings may be different and more intimate this year, but green bean casserole and buttery mashed potatoes with gravy still offer welcome comfort. And, if you're missing your normal kitchen helpers, restaurants are ready to pitch in from pumpkin-smoked bacon soup to nuts — as in dark chocolate-caramel pecan pie.
Many Vermonters have stuck with local turkey for their feast centerpiece, and some restaurants are also serving up Vermont birds to-go.
Beth Whiting, co-owner of
Maple Wind Farm
in Richmond, said the farm's 2020 batch of 1,000 Thanksgiving turkeys went fast. The 300 birds allocated to sell direct to Vermonters were snapped up within two weeks of their October offering. No one has since cancelled an order, Whiting said.
City Market/Onion River Co-op
stopped accepting pre-orders on November 15 when it reached 1,300 orders, said Mae Quilty, Assistant Director of Community Engagement. "We saw an unprecedented demand for our local turkey[s]," Quilty said.
She did note that more than 90 percent of those orders were for birds under 20 pounds, which she attributes to smaller gatherings than normal.
Quilty added that City Market has had cancellations and requests for smaller birds since Gov. Phil Scott announced restrictions on social gatherings on Friday. "But nothing overwhelming," she said. City Market still has a limited amount of organic and conventional birds available for those who have not yet reserved a turkey.
If cooking's not in the cards this year — or if you only feel like tackling part of the meal for your household — many local restaurants, bakeries and caterers are ready to set the table with takeout. Whether you're after sensational sides, traditional turkey, delightful desserts or even comical cookies, here are a dozen places still taking orders for Thanksgiving to-go.
The Abbey Pub

6212 Route 105, Enosburg Falls,

theabbeyrestaurant.net, 933-2223
Call to order before November 24. Pick up November 26.

If you're looking for a traditional Thanksgiving spread with no decisions to be made, the Abbey Pub has a deal for you. Each meal comes with the works, including double meats (turkey plus ham!), tossed salad, mashed potatoes and gravy, cranberry sauce, squash, a dinner roll and choice of pumpkin or apple pie.
Barrio Bakery
197 N. Winooski Ave., Burlington, barriobakeryvt.com, 863-8278
Order online, by phone or in person by Monday, November 23. Pick up November 24 or 25.
Is this the year to skip the main course altogether and just eat dessert? If it is, Barrio has things under control. The bakery is taking orders for a small but mighty selection of pies, tarts and cakes in addition to its popular maple-pecan sticky buns and pumpkin spice cinnamon rolls.
"We assumed we weren't going to get as many orders this year, but so far so good," general manager Leah Daws said. "Because people aren't sharing meals, everything's on their shoulders. Now there's an incentive to treat yourself, and that's benefitting us in an unexpected way."
Butch + Babe's
258 N. Winooski Ave., Burlington, butchandbabes.com, 495-0716
Order online or by phone by 8 p.m. November 20. Some items will be available to order through Wednesday depending on demand. Pick up November 25.
From pickles to pies to punch, Butch & Babe's in the Old North End has a variety of deliciousness to add to your Thanksgiving table. All you need to cook is your centerpiece dish.
Old-school sherbet punch for four will get the party started. There's Gram's gravy as well as vegan, gluten-free shiitake gravy and cranberry-orange-ginger sauce to slather over turkey or tofurkey.
Add mashed potatoes, stuffing or maple-candied Pitchfork Farm carrots with marshmallows. Finish off with pumpkin pie, bourbon-caramel apple torte or cranberry-chocolate mousse pie. Or all three. No one will know.
Emily's Home Cooking
Burlington, emilyshomecooking.com, 376-1050
Call or email to order by November 23. Free, no-contact delivery.
Courtesy of Emily Eden
Pecan pie from Emily's Home Cooking
Personal chef Emily Eden and chef-owner of catering at
Momo's Market
in Burlington is offering a range of holiday sides to help people who find themselves shouldering the whole burden of the meal this year.
Comforting classics with extra touches include scalloped potatoes with roasted garlic and thyme, rainbow carrots with chevre and rosemary, and sweet potatoes with maple-candied pecans. Her spiced apple pies and chocolate-pecan pies can be made with or without a splash of bourbon. We'll take two splashes.
Kismet
207 Barre St., Montpelier, kismetkitchens.com, 225-6489
Order online by 6 p.m. on November 21. Pickup or delivery available November 25.
There are probably not enough deviled eggs served at Thanksgiving, but Kismet can help with that in a trio of flavors: classic, smoked, and pimento-cheddar.
Kismet has something for everyone. On the traditional side, the
holiday menu
includes a brined, boneless turkey roast with sides such as cider-seared Brussels sprouts and roasted-ginger squash drizzled with salted caramel. But the duck breast with celeriac puree, braised quince, cranberry mostarda and Brussels sprouts petals may also merit consideration.
Vegetarians can enjoy lightly smoked portobello mushrooms filled with herby sourdough-cheddar stuffing. The regular stuffing with apple, wild rice, celery and sage can be made vegetarian or gluten-free. Recommended wines by the bottle include a Willamette Valley Muscat, an Austrian Zweigelt and a French Gamay.
Leunig's Bistro & Café
115 Church St., Burlington, leunigsbistro.com, 863-3759
Order by noon on November 23. Pick up November 25.

Courtesy of Angie King
Leunig's Thanksgiving spread in oven-to-table takeout containers
Thanksgiving leaps a few levels beyond the old standby green bean casserole with the creative menu from Leunig's chef-owner Donnell Collins. Her extensive selection of holiday take-and-bake dishes comes in sizes that serve two to 10, starting with pumpkin-smoked bacon chowder and winding, eventually, to glögg-poached pear and brown butter tart or pecan-crusted vegan pumpkin tart.
Select from roasted maple-cider-herb-brined
Stonewood Farm
turkey breast or confit turkey legs. Flank them with Vermont cheddar-and-scallion mashed potatoes, smashed maple-sage sweet potatoes or curried pumpkin and lentil salad with pears, dried cranberries, toasted nuts and Vermont chevre.
And if you're still craving green bean casserole, there's always Collins' haricots verts and wild mushroom cassoulet with crispy onions.
Mill River Brewing BBQ & Smokehouse
10 Beauregard Dr., St. Albans, millriverbrewing.com, 582-4182
Order online by November 21. Pick Up November 25 or 26.

It's no surprise that this family-owned brewpub is serving Thanksgiving family-style. Meals for four have it all: white and dark meat turkey, stuffing, green bean casserole, loaded mashed potatoes, gravy, cranberry sauce, housemade dinner rolls and a choice of pie.
The drink specials — including quart-sized brewhouse margaritas, mixed four-packs of beer and a drink called the "Thanksgiving COVID Relief Punch" — will bring the brewery home.
Misery Loves Co.
146 Main St., Winooski, mlcvt.com, 497-3989
Order online by end of day November 21. Some à la carte items may be available through Wednesday, depending on demand. Pick up November 24 or 25.

Vegetarians and omnivores alike can feast on the holiday menus offered by Misery Loves Co. in Winooski, where the restaurant's name has new resonance this year.
Meat-eaters can order "everything but the bird" for an array of sides including creamed corn, bacon-roasted Brussels sprouts and savory cranberry mostarda. The vegetarian equivalent is "built for 4 celebrating vegetables" and stars a whole roasted pumpkin stuffed with farro, vegetables, triple-créme cheese and dried fruit along with mushroom gravy.
Many items are also available à la carte. Pre-gaming with warm crab-artichoke-Parmesan dip is highly encouraged.
Nunyuns Bakery & Café
139 N. Champlain St., Burlington, nunyuns.com, 861-2067
Call or email nunyuns@gmail.com to place an order by November 22 for pickup on November 25.
Courtesy of Nunyuns Bakery & Café
Nunyuns Bakery & Café hand-turkey-shaped gingerbread cookies give the bird to 2020
Want to give 2020 the bird? This Old North End bakery is selling hand-turkey-shaped gingerbread cookies — and some of them are putting up the middle feather. "Paul [Bonelli] started doing those last year, and of course this year it's even more appropriate," co-owner Kristine Harbour said of her partner's irreverent treats.
If foul-mouthed fowl aren't your thing, Nunyuns also offers several types of pie and a cranberry-pecan upside-down cake. Harbour noted that the cookies are limited, so it's best to order sooner than later. "We know from experience that people wait 'til the last minute," she said.
Philo Ridge Farm
2766 Mt. Philo Rd., Charlotte, philoridgefarm.com, 539-2147
Order online through November 21 for pickup on November 24 or 25.
Unless you're after a 20-pound turkey, you're too late to get one from Philo Ridge Farm. Culinary director Galen Sampson said smaller birds from Westford's
Adams Turkey Farm
— and brined turkey breast — sold out quickly. "People are looking for something that's not as big, but there's been quite a bit of demand," Sampson explained.
The farm's own roast-ready organic chickens are still available, though, for those willing to buck tradition. Side dishes such as rustic mashed potatoes, roasted root-vegetable stuffing, cranberry sauce made with berries from
Vermont Cranberry Company
and spinach salad kits are well-stocked, too. Aren't the sides are just as important, anyway?
Sweet Simone's
40 Bridge St., Richmond, sweetsimones.com, 336-2126
Order online, in person or by phone by end of day November 22. Pick up November 25.

Delegate the baking to the experts at Sweet Simone's, but keep it quiet when you pull the freshly puffed take-and-bake mini croissants out of the oven or place a basket of warm Parker House rolls on the table. Pies include apple-cranberry with brown butter-walnut streusel; dark chocolate-caramel pecan pie, and pumpkin cream pie with hazelnut streusel.
The Waybury Inn
457 E. Main St., Middlebury, wayburyinn.com, 388-4015
Call to order by November 23. Reservations are also available for on-site dining on Thanksgiving Day.
Roasted Blue Hubbard squash soup and autumnal salads kick off the Thanksgiving meal at this inn, whether you're dining on-site or picking it up to enjoy in the comfort of your own home. You don't have to stick with the expected entrée, though — choices include bacon-wrapped beef tenderloin, sea scallops and mushroom Wellington.
Individual takeout dinners and larger family-style meals are both on offer here. Turkey (or prime rib) for four comes with mashed potatoes, dressing, salad, maple-roasted squash, sautéed vegetables, dinner rolls and a choice of pie. What else could you need? Maybe a nap.