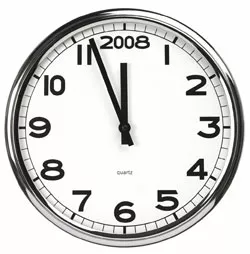 First Night Burlington Schedule.
First Night Montpelier Schedule.
First Night St. Johnsbury Schedule.
To pinch the motto of a long-enduring soap opera: The days of our lives run like sands through the hourglass.
2007 brought your lucky day, come December 31, it's gone. New Year's Eve revelers sift through the good stuff from the past 365 sun-ups, and clear the slate for the future, at one of three family-friendly First Night celebrations across the state.
The alcohol-free arts fests all follow the same general pattern: Buy a button (blinking or non-), pin it to your warmest coat, and tramp around town sampling a variety of events. Burlington boasts the most ambitious program, with 12 hours of activities celebrating 25 years of warm-hearted fun for cold-handed folks. Diversions range from art making and face painting to a multi-diva tribute to veteran Vermont singer-songwriter and ReBop Records co-founder Diana Winn. Vocal enthusiasts lend an ear to harmonies by Womensing and In Accord, put their feet up for restful anthems from Social Band, or hear all-dude barbershop ditties from the Green Mountain Chorus. Folksters bid farewell to Patti Casey's part in the Bluegrass Gospel Project, while yuksters chuckle at Rusty DeWees' "plugged in" Logger show, and hip-hoppers move to The Junkman's bangin' rhythms on wrenches, cans and other scrap metal. That's just a sample of acts to catch when you're not gawking at the fireworks in Waterfront Park, which blast off twice, at 7 p.m. and midnight.
Rutland takes a breather from official First Night-dom this year. But both Montpelier and St. Johnsbury start the festivities at 3. Capital City celebrants can take an afternoon whirl on ice skates, get the score from the Green Mountain Youth Orchestra, and pick up the beat with Oasis Middle Eastern Dance — before settling in for tunes by Cold Country Bluegrass. Lasagna supper fuels spectators of the parade and early-bird fireworks, from 8 to 9. Rounding out the evening, Tammy Fletcher & the Disciples play until midnight — then send everyone home to collapse. Up north, St. Johnsbury joy seekers can hang with b-boyz and girlz at a breakdance revue, catch a show by the sequined-bagpipe-rock pros of Prydein, or tap their toes at contra dances and concerts. For the smaller revelers, the town has magic shows and a mini-circus — but if tykes want to see sky-blossoms, they'll have to stay up till 12 to bring in the new year with a bang.
Here's to a great 2008!