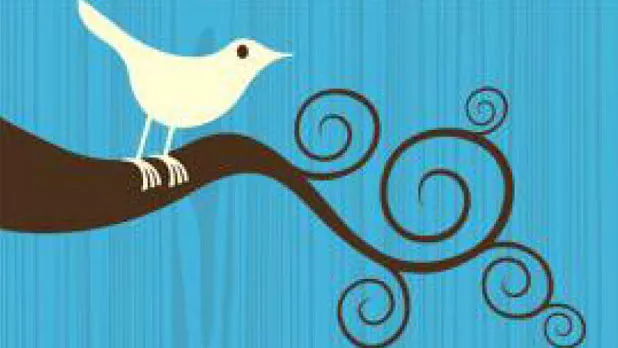 Twitter — you've seen it promoted on CNN and FOX, and mocked in "Doonesbury" and on "The Daily Show." So what's all the fuss about the latest social media trend?
Launched three years ago, Twitter is a free online networking service. Unlike Facebook, which invites users to share photos, form groups and play games, Twitter offers just one feature: the ability to send and receive short messages — called "tweets" — of 140 characters or less. That includes spaces. If you want to be notified when a certain person tweets (yes, it's a verb, too), you sign on to Twitter.com, find that individual, and become a "follower." Then all his or her tweets will appear on your Twitter homepage. People can follow you, too.
Newcomers to social media will find this description utterly ridiculous. In fact, as a self-respecting adult, I'm almost ashamed to write it. "Following someone's tweets" sounds creepy and weird.
But, ludicrous lingo aside, Twitter is actually pretty useful — for breaking news, for exchanging ideas or for keeping up with what people are saying about your company or product. And it's becoming more useful as the local Twitter community grows.
I first joined Twitter in June 2007, though, I confess, I only recently figured out how to use it. Here's what confused me: When you log on to Twitter, you're confronted with a blank "publisher" box beneath the words, "What are you doing?" You're ostensibly supposed to answer this question when you tweet.
But Twitter would be pointless if all you did was report your current status. My early tweets illustrate this fact. "Working," I wrote on June 5, 2007. "Relaxing at home," I wrote on June 6. "At the dentist," I wrote on February 18, 2008. I tweeted that one from my cellphone by sending a text message to the SMS code 40404. Why? Because I could.
In fact, for over a year, I tweeted from my cellphone without ever looking at Twitter on the web. Meanwhile, I'd get emails from Twitter that said, "So and so is now following you on Twitter." Why are they following me? I wondered. This Twitter thing is really stupid.
Then, last fall, I logged on to Twitter.com and figured out that people had been responding to my tweets all that time; I just hadn't been "listening." Last summer, when my daughter was born, I was so excited that I tweeted her arrival from my cellphone. That prompted a flurry of congratulatory tweets from my followers, many of whom I know in real life — but I didn't see the messages until months later. How embarrassing!
That's when I realized that Twitter is a two-way street. It enables a conversation between you and the people who are following your Twitter feed. What's so great about that? Well, it depends on whom you're following, and who's following you.
See, it turns out there are a lot of active people on Twitter, and they don't just tweet about going to the dentist. Mostly they trade links to information on the Internet that interests them. If you're following smart, engaging people, they can help you filter the massive amount of content on the web.
As soon as I figured that out, I started following authors, media experts, local bloggers, businesses, entrepreneurs and consultants. Unlike Facebook, which requires both parties to declare their "friendship," Twitter allows you to follow whomever you like; the people you're following have no obligation to follow you in return. So, while I would never dare to "friend" NYU journalism prof Jay Rosen or author Clay Shirky on Facebook, I can read their tweets.
Twitter is a virtual water cooler. When I have time, I pop over to see what everyone is saying. But, instead of checking the website, I now use an application called "Tweet Deck," which displays the feeds I'm following as well as replies and direct messages to me on an easy-to-use dashboard. I highly recommend it.
I'm currently following 134 people on Twitter. Here's a snapshot of my incoming tweets, from Monday, March 23. (Each of these contained a link, but they cluttered up the text of this transcript, so we removed them.)
I got an announcement from "Vermontgov," the state's Twitter handle: "Governor Douglas Announces Williston and Colchester Grants."
Here's a note from Vermont-based marketing consultant Andrea Learned: "Even congressmen and women are carrying around Omnivore's Dilemma? Now, that's change we can live with!"
"JohnCVermont," an IT guy at St. Michael's College, tweeted a link to an article about Internet advertising: "Probably a retrans, but a good article on why internet advertising is failing, covers my thoughts pretty well."
Bradley Holt, owner of Burlington-based web design firm Found Line, offered a counterargument to the Internet advertising story, which he prefaced with @JohnCVermont (that's how you designate replies on Twitter): "@JohnCVermont You should read this response to that article."
Of course, not everything is worth reading. But, because the messages are short, it's easy to skim for the good stuff. When something catches my eye, I can reply to the person who posted it, or, if it's particularly juicy, I can act as a megaphone and "retweet" it to my followers, giving credit to the original source.
For example, earlier this month, Seven Days used Twitter to cover Town Meeting Day. When Shay Totten learned that Bob Kiss had won the Burlington mayor's race, he tweeted it. Within minutes, his followers, including Vermont Public Radio, were retweeting his announcement.
Other Vermont businesses are experimenting with Twitter, too. Of those, sustainable-living-focused Chelsea Green Publishing in White River Junction is the most creative. Every book listing on the Chelsea Green website includes a button that says, "Tweet this book!" Clicking it generates a message promoting the book in your Twitter publisher box, which you can then tweet to all your followers.
On Wednesdays, Chelsea Green holds a contest. At 3 p.m., the company invites customers to tweet a book they'd like to win. The first and 30th participants get a free copy of the book they tweeted. "We get roughly 50 to 60 people doing it every week," says Chelsea Green web editor Jesse McDougall. "If you add up the followers of all those 50 to 60 people, messages go out to between 14,000 and 19,000 people during those four minutes. So it's a great and very fast way to get recommendations out for our books from Twitter."
But McDougall is quick to point out that Chelsea Green isn't just using Twitter for marketing purposes — like any good Twitterer, the company listens as much as it talks. When a question comes up — what to call a new book, for example — the company polls its 6000 Twitter followers. After all, notes McDougall, they're the ones "who would most likely be buying the books."
Does all this Twittering sell more books? McDougall admits that it's impossible to say. But he notes that, after the company converted its website to a blog format and got involved in Facebook and Twitter in 2008, online sales across all channels — including Amazon.com and Barnesandnoble.com — increased 30 percent.
@chelseagreen: not bad for 140 characters.