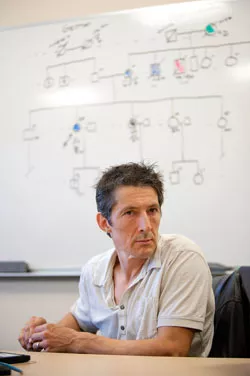 Peter Wingfield is not a doctor, but he's played one on TV. Several times, in fact, including a two-year stint on "Holby City," a long-running medical drama on the BBC. As a small-screen doc, the Welsh actor was able to try his hand at surgery, boss nurses around and engage in steamy dalliances with hospital staff. Not a bad way to make a living.
But the work was only so fulfilling. The blood and limbs were as fake as the operating room set, and Wingfield left the studio each day without having ever saved a life. He yearned for the satisfaction that comes from helping heal a person. So, this fall, at 48, he's headed to medical school at the University of Vermont.
It's not the first time Wingfield has matriculated in a medical program. In his twenties, he studied medicine at Oxford's Brasenose College. But, just four weeks from his final exams, he quit to pursue acting. Now, 25 years later, he's going back to finish what he started.
Wingfield, who now lives in Burlington with his family, grew up in the Welsh capital of Cardiff; at 18, he took a summer course in drama at the National Youth Theatre of Wales. The acting bug bit him hard, and he began performing in as many shows as he could. But Wingfield's parents had other designs for his future that didn't include being a thespian, so, after high school, he packed off to Oxford to pursue his second love: medicine.
"I had a fear of stepping off the path. It's very scary to step off," Wingfield says. "I knew when I was 18 that I wanted to be an actor, but I didn't have the courage to act on it."
But he discovered that you can push down your passions for only so long before they bubble to the surface. When, just weeks from becoming a doctor, Wingfield dropped out of the program, his father stopped speaking to him. The silence lasted a few years.
At the time, Wingfield says, he wasn't psychologically equipped to be a doctor. But acting suited him. He was drawn to the stories and the prospect of inhabiting another person's world. He found success early, first on the stage and then in film and television, which he preferred.
With his rugged features and gentle eyes, it's easy to see why the camera liked Wingfield. Even now, though his dark-brown hair is flecked with gray and his face has a few more lines, he has the look of a handsome statesman.
His first film, the 1990 release Antonia & Jane, with Oscar-nominated British actress Imelda Staunton, netted him just eight lines. From there, he landed a recurring role on a TV series called "Soldier, Soldier" and, shortly after that, earned a part on "Medics," a drama about the lives of the staff at a teaching hospital in northern England.
Since then, Wingfield has found consistent work as an actor. He's had roles in movies such as Catwoman, X2 and the Highlander series, from which grew a sizable fan following. The fan club devoted to him produces a magazine all about his work, raises money for his Project Edan foundation (which supports UNICEF programs for children around the world) and hosts annual conventions, which often feature Wingfield and other industry folks who have worked with him.
Wingfield has worked on countless television shows, including familiar American titles such as "The L Word," "CSI: Miami," "NCIS: Los Angeles," "24" and a number of science-fiction series. While he wasn't necessarily a household name, the work was steady and he enjoyed it, he says.
In 2005, Wingfield moved his wife, Carolyn, and their then 5-year-old son, Edan, from Vancouver to Los Angeles to be closer to the center of film and television production. But, like so many industries caught in the rising tide of the digital age, the film and TV business was contracting. Opportunities for substantive work were fewer and further between, says Wingfield. He began to become disillusioned with the industry.
For the next few years, Wingfield commuted to the UK to play Dan Clifford, a sexist and egotistical, yet charismatic, surgeon on "Holby City." The role reignited a long-dormant interest: "Playing a doctor reminded me of how much I liked medicine," he says.
By the time Wingfield finished his tenure on that show in 2009, his wife had begun working on a doctoral degree in psychology. Carolyn Wingfield's return to academia was the catalyst for her husband's exodus from acting. "We would be discussing things on the very fringes of human knowledge, and I realized how much I missed intellectual challenge and how much I missed being part of that world," Wingfield says.
At around the same time, Wingfield, who has long been involved with children's charities, ran the New York City Marathon on behalf of UNICEF. Before the race, the organization's aid workers presented their various projects. Hearing their stories made Wingfield decide he no longer wanted to be on the sidelines but in the trenches, doing hands-on work helping people. He wanted to be a doctor.
The decision to return to medical school didn't surprise his wife, who'd witnessed his slow transition over the years. "I've watched Peter become more and more interested in wanting to give back, so it wasn't shocking that he would return to his roots," Carolyn Wingfield says. "He's so much more solid in himself and clear as a person now. I think his timing is perfect."
For Wingfield, going back to medical school means relearning what he studied at Oxford. Not wanting to gloss over any aspect of his training, he vowed to go into his first year as if he had forgotten everything he learned 25 years ago. But, of course, he hasn't.
When Wingfield worked on "Holby City," a show that strived for medical accuracy, he was immersed in the language of the profession. To play a convincing doctor, he had to avoid getting tripped up by the terminology. Luckily, Wingfield already knew a pericardium from a perichondrium.
And he had no difficulty acting out surgical scenes. Because of his previous medical training, Wingfield knew the proper way to ask nurses for surgical instruments, he notes: He held out his hand and called for a scalpel or a clamp while keeping his eyes fixed on the patient in front of him. For Wingfield, those details made the difference between realism and playacting.
In a way, Wingfield says, he's been training for this second career for as long as he's been an actor. He believes that, at its heart, medicine is about listening to people's stories, and embodying fictional characters has been good preparation.
Wingfield's career path, while unusual, won't necessarily set him apart in medical school. Many of his classmates come from the arts, says UVM College of Medicine associate dean for admissions Jan Gallant, who herself was a musician before attending medical school at UVM.
Nor does Wingfield's age make him an anomaly in his class. While the average age of this year's first-year med students is 24, the college regularly admits older students embarking on second careers. That's part of what drew Wingfield to the college. The admissions committee doesn't focus on age, Gallant insists. "We have [students all over] the age and experience spectrum," she says. "With Peter, it's not about age. It's about the astounding person he is and what he's done."
If all goes according to schedule, Wingfield will graduate in 2015, when he's 52. Add a few years of residency, and he'll be in his midfifties before he starts practicing medicine. That doesn't bother Wingfield, who intends to work in medicine as long as he's physically able. And, if the right acting job comes up, he adds, he won't say no, as long as it doesn't interfere with school.
"This is what I want to do," he says. "This is what I've always wanted to do."