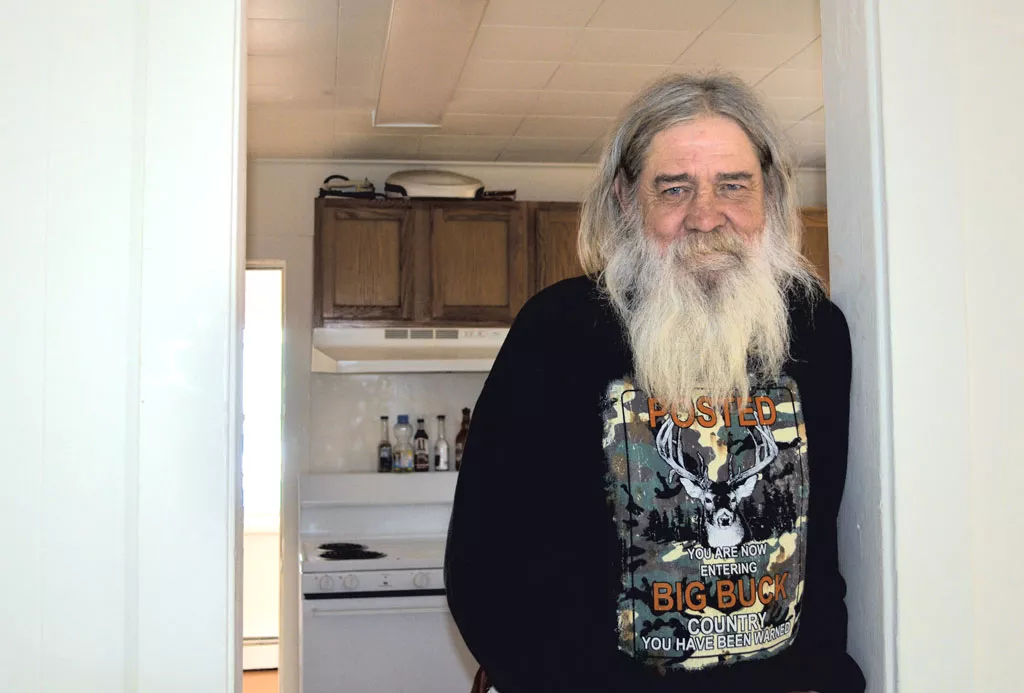 Alicia Freese
Richard North
Last October, dozens of volunteers wearing bright green shirts surveyed homeless people in Burlington. They were participating in the 100,000 Homes Campaign — a national effort to identify and house the most vulnerable members of the homeless population. Despite the lofty name, organizers made a point to temper expectations: Volunteers were instructed to make it clear that participation in the survey did not guarantee housing.
That left an important question unanswered: Would anything come of it?
Richard North was sleeping near Cherry Street around dawn during one October morning when a volunteer showed up with a clipboard. The 55-year-old man has lived in Burlington his whole life — the last two decades of it on the streets, panhandling outside Rite Aid and camping in out-of-the-way corners of the city.
North answered 50 questions about his mental health, medical conditions, substance abuse and relationships. Known as the Vulnerability Index & Service Prioritization Decision Assistance Tool, the survey assesses how likely it is that people will die on the streets. Of the 205 survey participants, North rated among the top 10.
On February 1, for the first time in his life, North moved into an apartment of his own.
It's easy to see why he scored high. Some time ago, he lost a toe to frostbite. While living in an encampment off an Interstate 89 exit, he was hit by a motorcycle. He has struggled with alcoholism for years, and he also has a heart condition. "It wasn't easy at times," is how North summed up 20 years on the streets. A pair of massive boots and a Carhartt jumpsuit — which helped him survive the cold — lay in a pile on his living room floor. Now, instead of worrying about how to stay warm, North has another concern: when he'll get cable TV.
The nonprofit Community Solutions started the 100,000 Homes Campaign four and a half years ago, and it has spread to approximately 200 communities across the U.S. It embraces the Housing First approach, which promotes housing people without prerequisites such as completing substance-abuse treatment programs. It also operates on the premise that it's ultimately cheaper to give people housing than to leave them on the streets. The logic: Doing so cuts down on trips to emergency rooms, incarceration and other costs.
The campaign provides the blueprint, but local organizations do all the work — training volunteers, administering the survey, and then figuring out how to cut through red tape and find the money to line up housing for people. A big part of the 100,000 Homes Campaign credo is encouraging local groups to improve their coordination with one another.
It also gives communities a goal: house 2.5 percent of their most vulnerable homeless residents each month. So far, organizers in Burlington are meeting that target. In all, they've found apartments for 23 people. According to Chris Brzovic, the local coordinator for the campaign, the person in greatest need of housing moved into an apartment on March 1.
Brzovic is an AmeriCorps VISTA member. The United Way of Chittenden County and the Burlington Housing Authority — both have spearheaded the initiative — are cofunding his position. He's been working with staff at Safe Harbor Health Center, a homeless health care clinic, and Pathways Vermont, an organization that provides housing and social services, to track down the most vulnerable people and help them find homes.
Stefanie Comstock, an outreach worker and case manager with Safe Harbor, has worked with North for four years. After the survey, she worked with BHA to find him an apartment. In a recent phone interview, she noted that when he was itinerant and had no phone, it was a challenge to make sure he was taking his meds.
"Now I know where to find him, and that's huge," Comstock said.
Sitting in his spotless kitchen, North pointed to a calendar that Comstock had taped to his fridge to help him keep track of his medical appointments. He still doesn't have a phone, but he shares the apartment with his brother-in-law, who does.
Because the initiative didn't come with an infusion of cash, it's prioritizing who gets housing first — but not necessarily changing the number of people served.
The BHA distributes federal rental subsidies known as Section 8 vouchers. Most people wait several years before getting one, but Brzovic explained that BHA has the discretion to move people up on the waiting list. Now, using the survey information, they can prioritize the most vulnerable homeless people.
Another tool is BHA's Shelter Plus Care program, which is available to people with "disabling conditions" but was previously underutilized. That's how North got a home. With Shelter Plus Care, the BHA gives him a rental subsidy while Safe Harbor provides support services.
To truly prioritize the most vulnerable people, the organizers want to create a community-wide waiting list for the homeless. The best way to do that, in Brzovic's opinion, is to get every organization serving the homeless population to start using the survey when they get new clients.
But not all organizations have embraced the survey, or the philosophy it's predicated on — that the chronically homeless should be first in line. "My sense is that there's probably been more resistance than support," Brzovic acknowledged.
Among the skeptics: Rita Markley, executive director of the Committee on Temporary Shelter (COTS). "In my mind, if we really want to end homelessness, you have to start with kids," she said. Markley started rattling off people who, according to the survey, wouldn't be classified as highly vulnerable: a father with two young children who had been living in a rusted U-Haul; a 19-year-old woman struggling with addiction.
"We are setting them on the course of becoming the next chronically homeless people," Markley argued. "When you have such finite housing stock ... it really means that you're saying no to one person and yes to another."
That's the other big hitch for the campaign: Burlington's severe housing shortage. "How do we find the units?" said United Way executive director Martha Maksym.
Champlain Housing Trust has plans to help ameliorate the problem. The organization is applying for permits to convert the Shelburne Road Ho-Hum Motel into 19 single apartments for homeless people — including units reserved for high-scoring survey participants. Safe Harbor case managers plan to work directly with residents there. CHT chief financial and operating officer Michael Monte said it's part of the organization's larger goal of putting a greater focus on housing the homeless; they plan on building 20 more apartments in the future.
United Way's Maksym pointed to another promising sign: After several years of aborted attempts, Burlington finally has a warming shelter that doesn't turn away people who've been drinking or using drugs. (It's not a wet shelter, meaning people can't use while they stay there.)
The shelter is in the old Ethan Allen Club on College Street, a building owned by Champlain College. The University of Vermont Medical Center delivers fresh sheets daily, and other organizations have been sending volunteers. The Champlain Valley Office of Economic Opportunity, which runs the place, has been using the survey to collect information on the people who stay there. CVOEO executive director Jan Demers said she sees the shelter as a continuation of the 100,000 Homes Campaign.
Since it opened in February, it's been "more than full" every night, Demers said. That's not surprising given that, according to survey data, there are nearly 200 people still out on Burlington's streets.
North said he knows most of them. "I took in all the stray cats," he said, referring to homeless friends he regularly invited into his tent. Now that he's a tenant, he's not allowed to have overnight guests. While it's hard not being able to share his new abode, North said he's determined to keep his place — for good. "I'll be here until I go."