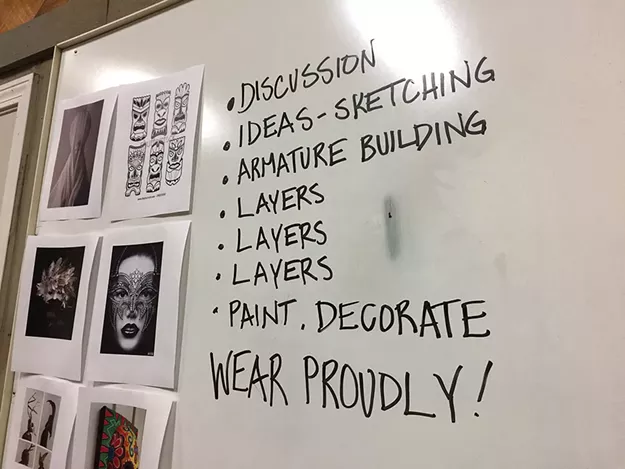 Cathy Resmer
Turning Point creative director Sara Glasgow helped guests create masks representing their addiction, their recovery, or both. Some guests worked on their projects over the course of several sessions, others completed masks in a single day.
Cathy Resmer
A male guest created this mask, said Glasgow. "One side represents his girlfriend; one side represents his child to be."
Cathy Resmer
Glasgow said the guest who made this work wanted to represent both addiction and recovery in the same mask. The chaotic purple checkered side represents addition; the yellow half, with the words, "I found a better clean life," represents recovery.
Cathy Resmer
The guest who made this mask completed it in a single session and "didn't say much about it," said Glasgow. He was within days of stopping using, she noted. "My impression is that he was just trying to get it out of his head."
Cathy Resmer
A guest named Anna created this addiction mask. Anna said her addiction mask "was a good reminder" of why she's at Turning Point, working to stay clean.
Cathy Resmer
This is Anna's recovery mask. She said her addiction mask was easier to make. "I think I was more familiar with that," she reflected. "This one's better, though."
Cathy Resmer
A young man new to recovery made this mask in one day, Glasgow said. He talked to her about "living on the streets and getting beat up." He was charming and funny, she said, but "I could tell it was really raw for him. Like he was inches away from it."
Cathy Resmer
Glasgow's own addiction mask depicts her depression and suicidal ideation. Glasgow's addiction mask has hair made of black and red yarn, with rocks tied to the ends, to convey the feeling of "being weighted down." "I need vigilance in my life so I don't go back here," she said. "Turning Point is part of my vigilance."
Cathy Resmer
Glasgow's recovery mask wears a headdress of flowers and feathers. "I feel lighter," she said. "I have hope where I didn't before."
Cathy Resmer
Glasgow held her addiction and recovery masks in her hand, back to back. "They're both part of who I am," she said. Of her addiction mask, she added: "I can't forget it. It has to remain a piece of myself. But I don't have to live in there anymore."