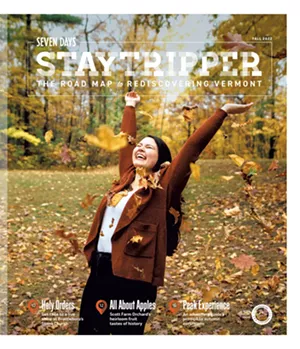 Arielle Thomas | Kirsten Thompson
Katherine Brennan at Ethan Allen Park in Burlington
Crisp, sweet notes of apples and woodsmoke in the air. Going out of your way to step on that crunchy leaf. Orange pumpkins in the patch. Some hallmarks of autumn never change, but in this issue of Staytripper, Seven Days' road map to rediscovering Vermont, what's old is delightfully new again.
In Dummerston, Scott Farm Orchard takes its heirloom apples and, for the first time, ferments them into hard cider — it's one more way the 1791 farm keeps history alive. Likewise, in Charlotte, Philo Ridge Farm has transformed a six-generation dairy operation into a dining destination dedicated to sharing the story of the soil.
New owners of the historic Swift House Inn in Middlebury have freshened the look and forged new connections with the cultural community. A similar revival is happening in Brattleboro, where the Stone Church brings rock gods — and other divine musicians — to an erstwhile house of worship, creating a bona fide southern Vermont scene.
Finally, we chatted up a Green Mountain Adventures guide for a new perspective on old recreational pastimes. Read on for trailblazing tips on peaks and creeks — then go peep some leaves!