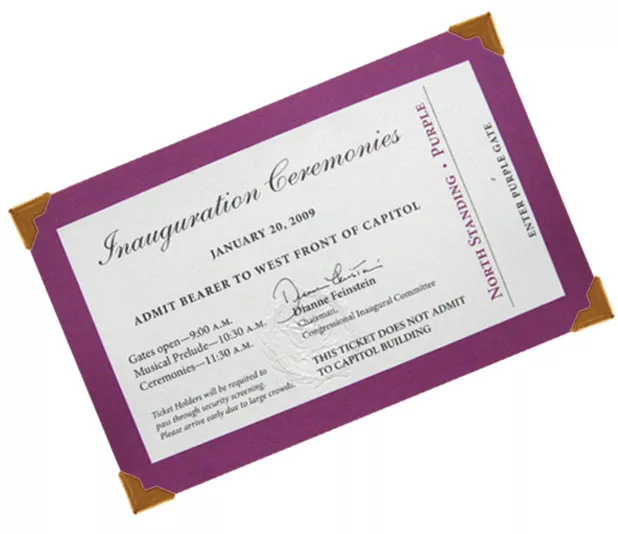 As you may have heard, we purple ticket holders wuz robbed. Thousands of us spent Inauguration Day inside Washington, D.C.'s Third Street tunnel and didn't make it through the security gates in time to hear Obama take the oath of office. Some listened to his address clustered around portable radios. Others wandered into the frozen capital, seeking televisions.
We suffered, and we continue to suffer, from PTSD — Purple Tunnel Stress Disorder. Our symptoms include acute bladder strain, claustrophobia-induced panic attacks, carbon monoxide intoxication, frostbite, flashbacks, anxiety, anger and — tragically, at this moment of hope — despair.
But (apparently unsated by our daylong intimacy) we have come together, on Facebook. We are demanding that purple-tunnel disorder be designated an insurance-reimbursable claim. We want to be recognized as victims of crime, members of a protected class and an endangered species. We must receive compensation for our mental anguish — not to mention our travel expenses — from the D.C. police force, the Joint Congressional Committee on Inaugural Ceremonies and the Troubled Assets Relief Program.
We are calling on the new administration to offer us a personal audience with the president or, failing that, the Jonas Brothers. We deserve, each of us, a puppy.
I guess zeitgeists don't change overnight. The president congratulated us for choosing unity of purpose over conflict and discord, for putting away childish things and buckling down to struggle and sacrifice. But such words are, as the marketers say, aspirational. We're not there yet.
In the generosity-lean Bush years, we learned to make do. Given the lucky break of a potentially profitable misfortune (say, standing for hours in a line to nowhere), we exploited it. Now, after burning the midnight oil with Bush's consumer-driven Ownership Society, we hear the alarm clock ringing for Obama's citizenship calisthenics, and we draw the covers over our heads. Like St. Augustine, we want to be good, but not yet.
How will we — specifically, progressives — answer the new president's call to duty? Will our participation entail giving up most of what we want and taking the scraps he tosses our way? Must we swallow what he calls our "recriminations" (like the desire to see the Bush gang punished for war crimes) and reject all ideology ("worn-out dogmas" and "stale political arguments") in order to give bipartisan peace a chance?
In the days leading up to January 20, all over Washington panels of activists, journalists and pundits were discussing how to press a progressive agenda. A subtext of those conversations was: How much is too much to ask, or to relinquish? Put another way, who is this guy, and how much can we expect him to deliver?
A T-shirt that was hawked outside Union Station summed up the greatest expectations. On it, a cartoon Obama yanks open his white shirt to reveal a huge chest encased in a tight garment emblazoned with a heroic "O." The revolt of the aggrieved ticket holders may be less an effort to right a perceived wrong than an infantile tantrum over the inevitable fact that Super-Daddy can't fix everything.
Such fantasies aside, Americans' expectations have been ground pretty low these past eight years. As a result — and this is good, given the mess Dubya left behind — we are feeling pretty patient with our new leader. People tell pollsters they are willing to wait a while, even years, for things to improve. Despite the recession, the wars and global warming, 79 percent of those recently surveyed by The New York Times were "optimistic about the next four years . . . a level of good will for a new chief executive that exceeds that measured for any of the past five incoming presidents." Among these confident folks were 58 percent of the respondents who voted for McCain.
As for me, I simultaneously harbor vaulting hopes and temperate realism. Regarding the dreamboat in the Oval Office, I feel both the fanatic passion of a teenage groupie and the tolerant affection of an old wife. I clip every photo of the First Couple strolling down the parade route. I watch and rewatch the YouTube videos of each of them dancing on "The Ellen Show" and swell with pride at the cute and smart things Sasha and Malia say. I wear my campaign button at all times, even skiing.
Yet my love for Obama is also mature. He and I don't agree on everything. He has already disappointed me, with Rick Warren and Larry Summers and plenty more. And I am prepared for deeper disappointment — for instance, when he drags us into war against Afghanistan's Islamists, whose brilliance in fighting off vastly superior armies makes the Viet Cong look like paintball players. I have no illusion that Barack is perfect, but I love him anyway.
So my first act of loving tolerance is to put my unused purple ticket in a scrapbook, along with the souvenir packet Dianne Feinstein is sending me, which includes a glossy photograph of Joe Biden. By accepting Dianne's apology, I am not signing a hold-harmless agreement with the incoming centrist Democratic administration. Rather, I am reminding myself to pick my battles. I ask my progressive comrades, as well as my fellow Survivors of the Purple Tunnel of Doom, to do the same.
I have also decided to blame the Bush administration for the Inauguration Day fiasco — its farewell fuck-up — and to savor this last pure recrimination. For I know that love is harder work than hatred, and this romance is sure to be tested.