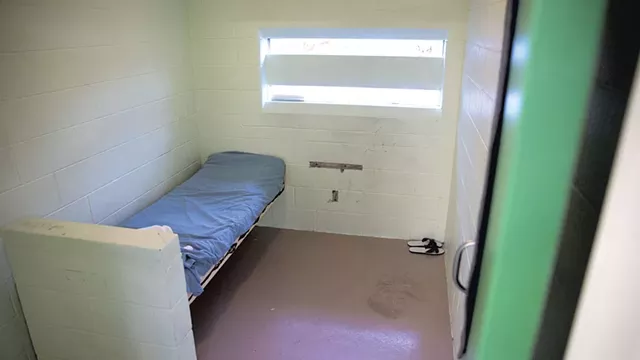 File: James Buck ©️ Seven Days
A resident's room at the Woodside Juvenile Rehabilitation Center
Gov. Phil Scott's administration has blown by its self-imposed July 1 deadline to close the Woodside Juvenile Rehabilitation Center, the state's only youth lockup. But the coronavirus crisis nearly helped shutter the Essex facility months earlier.
On March 22, officials decided to repurpose the detention center into a COVID-19 recovery site for adults with mental illness. There was plenty of space available: The building's 30 beds at the time held just four troubled youths.
Less than 48 hours later, the Vermont Department for Children and Families shuttled the kids to a hastily converted medical office in St. Albans, rented a nearby hotel room for Woodside employees and installed a new interim CEO, Brenda Dawson, to oversee the so-called "Suite 12" program. The new location was considered temporary, but Human Services Secretary Mike Smith, who approved the move, said he told DCF leaders at the time that he didn't want the youths going back to Woodside — ever.
Yet the move only plunged the heavily scrutinized program into further disarray. Suite 12 fell apart in less than two weeks, and a second location in Middlesex also failed. With no private partners willing to take over care of the kids, Smith let the program return to Woodside in May. It will remain there for the foreseeable future as the Scott administration returns to the drawing board. Five youths are currently housed at the center.
As the result of a federal lawsuit about conditions at the facility, Woodside has been operating since March under the terms of a settlement agreement with the plaintiff, Disability Rights Vermont. But problems at the center have continued to mount.
The last few weeks have brought new "concerning" uses of physical restraints by staff, DCF acknowledged. And on July 1, Dawson, who had been the program's third director in less than six months, was removed from the position and placed on paid leave pending a state investigation into unrelated allegations. The state has not made any details of that public.
"We thought there was a lot of momentum to sort of make a change. And we were waiting to hear what it was," said A.J. Ruben, a supervising attorney for Disability Rights Vermont. "We don't know still today what's going to happen. In the meantime, youth and staff are having a hard time, and unnecessarily so."
The number of youths at Woodside has been declining for years, but efforts to rethink or abandon the prisonlike center didn't gain traction until last November, when it sat empty for the first time since its creation in 1986. The Scott administration quickly announced its intention to shutter Woodside by July 1, reasoning that it could save much of the center's $5.8 million annual budget by contracting services to a private provider. The move triggered a confrontation with the Vermont State Employees' Association, which accused officials of trying to privatize services at the expense of vulnerable teens.
The state was also facing the civil rights lawsuit filed by Ruben's group. The suit claimed — and a judge agreed last August — that Woodside staff were using inappropriate restraints and seclusion methods and providing poor treatment to their mentally ill wards. U.S. District Judge Geoffrey Crawford described what he called an especially "troubling" case in which a video shows staff members using plastic shields and hazmat suits to push a naked teenage girl "streaked with excrement" into a locked room.
"The treatment of this girl is entirely inappropriate and demonstrates in the space of a few minutes Woodside's limited ability to care for a child who is experiencing symptoms of serious mental illness," Crawford concluded.
The settlement includes requirements for stricter monitoring when employees use force and training on de-escalation techniques. As part of the negotiations, Woodside's longtime director, Jay Simons, stepped into a different role, state officials said.
By the time COVID-19 hit, DCF still hadn't found a new provider. The state did receive four bids from private behavioral health organizations, Smith said, but officials weren't satisfied with them. Closing Woodside would require legislative approval, but without an alternative caregiver for the kids, officials have not brought forth the request.
The pandemic prompted the state to take a chance at relocating the program, at least temporarily. Northwestern Counseling & Support Services, a St. Albans nonprofit, offered to sublease an office suite on the Northwestern Medical Center campus that it uses as a day center for autistic children.
The organization removed furniture from the clinical spaces so DCF could convert them into bedrooms, and the hospital agreed to provide daily meals. Woodside staff would remain on-site 24 hours a day.
Suite 12 was still a far cry from the fenced, locked and concrete Essex campus, but DCF was "looking into installing delayed locks and alarms on windows," family services Deputy Commissioner Christine Johnson wrote in a memo to lawmakers, three days after the move.
However, Northwestern Counseling & Support Services executive director Todd Bauman said in an interview last week that he made clear from the outset that the agency couldn't install new locks on the premises. Bauman understood the move as an emergency "bridge" to a more permanent location, he said.
Within a week, two of the four youths at Suite 12 escaped. On April 6, the state moved the program to the Middlesex Therapeutic Community Residence, a fenced facility operated by the Department of Mental Health, citing the lack of security in St. Albans. A teen escaped from that location, too, on May 12.
The Agency of Human Services moved the program back to Woodside three days later, acknowledging to VTDigger.org at the time that the Middlesex location was not the "best fit" for the particular youths who were there. Smith told Seven Days he had hoped to avoid a return to Woodside because he considered that site to be merely temporary, as well.
VSEA president Steve Howard said he thinks state officials exploited the pandemic emergency to make Woodside's closure seem inevitable. Instead, he said, the unsuccessful "experiments" in St. Albans and Middlesex only proved that Vermont needs a facility as secure as Woodside.
"If you don't have a secure facility, it encourages violent outbursts that put both the adolescent and also the staff in danger. It also allows for numerous escapes that threaten the public safety," Howard said.
Marshall Pahl, supervising attorney for the Office of the Juvenile Defender,is less inclined to draw conclusions from those recent experiences. "I don't think you can look at anything that's happened during the pandemic and see it as a reflection of much besides the pandemic," he said.
The recent return to Woodside has also been rocky. Despite new training efforts, Woodside staff used "the same, or even more dangerous, pain-inflicting maneuvers that existed prior to this litigation" to subdue a youth during a June 29 encounter, Disability Rights Vermont alleged in recently filed court documents. State monitors and external consultants have flagged at least three use-of-force incidents since April, the group said.
The July 7 filing alleges that DCF isn't complying with the terms of the settlement agreement and asks the court to intervene. Disability Rights Vermont also notes the "sudden removal" of Dawson as interim CEO and criticizes Woodside for a "chilling" procedure change that requires youths to submit grievances to frontline staff, instead of through a confidential box.
"We have a concern that there's a heightened risk" of harm to the youths and employees at Woodside, Ruben said. "We want to make sure that there's a lot of focus on reducing that risk to everyone involved until a replacement for the facility can be identified."
DCF Commissioner Sean Brown, who took over on June 29 after Ken Schatz retired, said the department is investigating the recent use-of-force incident. "We are concerned, and we have additional work to do," Brown said after hearing from staff members who viewed video footage of the incident. No employees were placed on leave as part of the review, he said.
He confirmed that the Department of Human Resources is investigating separate allegations against Dawson, saying only that they do not directly relate to treatment of youth detainees. Brown said he removed Dawson from her interim role and assigned Bennington Family Services District director Beth Sausville as the new interim CEO. The grievance issue has already been addressed, he said.
Officials now say they hope to shutter Woodside by year's end, but that process is only becoming more complicated. The delays have triggered a clause in the recent legal settlement that requires the state to hire a PhD-level clinician as director and renovate a three-bed seclusion area of the building known as the North Unit into a therapeutic space. DCF has not started either action but takes the agreement's terms "incredibly seriously," Brown said, and intends to comply.
The state has separate construction plans that hinge on demolishing the current Woodside structure. In May, Buildings and General Services Commissioner Christopher Cole told lawmakers of a proposal to build a new inpatient treatment center for mentally ill adults on the site. The facility would replace the Middlesex one that housed Woodside in April and May. That building opened in 2013 as a temporary center following Tropical Storm Irene.
In light of the shifting circumstances, Brown and Smith said they are exploring — as one option — whether a smaller version of Woodside could be "colocated" with the new adult facility on the existing Essex property.
Such a solution would be closer to the 10-bed, state-run facility that VSEA union members pitched to lawmakers earlier this year. But even that would require the remaining youths at Woodside to make another, temporary move.