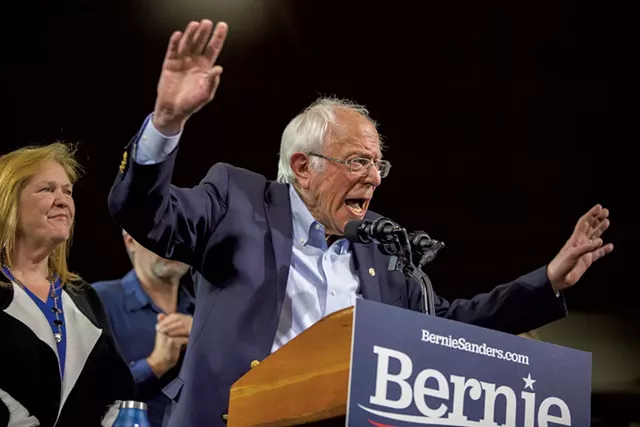 James Buck
Sen. Bernie Sanders speaking at his Super Tuesday rally in Essex Junction
Updated at 2:22 a.m.

Over the past year, Sen. Bernie Sanders' (I-Vt.) second presidential campaign has taken him to every corner of the country. On Tuesday, it brought him back home.
As election officials counted ballots in the 14 states that voted on Super Tuesday, Sanders joined thousands of supporters for a raucous rally at the Champlain Valley Exposition in Essex Junction.
"You know, it's a funny thing," Sanders said as he took the stage just after 10 p.m. "Thirty-nine years ago today, we won the mayoral race in Burlington, Vt. And we won that race against all of the odds. Everybody said it couldn't be done."
Similarly, he said, "When we began this race for the presidency, everybody said it couldn't be done. But tonight I can tell you with absolute confidence, we are going to win the Democratic nomination — and we are going to defeat the most dangerous president in the history of this country."
By the time Sanders addressed his neighbors, at least one result was clear: He had won Vermont's Democratic primary, though by a narrower margin than in his 2016 campaign. With nearly every precinct reporting, the Burlingtonian was leading with 51 percent of the vote. Former vice president Joe Biden was holding on to 22 percent, while Sen. Elizabeth Warren (D-Mass.) trailed with 12 percent and former New York City mayor Michael Bloomberg with 9 percent.
The picture was muddier outside of the Green Mountains. By early Wednesday morning, it remained unclear how the 1,357 delegates up for grabs would be divvied up, though it appeared that Biden was on track to have a big night.
"I'm here to report we are very much alive!" Biden said at a rally in Los Angeles.
The former vice president, it appeared, had swept through the South — winning Alabama, Arkansas, North Carolina, Oklahoma, Tennessee and Virginia. He won an unexpected victory in Minnesota, which had been widely expected to go to Sanders. And in Massachusetts, he beat out Sanders and relegated Warren, who represents the state in the U.S. Senate, to third place.

For much of the night, Biden and Sanders were neck-and-neck in Texas, where 228 delegates were up for grabs. At around 2 a.m. Wednesday morning, the Associated Press finally called it for Biden.

In addition to Vermont, Sanders picked up Colorado, Utah and the most important state of the night: California. But just how many of its 415 delegates would end up in his pocket remained unclear. With 45 percent of Californian precincts reporting, Sanders led Biden 30 to 20 percent.

By 2 a.m., only Maine remained up in the air. With 70 percent of precincts reporting, Biden was leading by a few thousand votes.

During Sanders' remarks Tuesday night in Essex Junction, Sanders seized the opportunity to draw a contrast with Biden, who appeared to eclipse him as the frontrunner for the Democratic nomination. "We are not only taking on the corporate establishment, we are taking on the political establishment," Sanders said, adding that the party could not beat President Donald Trump "with the same old, same old kind of politics."

One by one, Sanders listed the policy areas around which he and Biden had disagreed over the years: Social Security, trade, bankruptcy law and the Iraq War. The remainder of the primary, he predicted, would be "a contrast of ideas."
Though Super Tuesday was not turning out quite like his campaign had hoped, Sanders expressed optimism that he was still on the path to victory.
"I am excited about where we are. We have come a long, long way," he said. "Let's go on to the White House!"
The days prior had been tumultuous for the Sanders campaign. After winning or nearly winning the first three states on the primary calendar, Sanders suffered a major setback Saturday in South Carolina. Biden, whose candidacy had been left for dead weeks earlier, won a resounding victory, picking up more than 48 percent of the vote. Sanders lagged far behind with just 20 percent.
More ominously for Sanders, who worked hard to win over the state's African American voters, exit polls showed the key Democratic constituency backing Biden over Sanders, 61 to 17 percent. Such a lopsided result, if replicated elsewhere, could spell delegate doom for Sanders and undermine his argument that his is a "multiracial, multigenerational movement."
Speaking Saturday night in Norfolk, Va., Sanders acknowledged the South Carolina setback. "You cannot win 'em all," he said.
Biden's victory set off a swift consolidation of the once-vast Democratic field. Tom Steyer, the billionaire hedge fund executive who had staked his candidacy on South Carolina, dropped out of the race Saturday night after a disappointing third-place finish. The next day, former mayor Pete Buttigieg of South Bend, Ind., did the same — and on Monday, Sen. Amy Klobuchar (D-Minn.) followed suit.
As Biden campaigned in Dallas on Monday night, Buttigieg, Klobuchar and another failed candidate, former U.S. representative Beto O'Rourke of Texas, endorsed the former vice president one after another.
"Most Americans don't want the promise of revolution," Biden said in Dallas, referring to Sanders' long-promised political revolution. "They want results. They want a revival of decency, honor and character."
As moderate candidates closed ranks behind Biden, Sanders continued to face competition from Warren, a longtime friend and fellow progressive. Though she failed to gain a foothold in any of the early-voting states, Warren has pledged to remain in the race, pitching herself as a "unity" candidate who could bring together the establishment and revolutionary wings of the party at a contested Democratic National Convention.
"We're in this race for the long haul," her campaign manager, Roger Lau, wrote in a memo released Sunday, noting that Warren had raised $29 million in February.
Bloomberg, who has already plowed well more than half a billion dollars into his candidacy, seemed similarly inclined to keep at it Tuesday morning. "I have no intention of dropping out," he told reporters in Miami. "Have you asked Joe whether he's going to drop out?"
But by the end of Tuesday night, his advisers told reporters that the former mayor of New York City would reassess his place in the race on Wednesday.
In the days since South Carolina, a consensus has emerged that the Democratic primary has become a two-candidate affair featuring Sanders and Biden. That's a matchup Sanders' top advisers claim to welcome.
"The choice in the Democratic primary is now crystal clear," Sanders campaign manager Faiz Shakir and senior adviser Jeff Weaver wrote in a memo on Monday. "Voters face a choice between Bernie's working-class movement and his message of change, and Biden's effort to — in his own words — make sure that 'nothing will fundamentally change' for the billionaire class that buys elections."
Though Biden may leave Super Tuesday in the driver's seat, Sanders is hardly out of gas. In February alone, he raised more than $46 million from his network of small-dollar donors.
That could make the difference as the race moves to Michigan, Washington, Missouri, Mississippi, Idaho and North Dakota next Tuesday — and then to Florida, Illinois, Ohio and Arizona the week after that.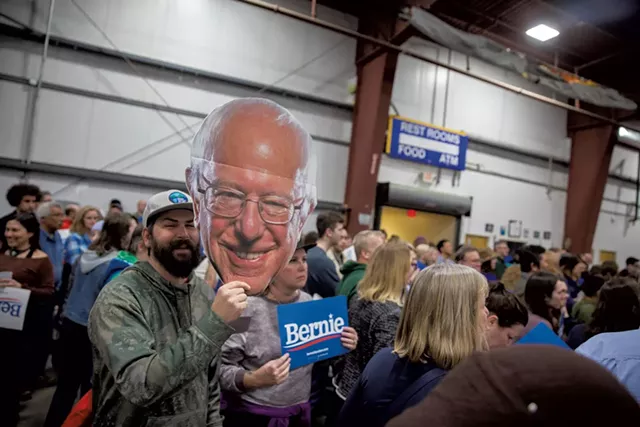 James Buck
Jack Crookes holding a cutout of Sanders
At Tuesday's rally in Essex Junction, Sanders supporters were entertained by the Mallett Brothers Band, featuring half of Burlington-born Phish: drummer Jon Fishman, bassist Mike Gordon and, for a couple of songs, Gordon's daughter, Tessa.
The crowd also heard from a series of Vermont politicians who did their best to hitch their wagons to the state's junior senator. Lt. Gov. David Zuckerman, a Progressive/Democrat, recalled that Sanders had first inspired him to run for the state legislature in 1994. He urged the crowd to support his own gubernatorial campaign later this year.
Zuckerman worked the crowd throughout the night. "It's amazing," he told Seven Days. "So many people here are psyched, are energized."
Not long before Sanders took the stage Tuesday night, his wife, Jane O'Meara Sanders, thanked Vermonters for their steady support.
"This movement started right here," she said. "Neither of us even considered being anywhere else but here tonight."
Audience members expressed excitement at catching a glimpse of their senator.
Corine Doughan has been following Sanders' career since she moved to Vermont in the mid-1980s. "It's about time he got the momentum!" she said with a laugh.
The 63-year-old census worker from Essex Junction said she was "amazed" to see Sanders emerge as a serious presidential contender. "I think more people are seeing the value of his values," she said.
Doughan said she was particularly pleased that Sanders chose to spend Super Tuesday in Vermont. "It lets us know he's still for us, too," she said.
Jack Crookes, a 43-year-old janitor from Saratoga, N.Y., brought a larger-than-life cutout of Sanders' head to the event. Fellow fans took turns posing with it.
"He's the only politician I can trust," Crookes said. "He's been standing by his beliefs for 30-plus years."
This isn't the first time he's felt the Bern. "I was pretty excited about his campaign in 2016 — until the [Democratic National Committee] robbed him," Crookes said. "It was definitely rigged." As for whether the same might happen this time around? "I hope not," he said. "Time will tell."
Some audience members said they were drawn to the event by more than their support for Sanders. "It's democracy in action," said Sherri Hooks, a 40-year-old Richford resident who brought her three homeschooled children to the rally. "How often does this happen?"
Andrew Reckers felt similarly. "I like Bernie, but I'm more here for the spectacle," said the 36-year-old information technology consultant from Colchester.
Reckers attended Sanders' first presidential campaign kickoff on the Burlington waterfront in May 2015. "Back then, he didn't seem to have much of a chance," he said. "Now I think he has a decent shot — as long as the DNC treats him fairly and the media doesn't turn against him."