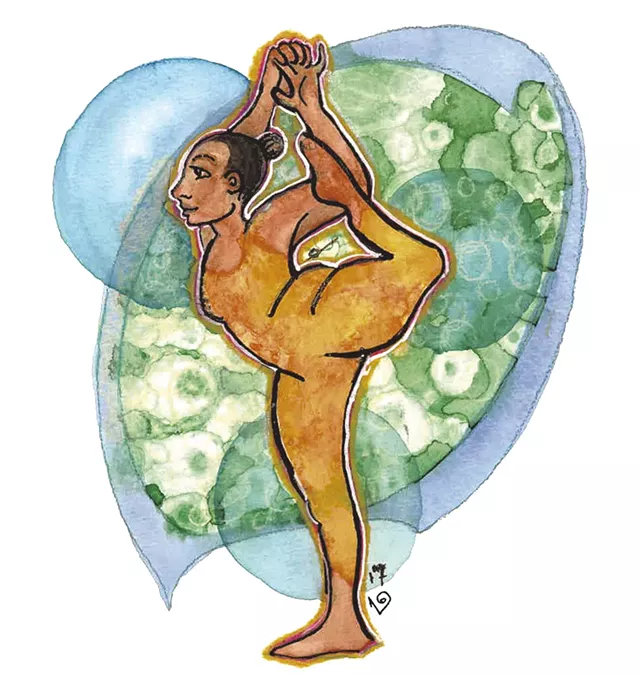 I've been obese my entire adult life, and a chunk of my teens, too (pun intended). But, unlike many women, I never really fixated on it. I've been in a few wedding parties, and I've gotten married myself. I once donned a bathing suit in front of 75 of my husband's relatives at a family reunion and jumped in the ocean. I ran a full marathon in 2013 at more than 100 pounds over an acceptable BMI for my height. I have even dared to wear a pair of leggings in the latest LuLaRoe craze.
I'm not about my size limiting me. But the fact is, it does, and I'm sometimes surprised to realize how big I am. I forget, until I have to suck in to buckle a seatbelt on an airplane, or attempt to ride La Chute at Jay Peak, or try to walk into a store to buy pants. Sometimes photos of myself shock me. When your body is uncomfortably large, it can be easier to disassociate.
As a side effect, I've tended to act like a floating head: I valued only my intelligence, humor and personality. I didn't let my size stop me, but neither did I integrate it into my self-definition. I've never been much praised for my appearance, other than the stinging compliment, "You have such a pretty face." So, usually, I just haven't acknowledged that my body exists.
Until yoga.
After I ran half of the Vermont City Marathon last May, my joints made it known that I might want to take a break from high-impact sports for a while. So I started going to weekly yoga classes at the beginning of September. I tried a few different locations initially, but now I loyally attend Kripalu yoga classes on Monday evenings in Milton. In the spring, when my schedule calms down, I hope to go twice a week.
At this point, I think it's a given that yoga is good for everyone, regardless of age, size, shape or fitness level. My teacher, Lonnie Poland, is also a physical therapist, and she makes sure that I modify poses so they're appropriate for my body. As she quoted to me — from Aadil Palkhivala in his 2006 book Fire of Love: Teaching the Essence of Yoga — "Yoga doesn't care about the shape of your body but the shape of your life."
For me, yoga class is a place where I don't feel judged and where I am reminded not to judge myself. I can adjust the poses and do what works for the body I actually have. Although I'm quite flexible, especially for my size, tummy fat gets in the way of certain bending and twisting moves. But it's nothing a bolster, block or blanket can't fix.
Though yoga has been super-trendy in the U.S. for decades, it's hard to call it a bandwagon when the practice has been around for 2,500 years. Perhaps we modern people are just desperate to quiet what Buddhists call our "monkey mind." I went to yoga classes looking for a way to calm my mind and allow my body to speak. And the practice is indeed helping me with my mind-body relationship. In Sanskrit, yoga means "union."
Like most people, I've got both good stuff and bad stuff going on in my head. But before yoga, I had failed to consider that my brain is just another part of my body. I've since learned that my entire system needs to work in harmony so I can have the most fulfilled life. I'm seeking that balance, mentally and physically, on the mat.
I currently weigh 40 pounds less than I did 20 weeks ago. Yoga class is only one reason for that weight loss, but the values at the heart of the practice are crucial. I want my external appearance to match my internal attitudes.
My teacher says, "As we have a direct experience with our physical body, it can lead to many insights. From there, we begin to move toward seeking harmony with all parts of ourselves and others. This, in turn, leads to health and happiness." Sounds good to me.
Though I've never felt my weight was the defining fact about me, practicing yoga helps me realize that I am both more and less than my body. As Liza Ciano, co-owner of Yoga Vermont, puts it, "The beauty is that people often come here for the stretch and leave with a lot more."
I went searching for the "more" and left with the stretch.
Except, I haven't left. I'm trying to integrate yogic thinking into my lifestyle — and to merge the parts I once considered opposed. In other words, I don't want to think of my mind as one thing and my muffin top as another.
Namaste.