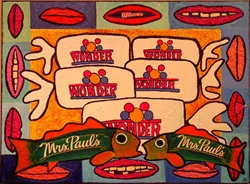 EXHIBIT: "Arts-R-Us," artwork influenced by advertising, commercialism and market forces. Main Floor Gallery, Studio Place Arts, Barre. Through April 15.
ARTWORK: "Days of Miracles & Wonder" by Michael Smith
Nature's best-known hucksters may be macho, crazily warbling, brightly plumed songbirds; nearly every species of flora and fauna sells itself. Humans, too. "Arts-R-Us," at Studio Place Arts in Barre, is a show of 36 pieces in all media. Subtitled "Artwork influenced by advertising, commercialism and market forces," the exhibit examines our financially based culture through the lens of visual art.
The 2-foot-tall marble sculpture by Nick Santoro, dubbed simply "Icon," is a perfect dollar sign in relief on a tapered, standing slab of white stone with a diagonal gray grain. Dollar signs appear repeatedly in the show, in fact, and are emblematic of more than U.S. currency. As the cross is to Christianity, $ is to capitalism.
In Michael Smith's "Days of Miracle and Wonder," the Underhill artist collaged labels from fish sticks and mayonnaise jars along side his signature portraits of Wonder Bread. A border of happy mouths, perhaps awaiting the heavenly sandwich that can be prepared from Smith's fare, lines the colorful ingredients. Smith's linkage between food and pop culture is a common -- and in his case, always humorous -- theme in contemporary art.
David Powell, a graphic design professor at SUNY Plattsburgh, first achieved immortality by creating the Allman Brothers Band album cover for Eat a Peach. His SPA paintings, "McDonald's Erection" and "The History of Food," were created in that same halcyon decade -- the 1970s. In "McDonald's Erection," yellow cranes raise the golden arches over a cleanly minimal construction site. A cheerful spectrum of rainbow colors borders Powell's rectangular urban landscape. The painting dates from 1974, the year President Richard Nixon resigned from office.
Powell's skillful draftsmanship remains manifest in "The History of Food." The 1975 acrylic has three panels: at left, two boars play tug-of-war with a piece of meat; a juicy red apple floats in the center panel. On the right, the specter of "Mickey D" appears, this time as a Big Mac resting under a street lamp in a deserted parking lot.
Powell's are not the only works here that are more than 30 years old. Phillip Godenschwager's 1976 pen-and-ink "St. Charles Line" and 1973 latex-enamel-on-plywood "Don't Cry Over Spilled Milk" are also almost first-generation Pop Art. But Godenschwager's cartoonish paintings and drawings seem more influenced by R. Crumb than Roy Lichtenstein.
"St. Charles Line" sports very Crumb-like, distorted perspectives and curvy forms. It's a playful view of New Orleans -- a rarity these days. Details break out of the rectangle like water through a levee, giving "St. Charles Line" an eccentric shape. "Don't Cry Over Spilled Milk" also has shaped edges. It includes a dollar-sign character with a pitchfork, and lightning bolts leaping from an electrical outlet. Its colors are flat and vibrant.
The mixed-media-on-paper "Purex" and "0% interest till January 2007," by Carly Glovinsky of Dover, N.H., seem like sketches for surreal billboards, or rough layouts for newspaper ads. "Purex" includes a drawn coupon for "$1 off 2" in addition to a green-and-orange Purex box. Glovinsky's literary elements are layered over and interspersed with abstract forms that seem distilled from the shapes and jarring rhythms of a supermarket.
Making money and "making a living" mean the same thing in American culture. Thanks to capitalism, we can endlessly circulate greenbacks to fulfill any desire -- practical, altruistic, destructive, carnal. And in support of the American art economy, nearly every piece in "Arts-R-Us" is for sale. At these prices, they won't last long.