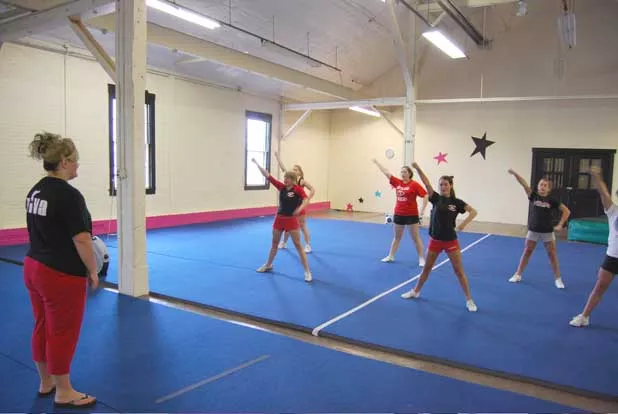 It's a far cry from idyllic green athletic fields, but the chants coming from inside are unmistakable. Tucked away in building 12M in the Howe Center - an industrial park in a gritty section of downtown Rutland - is Peak Performance All Star Cheer & Fitness, the only cheerleading gym in Vermont. That's right: a gym devoted to practicing dance maneuvers, tumbles, call-back cheers, aerial stunts and all the other tricks cheerleaders use to keep fans focused on the game. It's here, too, that all-stars hone their skills for state and New England cheering competitions.
At the helm of this boisterous and jubilant ship is Cara Austin, 33, the head coach of the Rutland High School cheerleading team, who organizes all the cheering programs in Rutland City - including a middle-school team and a program offered for children ages 5 and up through the Rutland Rec Center. All told, 140 girls - and sometimes a few boys - practice at Austin's gym. Once a year, they converge at a Rutland football game to show off their collective moves at what may be the biggest cheerleading festival in the state.
Austin, an accountant by day and the mother of two young children, is a model of school spirit. She cheered for Rutland during high school and stepped up to coach the team after graduation, commuting to college in Albany, New York. The cheer gym is an extension of the enthusiasm she shares with her community: Founded last fall, it gave the cheerleaders much-needed space and time to practice just when they were getting squeezed by the 20 other sports that vie for square footage in the winter.
Seven Days sat down with Austin amid the gym's mats and trampoline to learn a little bit about the cheerleader's mystique. Bring it on!
SEVEN DAYS: What makes kids want to start cheerleading?
CARA AUSTIN: I think cheerleading is different for everybody. We have two twins here who were very competitive gymnasts, and that's what they did for a long time. But in Vermont, there's not a huge forum for that, and they were having to travel out of state every weekend and it was really hard on them. So they decided to do something where they could incorporate that skill into high school. I think a lot of the kids that I get for cheering are kids that have danced for a long time, kids that do gymnastics and maybe aren't into the more traditional types of female sports like basketball or field hockey or soccer.
SD: Cheerleading tryouts have provided a lot of fodder for high school television dramas. Are yours very competitive?
CA: Yes, it can be competitive. I have run tryouts differently in the last 15 years, but the general tryout I use is just practice. We practice for five days, and the coaching staff, which includes two other people in the winter who help out, places kids where they belong based on the skill level that we observe that week.
I know, when I tried out, you went in a room with a judging panel and did your cheer and your dance and your jumps and you were scored. Then scores are posted and kids go look at them. We don't do anything like that. In fact, it's a Rutland City school policy that any athlete that's being cut or put on JV [junior varsity] is spoken to directly by the coach. We take them in the office and speak to everyone individually about where their skills are, what team we're putting them on, why, and what they need to work on.
SD: What skills are you looking for in a varsity cheerleader?
CA: Cheerleading is much more athletic than it used to be, I think. Still, there's this stigma about cheerleading being non-athletic.
We look for kids that can jump, which isn't necessarily easy if you're not really coordinated. Tumbling is a big skill now that's becoming more and more necessary in cheerleading. Not as much in the state of Vermont, because we don't have that kind of forum, but in order for us to be competitive out of state in the New England competition. When you're competing against the best teams from Massachusetts, New Hampshire and Rhode Island, you have to have a lot of tumbling skills on your team. We look for kids that can dance - that's another big skill that we use.
And, just in general, we look for kids who are happy to be here and have the right school spirit. Sometimes cheerleading can get a little too competitive, in the sense that it's all focused on competition, so it's important that the kids are cheering not just because they love to compete but because they enjoy cheering for the team and fostering that kind of school spirit.
SD: How do you come up with the cheers? Do you recycle them over the years?
CA: We definitely recycle. We use material that the kids learn at summer cheer camp. Generally, summer cheer camp is used to learn the cheers for games and floor cheers. We see what the kids like. When we're getting ready for our competition routines, we use a choreographer, and those are new every year.
SD: Can you give me an example of a popular cheer?
CA: Oh, God, I don't know that we have a most popular cheer. We have crowd cheers that kids like. I can't cheer for you - I just coach!
SD: What kind of cheers do the kids like these days?
CA: I don't think it's necessarily words that make the kids like the cheers. In the fall, we do lots of call-back cheers. You know, where the kids will say, 'We say Rutland, you say Raiders.' That kind of call-back is what our kids like, and fans respond to the cheerleaders. We'll use signs in the fall that help the fans know what we want them to say. For the most part, the fans like the call-back cheer, and things can get competitive in the stands, as far as who's louder and things like that.
SD: Who do you compete against in the winter cheerleading competitions?
CA: In Vermont, I think there were 23 teams at State's last year, and it goes by divisions. We're a Division I school, so we compete against other Division I schools, like Essex, St. Johnsbury, St. Albans and South Burlington. Our biggest competition is Essex, and it always has been, even when I cheered. For most of the last 16 or 17 years, either Essex or Rutland has won the division, so it's kind of a big rivalry. We usually take the kids somewhere out of state during the year as well, so that they can see what other teams are doing. The New England competition happens every year, and we have gone once. We're planning on attending that this year. There are very, very good cheer teams there, so it's exciting for the kids to see the caliber of athlete.
SD: What do you love about coaching cheerleading?
CA: I enjoy the kids. I enjoy seeing the kids get better and move their skills to the next level. I enjoy competition; that was one of my favorite things when I cheered. We have a great group of kids, and they make practices enjoyable. I think that makes a big difference when you're a coach. Because we spend maybe two hours a day together, five days a week.
We do lots of team-building things, too. We'll go bowling as a team, and we'll have team dinners. We've done all sorts of different things outside of cheerleading, and in this day and age, they need to do those sorts of things to foster that commitment to each other.