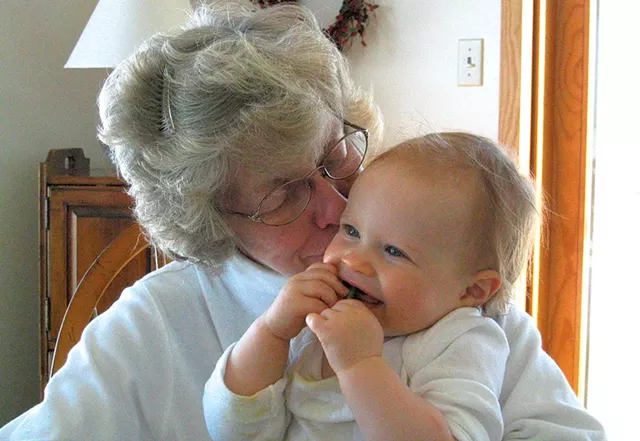 It was easy for me to be skeptical of Valentines' Day. It was easy to conclude that the day — held captive by companies peddling saccharine greeting cards and cheap chocolate — was not at all about love and only about profit.

Easy, that is, until my baby girl was born in the dark early morning of February 14, hours standing still, monitors humming low, everything otherworldly and unbelievable. Just like her slithery new life. A lovely creature. A daughter, a granddaughter, a bright infusion of light into the world. A true love. A valentine.
My own mother's love was true. All she ever wanted to do was love — love, take care, support, encourage, love, love and love. Her love was raw and visceral, and it would kill you without remorse if you brought harm to her children — or her first grandchild.
My daughter, Elena, spent her early years in the warm embrace of my mother's good company. My mom talked to Elena all day, from the start. She took her for lunch, bathed her, fed her, read to her and sang her to sleep. For the record, my mother could not sing. Not at all. Not even a little. But Elena loved it. Elena loved everything about her Tootsie. Unconditionally. Without judgment. Always.
What a gift this must have been, because we did not love my mother this way. My father did not. My brother did not. I did not. We wanted to — we intended to. But we were angry. Angry at what Elena could not see and would not have cared about anyway: that my mother smoked, and that it was killing her. Not quietly, not subtly, not as an afterthought to a life otherwise well lived. Smoking was killing her in loud fits of coughing, in disintegrating lungs, in shattered bones, in tears squeezed from the corners of her eyes as she braced for the possibility that breath might not come.
We did not love my mother without judgment. We judged her for what smoking was doing to her; for what it was doing to us, as it rendered us desperately unable to save her. Its unwelcome presence hung like cooking oil in the air, tasted like tar on fingertips and smacked of failed life choices. We saw my mother's smoking not primarily as a powerful addiction but as a failure. Her failure. Although our anger was misplaced, it polluted our love. And, of course, that was our failure.
But Elena? The baby girl born on Valentine's Day? She loved my mother with utter devotion, with pure joy, with even the spaces between her tiny teeth smiling up at Tootsie, forgiven as she finally was. Loved. When my mother's illnesses wore me down and I could not reconcile judgment from pain long enough to find compassion, Elena held her Tootsie's hand. Elena offered her love.
We moved my mom to the Vermont Respite House, an inpatient hospice facility, when Elena was 7 years old. To my daughter, it was a magical place with endless cookies, goldfish in a bubbling aquarium and tea at the ring of a bell. Where two people, so far apart in their lives that they're close, could watch HGTV in peace.
Just before Elena turned 8, we gathered at the Respite House to celebrate, crowding together in the little room: two grown children, their spouses and four grandchildren. We jumped on the bed, rearranged the furniture, pushed the nurses' call button relentlessly and ate everything from the cookie counter. My mom laughed, held her grandbabies, gave instructions on how to parent and scolded us for feeding the kids too many sweets, even as she snuck them caramels. Given the circumstances, it was a hell of a good party.
Early on the morning of Valentine's Day — Elena's birthday — the nurse called to say my mother would not lift her head, was unresponsive, had changed. It was time. Come.
I spent the day with my mom in her bed, sleeping and waiting for my brother. He appeared in the fading last light of evening, having just made it home to New York only to turn around again. Within an hour of his arrival, her breathing became shallow and slow. Then, finally, her lungs let go a last breath. A curl of a whisper — a spirit — slipping out through the cracked window and into the frostbitten night.
No. I thought. Not yet. What of your leaving on Elena's birthday? What of this once vacuous holiday, redeemed and recaptured by her arrival? What now, if it's tainted by loss? What of this valentine girl and her abiding love?
Of course, there are no perfect answers or easy explanations. But maybe these two souls, melded as they are, share a language spoken only in the entering and exiting of this earthly life on the same day of the year. Each loving the other eternally, each eternally loved.
I don't know about all of that, though. Not really. What I do know — and what I tell Elena — is that Valentine's Day is about love. And love is sometimes messy, sometimes heartbroken and obscured by circumstance. What she taught me is that even when it's hard — especially when it's hard — we must try to love one another just exactly as she loved her Tootsie: unconditionally. Without judgment. Always.