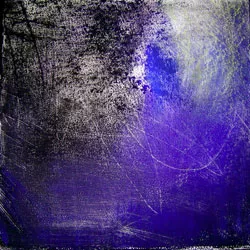 Marc Awodey
"So Many Lost and Perfect Stars" by Dorothy Claire Weicker
Blue is a powerful hue, and is more common in nature than are its fellow primary colors yellow and red. "Give Us Some Blues," a current exhibit at Studio Place Arts in Barre, offers various shades of the majestic color in 40 artworks by artists from as far afield as Utah. Contrary to the old tincture's melancholic reputation, this makes for a lively exhibition. Blue may inhabit the short end of the spectrum of visible light, but it's long on poetics and creative vibrancy.
Linda Van Cooper's oil "Road Trip" is more expansive than its diminutive 9-by-12-inch dimensions would suggest. It's a through-the-windshield view of a blurred landscape with pale cerulean snow heaped on the shoulders of a highway. A forest of blue spruce or similar conifers runs along the right side of the painting and recedes toward the dramatic vanishing point. A dash of red, a yellow highway line and a similar golden yellow warming Van Cooper's sky keep the piece from being monochromatic.
Other landscapes in the show include a diaphanous watercolor, "Florida Blues: Gulf Stream on the Horizon," by Pria Cambio; and a rugged untitled oil by Juliana Cassino Fechter that portrays the tops of leafless birch trees. The former's horizon is a bright sliver of lavender and gold. In the latter work, black charcoal slashes animate the birches and veil the icy-blue sky.
Peacock-blue Beanie dogs by David Klein are among the most humorous pieces in the exhibit. His nearly 7-foot-tall "The Unbearable Lightness of Beanie" dog sculpture comedically and monumentally portrays a weeping Beanie with a couple of cartoonish tears falling from its plate-sized red eyes. It would make a great roadside attraction if a Beanie theme park or diner ever opened in Klein's hometown of Marshfield. Indiana artist Rob Millard-Mendez's sculpture "Little Blue Pill," lampooning Viagra, is equally whimsical.
The artist book "Blue Galaxy" by Chris Esten is more sculptural than literary. The abstraction is like a small folding screen opened to reveal atmospheric blues reminiscent of views of Earth from space. A cosmic connection is also suggested by Dorothy Claire Weicker's conte drawing "So Many Lost and Perfect Stars." The 12-by-12-inch work picks up the textures of "distressed" Arches paper and counterpoints the surface with black and indigo fields of powdery pigment. A few fine lines scratched in the image suggest shooting stars in the night.
Vincent van Gogh, who had an almost instinctual approach to color, once wrote, "There is no blue without yellow and without orange." He was referring to the link between blue and purple and their complementary hues. Van Gogh's assertion is illustrated by Linda Maney's "Blue 2." Two broad, straight-edged vertical lines in warm colors float over the deep space of a peacock-colored background. Maggie Neale's "Blues Number" includes loosely geometric shapes in red and yellow-white interacting with blue and black areas of the expressionistic background field.
Axel Stohlberg's paintings in the show are dark to the point of being somber. In both "Blue Skies I" and "Blue Skies II," house-shaped forms drift in solid blue spaces. The houses are drawn with scribbly graphite, their edges so sharp they look like collage elements.
Besides being a color, blue is a supple word that can serve as a noun or adjective and convey an action — as in "to make something or someone blue." Perhaps we can say that two dozen artists blue up SPA this month, and the results are far from melancholy.