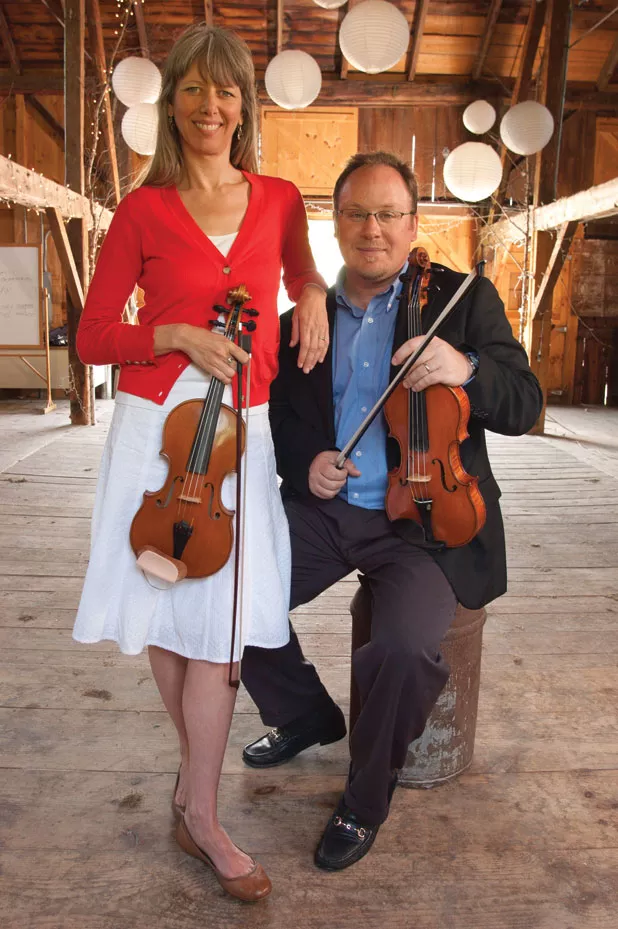 Sofia Hirsch and Michael Dabroski
The world of classical music isn't generally known for lawless insurrection, but Michael Dabroski and Sofia Hirsch of Burlington Ensemble (BE) have been overthrowing the norms of chamber music since 2009. Observing that too many nonprofit music groups share the same small pool of donors, the violin-wielding duo decided to start charging for their shows and donating most of their proceeds to nonprofit organizations scattered around Chittenden County.
BE's experimental business model vindicates its success this summer, beginning with two tours around the state. The first, called the BEliever Tour, kicks off this Friday, May 25, at the Edgewater Gallery in Middlebury. It won't feature the penguin suits and other stereotypes of the genre. Instead, it will showcase a down-to-earth cellist from New York City: Benjamin Elton Capps.
Dabroski describes the BEliever tour as "kind of a mixed bag" of the group's regular 90/10 and Summer Serenade cycles. With the 90/10 concerts, 90 percent of the revenue goes to six nonprofits of Dabroski and Hirsch's choice. The remaining 10 percent goes to BE; Summer Serenade tours fund the players for the 90/10 series. These musicians, by the way, earn "more than a competitive wage" from BE, says Dabroski. The BEliever Tour's unique hybrid design allows BE to fund itself while increasing its number of beneficiaries.
"But we also think of it as making relationships with new communities and new concertgoers that will be poised to communicate our message," adds Dabroski.
Ben Elton Capps came into the BE picture via Joe Goetz, the afternoon voice of VPR Classical. Goetz says he had kept in contact with Dabroski and Hirsch after the ensemble approached Vermont Public Radio regarding event publicity. Noticing their bourgeoning success, Goetz met with BE to help curate the 90/10 series that ended in April. Goetz, a professional musician himself, played the difficult piano part of Antonín Dvoák's crowd-pleasing Dumky trio (Piano Trio No. 4) at the series' final performance. Goetz says he met Capps at a house concert during the Manchester Music Festival in Manchester, Vt. He adds that he was hesitant to introduce the world-renowned Capps to BE at first because the ensemble was still in its fledgling stage.
"But then I was like, 'What the heck,'" Goetz says. "Ben's the kind of guy who doesn't want to turn down a gig. He wants to play, so let him play."
Capps' BE premiere was at a Summer Serenade concert in 2011, followed immediately by a string of performances at Shelburne's All Souls Interfaith Gathering. He says the music selection for his upcoming tour is among the most difficult he's put together, though he certainly welcomes the challenge.
"Ooh … Bach, Piatti and Britten. What more could one want from life?" Capps writes to Seven Days in an email. This week, he'll also be performing "Echo Lake," a composition by his friend Evan Premo, a double bassist and cofounder of Vermont's Scrag Mountain Music.
Dabroski and Hirsch say they like to ensure their song selections and concerts remain accessible to a wide audience. They keep ticket prices low and invite beneficiaries to speak at their events. Additionally, Hirsch has put together an intermission performance featuring local student groups, such as Vermont Suzuki Violins and chamber groups from the Vermont Youth Orchestra.
"We want to involve the kids as much as possible," says Hirsch, who grew up playing in the VYO. In addition to the BEliever Tour with Capps and July's Summer Serenade tour, BE plans to collaborate with the Boys & Girls Club of Burlington in hosting a tuition-free summer camp at All Souls. Kate Lisman, a violinist currently earning her doctoral degree, will direct the weeklong camp.
"We're just thrilled about it," says Mary Alice McKenzie, director of the Boys & Girls Club. "We're all so unbelievably grateful, and Kate has a knack for teaching kids notes without them realizing they're learning notes."
Hirsch adds that the collaboration will not only offer lessons and performances for the campers but will also introduce them to new surroundings.
"Some of these kids in the [Old] North End of Burlington haven't been out in the woods — ever," she says.
Summer's end will bring BE's String Quartet Project, a collaboration with Music-COMP, formerly called Vermont-MIDI. Music-COMP is a national group based primarily in Vermont through which students submit musical compositions for review by professional mentors. BE's upcoming 90/10 series will highlight these student-composed string quartets.
"This is the height of music education right now," says Dabroski. "It's different from just seeing an instrument, petting it and walking away. With this, it's like working on a paper or a garden." BE also plans to help Common Roots, a local food-oriented nonprofit, promote cafeteria food-choice mindfulness by collaborating with the South Burlington High School chorus and instrumentalists from the school band. Dabroski says that his time as a 13-year-old studying chamber music at the Apple Hill Center in Keene, N.H., helped prompt his focus on youth and social initiatives.
BE's flourishing presence indicates that its for-profit approach can liberate chamber groups from their current board-of-directors-burdened existence. Dabroski speculates the group stands alone with its business model, because musicians typically don't take the time to study the logistics of orchestra operation, and also because some consider approaching music as a commodity to be taboo. But without the overhead of a nonprofit, Hirsch and Dabroski say BE's initiative enables them to give more money back to the community.
"I love the idea of turning the for-profit model on its head," says Hirsch. Goetz, who is hosting Capps on VPR this Thursday at 3 p.m., agrees. He says he's thrilled to see BE growing so quickly. The upcoming BEliever tour is the first of its kind, but certainly not the last, according to Dabroski.
"It's our intention to develop many more of these summer tours," he says, "because there's around 3000 nonprofits in the state of Vermont."
Burlington Ensemble's BEliever Tour begins this Friday, May 25, at the Edgewater Gallery in Middlebury, 7:30 p.m. $20. For more dates and info, visit burlingtonensemble.com.