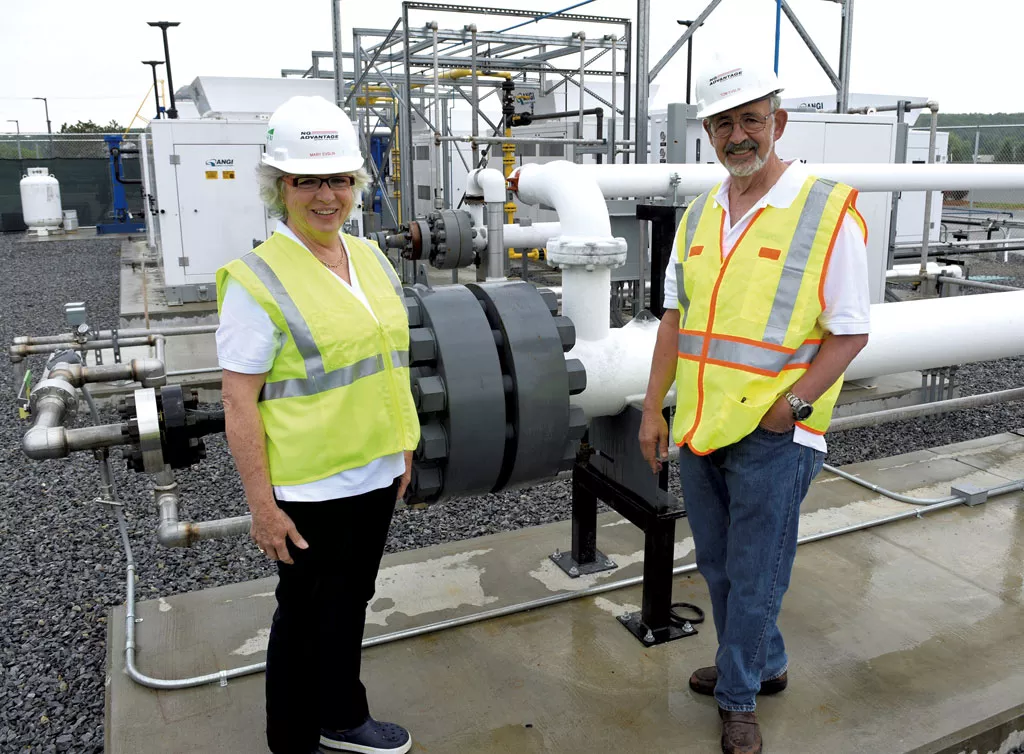 Lee Krohn
Mary and Tom Evslin
Starting next week, some 14 to 20 trucks will make a daily hour-and-45-minute trip from Milton to Ticonderoga, N.Y. They'll be hauling compressed natural gas to fuel the International Paper mill, in lieu of a proposed pipeline nixed earlier this year.
"We're feeling like this is a good option for us," said Donna Wadsworth, spokeswoman for the 614-employee plant located just across Lake Champlain from Mount Independence. In February, her company backed out of a deal with Vermont Gas to build a 19-mile pipeline under the lake after projected costs rose from $69 million to $135 million.
The pipeline's demise has been a boon for NG Advantage, the Colchester company that's been compressing and shipping natural gas since 2013. International Paper is a big customer: The short-term contract will bolster NG's business by about half.
"It's the largest volume of compressed natural gas being delivered for industrial use by truck in the country," said Tom Evslin, the company's chief executive officer.
NG Advantage is also sending two or three trucks a day from Milton to Middlebury, where the compressed natural gas is fueling Agri-Mark, Middlebury College and Vermont Hard Cider. Those deliveries are meant to be temporary, until Vermont Gas completes a 41-mile pipeline from Colchester to Middlebury.
This new transportation system, which was unavailable in the area when Vermont Gas first proposed the pipeline, raises a question: If the biggest energy customers can get natural gas delivered via truck, is it really worthwhile to build an expensive, disruptive and controversial natural gas pipeline?
Bristol lawyer Jim Dumont is putting that question to the Vermont Public Service Board as he makes a case for killing the Vermont Gas project.
"The world has changed," said Dumont, who represents AARP Vermont and argues that the pipeline's price will cost the gas company's customers. "We have compressed natural gas that wasn't considered in 2013."
Sandra Levine, senior attorney with Conservation Law Foundation, agreed. "It's further evidence the proposed pipeline is not needed. There are other options for customers to obtain natural gas," she said.
The availability of trucked gas vastly alters the pipeline's economics, Dumont argued, as does the projected cost increase of the Colchester-Middlebury leg, from $86 million to $154 million. No longer can Vermont Gas argue that the pipeline is necessary to bring cheaper natural gas to energy-thirsty Agri-Mark, he said. The only unserved customers left in Middlebury are residential ones.
"They're spending $154 million to connect 2,000 residential ratepayers who could save as much money on their fuel bulls and save the same amount of greenhouse gas emissions with cold-climate heat pumps," Dumont said. "If the public understood what was going on, the public would be outraged."
Dumont hopes the Public Service Board will be outraged enough to reconsider the pipeline's certificate of public good. The board has scheduled hearings for late next month, and a decision is expected later this summer.
Lee Krohn
NG Advantage transport vehicles
The Ticonderoga IP plant shut down temporarily this month for maintenance. The work included a $12.9 million project to convert a kiln and boiler to natural gas, Wadsworth said. When the plant revs back up next week, 60 percent of its energy will come from natural gas trucked in by NG Advantage from its Milton compression station.
The switch to natural gas concludes the plant's long search for a fuel that is cheaper than oil. Back in 2006, the company experimented with burning tires. The state of Vermont strongly opposed the idea, which would have resulted in high-carbon emissions, and the company abandoned it.
IP had planned for the trucked-gas arrangement to be temporary during pipeline construction. Now that the Lake Champlain section has been scrapped, IP sees trucking as a lasting option. NG Advantage is bidding for a long-term contract, as are others, including Boston-based Xpress Natural Gas.
Both companies expect trucked natural gas to be a growing business. Evslin, who last year sold a majority interest in his company to Texas energy magnate T. Boone Pickens' Clean Energy, hopes that partnership and the IP contract will open doors for NG Advantage to expand nationally. In its two years of operation, the company's fleet of trailers has grown from four to 52. It now has 32 employees.
Matt Smith, executive vice president for sales and marketing at Xpress Natural Gas, said he expects that state regulators will increasingly see trucked gas as a viable alternative to pipelines. "I think you'll see it as an option in a lot of places," he said. "A pipeline costs $1 million per mile. I can do a lot of transporting for $1 million."
But can trucking replace pipelines entirely? Some say no.
For International Paper, trucking made sense only after the pipeline didn't pan out. "The pipeline would have been preferable if the timeline and the cost had stayed where they originally were," Wadsworth said.
Others also say pipeline is unquestionably a superior delivery method.
"It's more reliable and a better cost," said Doug Dimento, spokesman for Agri-Mark, which has been using natural gas trucked by NG Advantage to supply its Middlebury plant since January. "You're not worried about getting three feet of snow and whether the truck is going to get there. It's weatherproof. It's traffic-proof."
Traffic-proofing is important to Jim Ortuno, assistant chief of the Shoreham Fire Department. "The pipeline was going to be safer," he said. "If people knew what comes down [Route] 22A, it would scare them."
Ortuno said he got booed for saying so at a local public meeting where residents were strongly against the pipeline, but he considers trucking fuel a greater risk than piping natural gas directly into a home or business with a shutoff valve.
Evslin said safety is an issue in transporting any flammable cargo. His company has a full-time safety officer who offers training to local fire departments, and his trucks contain tanks with very durable carbon-fiber wraps, he said. In the last two years, trucks hauling gas for NG have been in two minor accidents with no gas leaks, he said.
Evslin conceded that his method of transport is not safer than a pipeline. "A pipeline isn't going to bump into anything," he said. "A pipeline is a very efficient way to move gas or oil somewhere."
There are other limitations, Evslin said. Trucking is not economically viable for residential customers, who use less fuel.
That said, Evslin listed other advantages of trucking gas, including a lower capital investment. There is no need to buy up land from unwilling homeowners or to go through the lengthy and cumbersome Public Service Board process.
Vermont Gas, a subsidiary of Montréal's GazMétro, benefits from the trucked-gas arrangement. NG Advantage is the company's biggest customer. Working together, the two companies can bring natural gas to places where a pipeline isn't feasible.
In Middlebury, though, the "gas island" was intended to be temporary, according to Vermont Gas spokeswoman Beth Parent. The installation involves an off-loading station and a small pipeline network that connects it to Agri-Mark and other facilities.
"Gas islands are a great first step but not a permanent solution for most of the population, including small business and homes," she said. "The cost of compressing and trucking natural gas can be high, and compressed natural gas also requires a fair amount of storage."
Vermont Gas argues that, despite cost increases, the pipeline is still worthwhile. The company hopes to finish the first 11 miles from Colchester to Williston this year and reach Middlebury in 2016, Parent said.
Whether that happens will depend on what the Public Service Board decides.
Dumont is hoping to make the case that the pipeline will actually be an economic burden to Vermonters. He has submitted testimony that indicates the pipeline could cost 200 jobs a year for 10 years, including the loss of fuel oil and propane delivery.
He's also arguing that Vermont Gas and the Vermont Public Service Department should reanalyze the value of the project, taking into consideration the availability of compressed natural gas.
So far, he's met resistance. In a deposition filed with the board, Dumont asked Asa Hopkins, director of energy policy and planning at the Public Service Department, "Does the existence of delivered CNG obviate the need for the pipeline?"
Hopkins said no. "Pipeline gas remains less expensive than delivered CNG, so the market would choose pipeline gas if available. Delivered CNG also does not meet the market demand in all sectors," he said, noting residential and small-business customers.
In the meantime, it appears that one large industrial customer — International Paper — has solved its energy problem. Said Wadsworth, "Compressed natural gas has evolved to where it's a viable option."