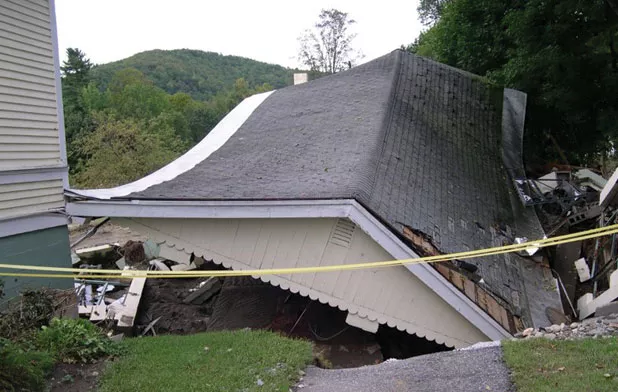 Gethsemane Episcopal Church parish hall in Proctorsville
The building that housed Dot's Restaurant in downtown Wilmington barely survived the great flood of 1938. The rampaging Deerfield River left buildings on either side of the restaurant teetering on the river's edge. As recalled on Dot's website, the Main Street Bridge in Wilmington had all but collapsed into the river. And yet, somehow, the future home of Dot's was spared.
In the great flood of 2011, Dot's wasn't so lucky. The local landmark — and just about everything else in downtown Wilmington— was submerged when the river jumped its banks during Tropical Storm Irene. As a result, the restaurant famous for its Yankee chili and berry pancakes, beloved by locals and tourists alike, has closed. Constructed as a post office in 1832, the building will soon face the wrecking ball.
Dot's is just one of hundreds of historic Vermont buildings damaged or destroyed in the recent floods. Last week, the Preservation Trust of Vermont completed a statewide survey that found around 650 historic buildings in downtowns and village centers have been affected. At least a quarter of those sustained major structural damage — foundations collapsed, porches ripped off — while the remainder suffered flooded basements and water-damaged first floors. The trust estimates another 300 to 500 historic buildings in rural areas have likely been adversely affected.
Still unknown is the number of historic buildings, bridges and homes that were completely destroyed, and a cost estimate for the damage.
Vermont's economy depends on tourism dollars — particularly from fall leaf peepers — and the state's historic, postcard-perfect village centers are a huge part of what draws people here, says Paul Bruhn, executive director of the Preservation Trust of Vermont.
"There is a mystique about Vermont, and there is this brand that we have," he says. "It's not just about the landscape and the mountains and the lake. It's the juxtaposition of our villages and our working landscape."
Over the last week, Preservation Trust of Vermont has dispatched volunteer teams to 25 of Vermont's hardest-hit town centers. It also sent out engineers and architects to perform pro bono emergency assessments on buildings at risk of collapse. The goal, Bruhn says, was "stopping or at least slowing down any decisions about possible demolition of these buildings until people have more information."
In Proctorsville, the parish hall at the 121-year-old Gethsemane Episcopal Church was destroyed and the church slipped off its foundation. In Brattleboro, the art deco Latchis Hotel and Theatre will remain closed until at least September 30 after basement flooding caused upward of $500,000 in cleanup costs, according to Bruhn. And at the American Precision Museum in Windsor, housed in a former armory, a swollen Mill Brook flooded the basement and destroyed some landscaping, though no artifacts were damaged.
In all, the survey counted 183 damaged historic structures in Waterbury, 47 in Wilmington, and around 50 each in Hartford, Moretown and Northfield.
"What was particularly dramatic for me was driving into Jamaica," says Ann Cousins of the Preservation Trust of Vermont. "The Route 30 bridge is out, so you're rerouted through what was a residential street, and all the buildings on the south side were completely wiped away by the flood. Just gone. Nothing except for boulders. So in that case, there were historic buildings that I don't even know what they looked like."
Preservation Trust of Vermont is also accepting donations to help repair and rebuild covered bridges and other historically significant structures. Bruhn credits the initiative to Charity Clark, a New York lawyer who worked for Howard Dean when he was governor. To date, the effort has raised $70,000 from foundations such as the Walter Cerf Community Fund and from average citizens, one of whom mailed $7 cash in an envelope. "I think this proves the point that people care about these resources a lot," Bruhn says.
Several covered bridges were hit hard by the floods, though only the 141-year-old Bartonsville bridge — the destruction of which was captured on video and watched around the world — was damaged beyond repair. Just downstream from that span, the Bowers covered bridge in Brownsville, opened in 1919, was also swept away, though it can be fixed, says Scott Newman, a historic preservation officer with the Vermont Agency of Transportation. Of 52 covered bridges inspected since the storm, two are gone, five sustained structural damage and 12 received minor damage. Many remain closed because erosion has made the approaches unsafe, Newman says.
All of this comes as Vermont towns are anticipating fall foliage season and the tourism dollars it generates. Chris Cochran of the Vermont Department of Economic, Housing and Community Development says it's an open question whether tourists will bypass the "cute historic downtown districts" that were hardest hit by the floods.
"A lot of communities we visited around Wilmington, these potters and artists — no one visited them for two weeks because there was no place to stay in Wilmington," Cochran observes. "So it's going to have short and immediate impacts but longer-term impacts as far as visitors and the money they spend here."
Rebuilding historic properties could pose challenges, too. The Federal Emergency Management Agency provides extra money through the public assistance program to repair historic public buildings damaged by the storm, such as fire stations, libraries and town halls. But the individual assistance program offers no extra cash to homeowners living in historic houses, says Peter Thomas, a FEMA environmental and historic preservation adviser.
Bruhn and other historic preservationists hold out hope that Congress will appropriate more money specifically for repairing damaged historic properties, as it did after Hurricane Katrina swamped historic structures in New Orleans. But in light of the current antigovernment mood in Congress, they're not holding their breath.