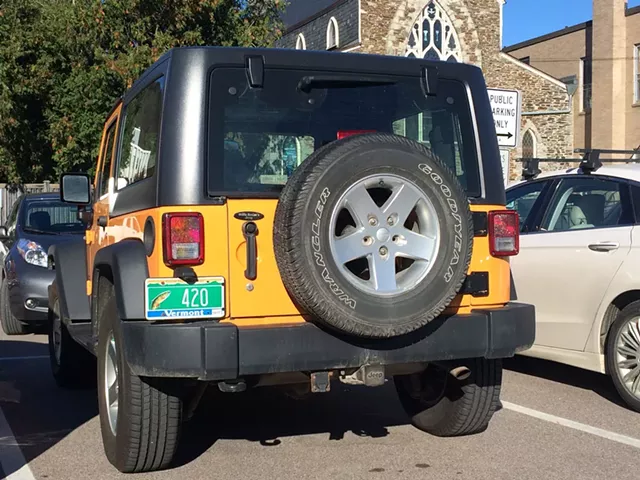 Courtesy of Mark Johnson/VTDigger.org
Former attorney general Bill Sorrell Bill Sorrell's car
Ever think about your license plate? I don't. Couldn't even tell you the number. But apparently, some of Vermont's most prominent citizens think about it quite a lot.
I'm talking specifically of low-number plates. You've probably seen them around and briefly wondered who's driving that car with license number 136 or 899 or whatever.
The answer is often somebody important. (Former governor Madeleine Kunin told me she has number 115.) Three-digit license plates are doled out at the pleasure of the governor like kingly favors and are often passed down from generation to generation. For example, Proctor Page Sr., grandfather of Seven Days consulting editor Candace Page, was granted number 628 in the 1930s after serving as state finance commissioner; almost a century later, it's still in the family. As a result, those low-number plates are mighty scarce.
"I've never seen as many as 10 [available] at once," said Vermont Department of Motor Vehicles Commissioner Robert Ide.
This little inquiry was inspired by Burlington lawyer and former city councilor Ed Adrian. He was moved to action after reading a story by VTDigger.org's Mark Johnson about former attorney general Bill Sorrell having license plate number 420 on his car. You know, the number famously associated with cannabis. Haha, funny.
Adrian wondered if it would be possible for any average joe to get one of those plates, so he submitted a public records request. He got a phone call from none other than Ide himself, who explained that there were no formal records to be disclosed because it was a tradition that had never been committed to writing.
According to Adrian, Ide said the three-digit specials are not available to the general public but are under "the purview of the governor's office."
Adrian wrote about his experience on his blog, Freedom & Ethics, and left it at that. Then I picked it up. Here's what I found.
One- and two-digit plates are reserved by law for various public officeholders. The first six numbers are for statewide elected officials, starting with the governor at number 1. Then come various cabinet secretaries, commissioners, judges, state's attorneys and the like.
"There are specific numbers for specific offices," Ide explained to me. "For example, my number is 47. It became available to me when I started [at the DMV], and when I leave, it has to come off my car."
He wouldn't reveal anyone else's license number, because federal law prohibits disclosure of such information.
Regarding three-digit plates, Ide explained that the DMV commissioner retains legal authority but chooses to defer to the governor.
"I have no idea when this started," said Ide, who has been commissioner since 2009. "When I came in to discuss the job, governor [Jim] Douglas and [chief of staff] Tim Hayward wanted to know, when a three-digit plate becomes available, how would I handle it? I got the message.
"When [Peter] Shumlin became governor, he knew exactly how the system operated and wanted it to continue. Now with another governor [Phil Scott], I'm operating under the same system."
And if you think that's petty, here's the topper. "When governors leave office, they try not to leave any three-digit plates for their successor," Ide said.
Sheesh. Why don't they loosen the tops on the saltshakers while they're at it?
Scott's office confirmed the arrangement but deflected responsibility. "We followed the guidance of the DMV commissioner," wrote Rebecca Kelley, Scott's spokesperson.
I really wanted to know who, exactly, feels so strongly about getting a three-digit license plate. I knew I couldn't get a list of the plate numbers and their holders, so I asked if I could get a list of names with no other identifying information.
"I don't know," Ide replied. "I've never been asked that question before."
After consulting with counsel, he emailed this answer: "As that would involve the disclosure of personal information from motor vehicle records ... your request cannot be granted."
That seems arguable. All I'm asking for is names, and those are hardly state secrets. But I'm not hiring a lawyer over this.
Here's another oddity: The law is silent on how plate number 100 is to be assigned. Numbers 1 through 99 are outlined above, and state law says, "The commissioner shall issue registration numbers 101 through 9999..." No mention of plate 100.
"I have noticed that, too," Ide said. "I cannot begin to answer that question. I think everybody who knows how that happened is dead."
And he can't tell me whose car bears that magic number.
The three-digit inner sanctum is closed to the peasantry, but it is possible to request a four-digit plate. "There's an application online. Once a month, I sit down with my assistant and decide," Ide said, adding, "I worry that this story will increase demand."
More than once, Ide remarked that the real issue we should be discussing is Vermont's rising traffic death toll, not this silly license plate stuff.
Except...
When Ide retires this month, he will have to relinquish plate number 47. Will he seek a three-numbered plate?
"I don't have to," he replied. "Jim Douglas left one reserved for me."
That's right, friends. Since 2009, Ide has had a hold on a three-digit plate. He may be far more concerned with traffic safety — but, after all, status is status.
Media Notes
A newspaper is a pillar of democracy, an invaluable means of fostering an informed citizenry.
A newspaper is a business whose first concern is making a profit.
Both statements are true ... but in a pinch, which takes precedence?
Members of the Vermont Press Association had a choice last week — and they resoundingly chose the latter.
At issue was a motion to change the VPA's definition of a "newspaper" to include online outlets with professional staffs that do original reporting. The measure would have opened membership to VTDigger, which is clearly one of the most prominent journalistic organizations in Vermont. The motion was sponsored by Seven Days political editor and VPA board member Paul Heintz.
(Heintz, who has been on paternity leave, had no say in my decision to cover this story and played no role in the editing.)
You might think this a no-brainer. In an age of shrinking print media, VTDigger has become essential. And it shares many common interests with newspapers — transparency, access to meetings and public records, legal protections for reporters — that whole First Amendment thing.
Well, it was a no-brainer in the opposite direction. The motion was defeated 31-1. (Each member newspaper, daily or weekly, gets a vote; publishers of multiple papers get one vote per paper. The sole "yes" came from the Herald of Randolph.) Instead, the VPA voted to allow VTDigger to become an "associate member" with no voting rights.
Yep, they gave 'em a seat at the kiddie table.
The issue that united VPA members was the publication of legal notices. Governments are required to give public notice of meetings, hearings, court actions, foreclosures and many other public-sector processes. State law requires publication in newspapers, but some states have opened the business to online sources. The idea has been considered in Vermont.
Newspapers see legal ads as one of their last undiluted sources of revenue. And that was more than enough to keep VTDigger out of the club.
"The VPA is a business organization that should reflect the priorities of our business model," argued Ray Small of the Hardwick Gazette. He then asked VTDigger founder and editor Anne Galloway if her organization had lobbied in favor of online posting of legal notices. When Galloway said "yes," Small referred to VTDigger as "a direct threat" to newspapers' business model.
I could suggest bigger threats: Craigslist, Facebook, Amazon.
Bob Miller of the Vermont Journal was even more vociferous, accusing Galloway of going "behind our backs" on legal notices, asserting that newspapers are a secure form of reportage while VTDigger "can be hacked," and saying the VPA shouldn't bestow its aura of "integrity" upon the web-based upstart.
At that point, I couldn't resist chiming in. I noted that VTDigger had plenty of integrity on its own and that I thought principle should outweigh finance on the issue.
I didn't change any minds. Some publishers were more politic than Miller, but virtually all agreed that the VPA is a trade organization that should exclude online media from full membership.
One of the 31 "no" votes came from my employer, Seven Days.
"This was not a vote on letting VTDigger into the VPA," wrote associate publisher Cathy Resmer in an email. "[Heintz's] motion was to redefine the term 'newspaper' in the VPA constitution ... [The VPA] is a trade organization that represents companies that produce print newspapers and specialty print publications ... Producing and distributing print publications is the one thing all VPA members have in common."
Resmer went on to note that "most of those who spoke in favor of [Heintz's] proposal work on the editorial side — not the business side — of their companies."
I'm an editorial worker, too, and I think relegating VTDigger to the kids' table is shortsighted at best. The publishing world is changing rapidly. As newspapers diminish or even disappear, online publication of legal notices will become the norm. Some states have created sharing agreements for legals that include traditional publications and online sources, which would seem to offer a better public service. The VPA would be strengthened, not weakened, if it let VTDigger inside the tent.
Speaking of evolving media, Vermont Public Radio news director John Dillon is relinquishing his management post to become a senior reporter for the New England News Collaborative, an organization created by public radio services in eight northeastern states to report on issues affecting the entire region. The NENC is less than 2 years old, but it's already providing a steady supply of journalism and producing a weekly program, "NEXT," which airs Sundays at noon on VPR.
Dillon was a reporter at VPR for more than a decade before becoming news director — a role he found a bit constricting.
"I really want to get back into reporting," Dillon explained. "I thought I could do some reporting as news director, but it really didn't work out."
An opportunity arose when Kathleen Masterson, VPR's reporter for the collaborative, left the station in November. She had taken a two-month leave to pursue fiction writing and, halfway through, decided to make it permanent. Dillon consulted with his boss, VPR senior vice president and chief content officer John Van Hoesen, and they reached agreement on the move.
Masterson is at least the ninth management or programming staffer to leave VPR this year, which might seem like a worrying trend. Not so, according to Van Hoesen. "We see waves from time to time," he said. "These days, there are lots of shifts in media. It's not just one thing anymore. There are lots of opportunities in media."
True that. He might want to share his insight with the members of the VPA.