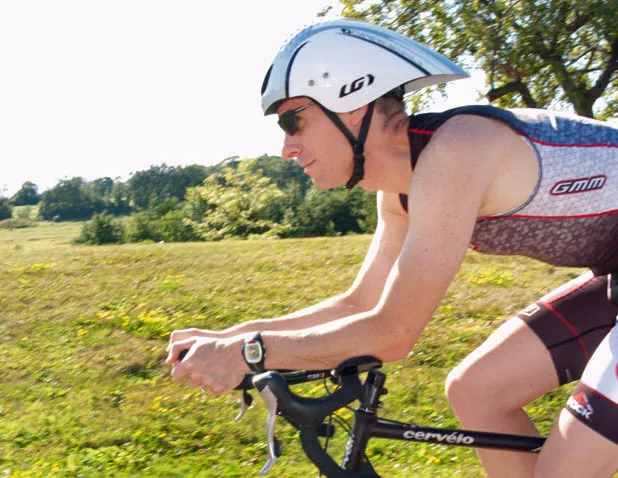 Matthew Thorsen
Jamie Harnish
Seven years ago, Jamie Harnish was getting a little soft.
As the accountant edged into his thirties, the years he'd spent building his career in Boston, the time away from his bicycle and a sweet tooth conspired to push his weight over the 200-pound mark.
So, when he moved back to his hometown of Essex, Vt., in 2004, Harnish started riding his bike again. When a neighbor mentioned a triathlon coming up in Shelburne, he looked at the distances and signed up.
"I was like, 'Five hundred yards. Yeah, I can swim that,'" Harnish recalls.
Today, Harnish has more than two dozen triathlons to his name, including a couple of grueling Ironman races. What started as a whim has turned into a passion. He's spent thousands of hours and thousands of dollars pursuing the sport. Harnish's face has taken on the faintly gaunt look of the endurance athlete, his 6-foot-1 frame whittled down to 175 pounds. Recently, his 9-year-old daughter didn't recognize him when she looked at a photo taken nine years ago.
This Saturday, Harnish expects to add another race to his resume when he and more than 1900 fellow triathletes plunge into Lake Champlain along Burlington's waterfront for the start of the annual amateur U.S. National Championship. (Full disclosure: I'm competing on the same triathlon team, Green Mountain Multisport.)
It will be the largest gathering of triathletes ever in Vermont, and the first time Burlington has attracted a marquee event in the sport. Local businesses and tourism promoters are hoping the region can benefit, to the tune of some $2 million. This milestone comes at a time when triathlons have evolved from a fringe activity for masochists into popular mass events that draw beginners and weekend warriors in Vermont and elsewhere.
Today, it seems like just about everyone is a triathlete.
Triathlon goes boom
Harnish's first try at the tri, in 2005, wasn't promising. He barely made it out of the water. His wife, Pam Harnish, says he looked like a broken bird that day, as he trudged from Lake Champlain toward his bike. But after the race, he signed up for another one.
"As painful as it was, it was very satisfying to feel I had just completed that," Jamie Harnish says.
The sense of having tackled something big is common among newcomers and converts to the sport.
Most triathlons are a lot shorter than the most famous race, a sufferfest conceived in the late '70s in Hawaii by a U.S. Navy commander to settle a dispute over which athletes are most fit — swimmers, runners or cyclists. That event, dubbed the Ironman, features a 2.4-mile swim and 112-mile bike ride, topped off with a marathon.
But the spirit of that original event trickles down to races like the annual Colchester Triathlon, with its half-mile swim, 12-mile bike and three-mile run. Since its start 27 years ago, the Colchester race has grown so popular that it sells out its 375 spots. Known for its manageable length and relatively laid-back atmosphere, the race is a popular choice for novices and people who want to do just one or two short triathlons a year.
Joan Siegel, 50, completed the race once before her daughter was born in 2002, then returned last year at her daughter's urging. The Colchester resident had done a few half-marathons and some ocean swimming in the past, but the triathlon appealed to her.
"I think it's particularly neat to be able to put the three sports together and still be able to walk after," she said as she stood by her bike on July 31, the morning of the race.
The rise of these shorter triathlons, known as "sprints" — although they actually take one to two hours to finish — has helped fuel an explosion in the sport's popularity over the last decade. Memberships in USA Triathlon, the sport's governing body in this country, rose from 21,000 in 2000 to more than 140,000 in 2010. The number of events sanctioned by the group nationwide went from 1541 in 2004 to 3500 in 2010.
Here in Vermont, races that once drew just a few dozen participants now attract hundreds. On just about any summer weekend, a triathlon is happening within a two-hour drive of Burlington.
At the Colchester race, some participants had come from other endurance sports. A runner with knee problems saw the event as a way to compete without risking so much joint damage. For others, it was an opportunity to get in shape for the first time. Groups of friends who had encouraged one another to train arrived at the race together. The gear ranged from sleek $4000 racing bicycles to knobby-tired mountain bikes.
The shorter sprints and Olympic-distance races, which are double the length of a sprint, have drawn the biggest crowds, says Jerrod Rushton, who has organized a series of triathlons at Lake Dunmore for 14 years. He quit doing longer events because of poor turnout and higher costs.
"It's evolved phenomenally," he says. "If you said to somebody 10 years ago, 'Oh yeah, I did a triathlon this weekend,' most of the time they'd look at you and say, 'You did a what?'"
Today, daytime talk-show hosts gush about their triathlon exploits. Celebrities such as Matt Damon and Jennifer Lopez participate. Even former contestants from the weight-loss reality TV show "The Biggest Loser" made headlines when they signed up for a California triathlon.
"We're getting a lot more exposure," says Jeff Dyrek, national events director for USA Triathlon and the race director for the upcoming Burlington event.
Cashing in on the trend
Triathlons' high-profile exposure translates into big dollars.
For starters, triathletes as a group tend to be well off, highly educated and middle-aged or older. Nearly 40 percent earn more than $100,000 a year, according to a poll by the Sporting Goods Manufacturers Association, a national trade group. This makes the athletes a target market for a number of manufacturers.
With three sports wrapped into one, triathlon is a gear nerd's paradise. Since his first Shelburne triathlon, Harnish has spent money on a sleek, air-splitting triathlon bike worth more than $1500, a set of special race wheels that run more than $1000, a wetsuit, running shoes, goggles, coaching costs, entry fees that can reach several hundred dollars (for an Ironman), sports drinks, triathlon shorts and jerseys, dues for the triathlon team … you get the picture. A 2009 study for USA Triathlon found that its athletes had spent, on average, more than $4000 on the sport in the preceding year.
At Skirack, a Burlington sporting-goods store, triathlon has earned its own department. The store sponsors a team, Green Mountain Multisport. So far this year, sales are up nearly a quarter over last year, says Skirack co-owner Spike Clayton.
Triathlon still brings in less than 1 percent of the store's bottom line. But that figure doesn't account for triathlon novices who buy skinny-tired road bikes, rather than special triathlon bikes that force riders to hunch over and tuck their elbows together, much like a downhill ski racer. Road bikes are the store's biggest moneymaker.
"We sell a bunch of $800 bikes to people who want to just go out there and try it," Clayton says. "They're doing it on an $800 road bike because they tried it on a mountain bike and got killed, but they're not ready to go on a tri bike."
Now, as the official bike store of the national championships in Burlington, Skirack is facing an onslaught of Lycra-clad athletes with shaved legs. The store added a huge trailer to its parking lot to house dozens of racing bikes shipped from around the country. Clayton says he's ordered such esoterica as 500 small, pressurized cartridges used to inflate a flat tire during a race.
"We're getting pulled into a whole new world," he observes.
But Skirack's bounty is a tiny slice of what could be a multimillion-dollar boon from having the national championships here. The race is expected to bring between $2 million and $2.5 million to the state as triathletes and their families stay in motels, shop, eat out and stock up for the race, says Peter Delaney, executive director of RunVermont. The nonprofit, which puts on the Vermont City Marathon, is helping to organize the triathlon. The local cost of putting on the race, which could approach $100,000, Delaney says, is being covered by sponsors and commissions charged to hotels where athletes stay.
Why Burlington?
It's no surprise that you have to follow the money to find out how Burlington wound up with the national championships. It's not a story of devoted athletes working tirelessly to lure their beloved sport here, but of tourism and business promoters hunting for dollars.
In 2003, Vermont businesspeople of the Lake Champlain Regional Chamber of Commerce, along with the head of the state tourism department, attended a convention in New Orleans for sports-events officials, trolling for an event that might come to the state. They struck up a conversation with someone from USA Triathlon, recalls Rick Milliken, general manager of the DoubleTree Hotel in Burlington and a member of the state's Sports and Events Council, an arm of the Lake Champlain chamber.
"Obviously, Vermont does not have a stadium big enough to do a major sporting event. But we certainly have the geography," Milliken says. "We thought that a triathlon would be a perfect fit."
That initial encounter set in motion a multiyear courtship. Things started heating up in 2007 when USA Triathlon went looking for a spot in the Northeast to host the national championships, which have never been held in the region.
State tourism officials, local and state chambers of commerce, and local event organizers teamed up to make a bid. In January 2010, the group learned it had beaten out several other northeastern cities to host the race in 2011 and 2012.
Burlington was a natural choice, with easy access to a swimming venue, lots of hotels and other amenities to host several thousand athletes, and a reputation as a nice place to visit, says Dyrek of USA Triathlon.
Judging by the response from athletes, it was a smart choice. The race's 1450 spots sold out faster than ever before, taking organizers by surprise and prompting them to add another 500 spaces. With two accompanying sprint races to be held later the same day in Burlington, the total number of triathletes could top 2500.
"The numbers speak for themselves. We're thrilled to be coming to Burlington," Dyrek says.
The feeling is mutual, says Milliken. Hotels around the city are full, and organizers are looking for additional rooms as far away as Stowe and Sugarbush, he says.
The record turnout includes dozens of Vermonters. Seventy are registered for the main event, called the Age Group National Championship. The race involves a 1500-meter swim, 40-kilometer bike and 10-kilometer run, with the racers starting and ending each leg at Waterfront Park. Participants qualify by placing at a certain level in other races around the country against people in their age bracket.
Another 14 Vermonters will line up later for the Sprint Distance National Championship, and 43 will take part in the People's United Bank VTri, an event open only to Vermont residents.
Harnish will be in the age group championships, having qualified at a Connecticut race earlier this year. He competed in the Ironman race in Lake Placid the two previous years. But he was ready for a break from that much training — up to 20 hours a week. And Harnish couldn't pass up the chance to race in the national championships in his home state.
Race to the death?
While triathlon's growing popularity is good news for participants such as Harnish, and for local businesses, it brings a touch of anxiety, as well. Several recent deaths, including two in Vermont, have some race organizers worrying that the rigors of a triathlon may be too much for some.
On June 16, 57-year-old Christopher Ludington of Morrisville died near the end the swim portion of a small triathlon at Lake Elmore. He was an avid outdoor sportsman and athlete, according to his obituary. The state medical examiner concluded he drowned after what appeared to be a heart malfunction, and noted that an enlarged heart and hardened arteries might have contributed to it.
Just two weeks later, 42-year-old Stephen Mount of Williston died during the swim at a short triathlon in Shelburne. Again, the medical examiner called it a drowning, while noting that a thickening in the walls of his heart might have played a role.
The families of both men could not be reached for comment.
While the Vermont tragedies made local news, two deaths during the swim at a major New York City triathlon in early August earned headlines in the New York Times.
All the deaths follow a pattern described in a 2010 study published in the Journal of the American Medical Association. The researchers found that, while triathlon deaths are extremely rare — fewer than two in 100,000 participants — they are nearly twice as common as deaths in marathons. Of the 14 cases reviewed, all but one happened during the swim.
The numbers, and his own triathlon experience, make the study's lead author, Kevin Harris, suspect the stress of the swim could, in rare cases, trigger an underlying heart problem.
The start of a triathlon can be hectic and adrenaline filled, as a crowd of people plunges into the water. Swimmers can get accidentally kicked or pushed under, or swallow a mouthful of water as they try to breathe. Some people accustomed to swimming in a pool panic the first time they try a long swim in a lake.
"It's a very unique situation," says Harris, a cardiologist at the Minneapolis Heart Institute, which maintains a registry of sudden deaths among athletes.
Harris advises potential triathletes to practice thoroughly for the swim, which includes swimming in open water rather than in a pool, before entering a race. They should also get a medical checkup if they have any history of heart problems in their family, he says.
The deaths have spurred some race organizers to take precautionary measures. At the Colchester triathlon this year, racers deposited numbered swim caps in a bin as they left the water, so organizers knew everyone made it to shore.
RunVermont has beefed up the number of lifeguards, kayaks, canoes and other boats in the water, says Joe Connelly, who is handling many of the race's technical details. He calls the recent triathlete deaths "troubling."
But race organizers are also quick to stress that deaths are rare. Rushton, who puts on the races at Lake Dunmore, worries that the negative press coverage could overshadow the benefits of triathlon.
"I don't want to scare people away from the sport," he says. "Thousands of people have changed their lifestyle and perhaps lived longer because of these [races]."
Harnish is a strong swimmer, but his big worry is a sharp pain in his right knee that started a few weeks ago. Lots of stretching and massage have kept the pain at bay.
After one last tune-up race at Lake Dunmore in early August, Harnish has been squeezing in a few final workouts and thinking ahead to the morning of August 20.
"I'm getting kind of pumped," he says. "Some things have been coming together the last few races. It's going to be a good time."
Warren Cornwall can be reached at vermontnews [at] gmail.com.