Portrait of an unknown factory worker
On First Night in Montpelier some 20 years ago, local artist Delia Bell Robinson made a friend who would become one of her most compelling subjects. Peter, who prefers not to reveal his last name, is the focus of her recently published art book A Shirtwaist Story.
In it, Robinson explores Peter's tragedy-fraught family history through the stories he has told her over the course of their friendship. She focuses primarily on tales of his grandfather, one of the owners of the infamous Triangle Shirtwaist Factory in New York City. The textile business caught fire in 1911; locked in rooms on upper floors, 146 workers died in one of the deadliest industrial disasters in U.S. history.
With such dark subject matter, it's hard to imagine Robinson creating anything but a dour condemnation of Peter's wealthy family and the price they allowed others to pay for their profit. But the 71-year-old Montpelier artist isn't in the business of judgment. Rather, she has crafted a visual narrative, with a dash of poetic prose, that is both a compelling account of the tragedy and a window into Peter's inherited sense of guilt and how it shaped him. The book, which includes 148 color prints, has been nominated for a 2016 Jewish Book Council award.
Burlington-based Fomite Press released A Shirtwaist Story last month. But the story had been germinating since Robinson met Peter on that fateful New Year's Eve. That night, they ducked into Ben & Jerry's for hot cocoa and began the process of getting to know each other. As their encounters continued, Robinson says, she felt compelled to document Peter's tales.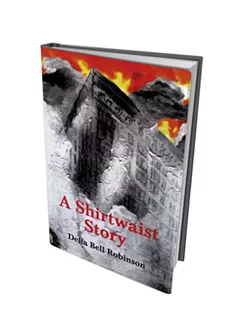 A Shirtwaist Story by Delia Robinson, Fomite Press, 158 pages. $25.
She would run home to paint and draw on the pages of an old book, fittingly called Peter. (Its title character was a little English boy who travels through time, much as Robinson's story hops between past and present.) The images Robinson drew from Peter's life are colorful ruminations on his wealthy upbringing: taking French lessons, riding his bike through Central Park, standing in the elevator with actress Grace Kelly.
It wasn't until 2001, when the last survivor of the fire died, that Peter revealed his family secret. Robinson recalls that she found him slumped over a cup of coffee at a local shop, despondent. He told her his grandfather was one of the factory owners, a discovery that drastically changed the tone of Robinson's artistic reflections.
"I became haunted [by his story]," the artist says. As Robinson started researching the fire, her paintings grew darker. Her glimpses of factory life were peppered with facts about wages and workers — Triangle Shirtwaist was a sweatshop, as the tragic circumstances of the fire revealed. She made portraits of the women — mostly immigrants — who died. Two of them were just 14 years old.
One of Robinson's paintings depicts a woman's skirt and feet as she stands on a window ledge, about to jump to her death — as so many did. Another shows protesters fighting for labor rights after the fire. The paintings that make up the last 15 pages of the book show the unflinching faces of women who died, dark portraits that tug the reader deeper into the story.
Assembling the book took Robinson a long time, she says, in part because she never intended to publish it. "I didn't ever want to do anything that would hurt him," she says of Peter. "He never looked at it; he never wanted to see what I was doing. [And] I felt very protective of his rights to this story."
Eventually, her paintings came to the attention of author and Fomite co-owner Marc Estrin, several of whose novels Robinson has illustrated. Estrin encouraged her to publish, so Robinson asked Peter for his permission. He said no. A few years later, after his parents had died, he reversed his stance. With Estrin's help, Robinson merged her disparate works into a cohesive narrative that, through Peter's storytelling, takes the reader through the causes and repercussions of the fire.
Those repercussions are both historical and personal. Toward the end of the narrative, after Robinson has delved into the history of the fire and the ensuing public awareness of Triangle's workplace conditions, Peter's story re-emerges. We find that, in the face of immense guilt, he has turned to art.
"Peter grew into a thoughtful, adult creator of intelligent, provocative art," Robinson writes. "His work reconfigures objects, often inverts the concept of camouflage, and highlights the artifice of disguise. A sofa with pillows made of stone. A maple tree wearing the bark of a birch ... Amazing sketchbooks bursting with drawings, allowing him to discuss things that cannot otherwise be said."
In essence, Robinson adds layers of humanity to both the tragedy and Peter's telling of it. Her portraits of factory workers bring "the emotions of the past back to life," as she puts it. Peter's story adds another layer of complexity by keeping the history alive, bringing it into the present through his emotional and familial attachment to it.
"I still feel very protective of it," Robinson says of the book. "It was nice for me to tell a story I cared about." That story addresses labor conditions, family burdens placed on children and, perhaps most importantly, "how we learn to speak in our own voice, despite those burdens," she says.