Glenn Russell
Trent Cooper placing a freshly baked sourdough bâtard on a cooling rack in Westford
In the fall of 2012, a pizza maker in Jacksonville, Fla., wrote a letter to Vermont bread baker Gérard Rubaud asking Rubaud to consider him for an apprenticeship at his Westford bakery. An acclaimed baker who grew up in France, Rubaud sometimes taught aspiring bakers at his hillside bakery in the years before his death on October 7, 2018, at the age of 77.
"For many years I have been searching for a purpose to my life. I have found that I want to be a baker," Trent Cooper wrote. "I find myself agreeing with your philosophy on bread more than any other baker I have talked to or read about in books. Your admiration, persistence and stern beliefs about bread are what I admire most about you." He had read about Rubaud on the bread blog Farine.
Cooper, then 27, went on to write a bit about his life, concluding with a description of his job at the pizzeria, where he had given a name to the oven (Neesheta) and "started to treat the dough balls as if they were my daughters."
Two weeks passed with no reply. Intent on the apprenticeship, Cooper resent his letter. Before the second missive arrived in Vermont, Rubaud called to offer Cooper a trial stage to see if a full apprenticeship might work.
"I remember how I felt when he called me: Is this actually happening?" Cooper said.
The phone call would lead to a four-month apprenticeship, from the fall of 2012 into the winter of 2013. Now, some seven years later, Cooper is renting Rubaud's old bakery and filling it with the life and warmth of naturally leavened bread that he bakes, as a solo endeavor, in a wood-fired oven.
Rubaud's daughter, Julie Rubaud, owner of Red Wagon Plants in Hinesburg, helped Cooper connect with the property owners about his interest in the bakery. She and Cooper had met during his apprenticeship.
Glenn Russell
Trent Cooper portioning and shaping sourdough bread
"Back when Trent was my dad's apprentice, I had this vision of him taking over the bakery one day," Julie said. "It's a good fit. He kind of reminds me of my dad: He seems like the kind of person who can hang out alone up there."
Like Gérard Rubaud, Cooper is guided by a pursuit of excellence. Both men were high-level athletes: Rubaud was a mountaineer and alpine skier; Cooper, born in Bremerton, Wash., and raised there and in Tampa, Fla., played forward on a Major League Soccer farm team.
In Westford, Cooper focuses on making pain de campagne, his preferred name for French sourdough, in oblong loaves called bâtards.
"I do one type of bread," he said. "If I do two or three or four, I'm splitting up my focus. If I split my focus, I will never know how good I can get at it."
Cooper, now 35, moved into the apartment above the bakery in December and set to work getting the place in shape, ordering supplies and connecting with retail outlets. He started selling his bread — made with hard red winter flour, freshly milled spelt berries, sea salt, water and levain (starter) — in January. Loaves of Trent's Bread are now available in about half a dozen stores, including Jericho Market, Sweet Clover Market in Essex and, recently, both Burlington locations of City Market, Onion River Co-op.
Cooper bakes about 250 loaves a week and often delivers them warm from the oven. If the market will support it, he wants to increase that number to 150 or 200 loaves a day.
"I feel like Gérard's bread was unique to him and should stay with him," Cooper said on a recent morning, shaping loaves from dough he'd started mixing at midnight. "This is very similar, but it's my way of making it. Me and Gérard are different people."
Glenn Russell
Scoring a sourdough bâtard before putting it in the oven
He looked up from the bread bench and spoke his teacher's name, "Gérard Rubaud," rolling his Rs in tribute to the Frenchman. "People will stop by and talk about him, Gérard's old friends from the neighborhood," he added.
Cooper met his teacher when he flew to Burlington for the trial stage, a few days after Rubaud had called him. He arrived at the bakery at about noon as Rubaud was loading loaves into the oven.
"The first thing he did when I got here was look at my hands," Cooper recalled. "He looks at my palms, and he said, 'You're going to be a good baker. Good bakers have short, wide hands.'"
The stage ended three days later when Rubaud told Cooper, "You're good," and accepted him for an apprenticeship, Cooper said.
Cooper returned to Jacksonville to get things in order before returning to Vermont for his bread study. On his flight home, he carried two loaves of Rubaud's bread. The flight attendant told him to place them on the floor.
"'I can't do that,'" he recalled telling her. "'This is Gérard's bread.'"
Cooper found homes for his dogs, Benny and June, and drove north to Westford in his 1998 Buick. During the apprenticeship, he didn't mix dough or bake loaves — those practices belonged to Rubaud, Cooper said. He helped shape the dough and received the peel from Rubaud after the latter used the tool to place loaves in the oven. He baked apprentice loaves.
The apprenticeship centered on levain, a portion of the dough that is fed with flour, water and a little spelt and sea salt every four or five hours throughout the day. The mixture ferments the dough, making it rise and imparting flavor to the bread.
"The levain was key," Cooper said. "You cannot fake it. You have to learn that."
Glenn Russell
Freshly baked sourdough bâtards
A primary difference between Cooper's bread and Rubaud's is the amount of levain as a percentage of the flour, Cooper said. He uses a slightly higher ratio, roughly 24 percent of the flour weight. This method tends to keep the holes in the bread on the smaller side. He doesn't want his jelly to fall through.
"Making the bread on Gérard's level takes an extraordinary amount of dedication," Cooper said. "Not many people I've ever met had that level of dedication in anything they do."
The unpaid apprenticeship came to an end after four months, when Rubaud determined that Cooper had mastered levain, his student recalled. The baker made that decision the day Cooper's levain reached a peak rise faster than Rubaud's did in a dough-to-dough showdown, according to Cooper.
"When the apprentice has nothing more to learn from the teacher, that's the end," Cooper said. "I didn't come here to hang out. I didn't come here to have a good time."
Cooper, who'd had housing at the bakery, had no place to stay and not enough money to return to Florida. So he crashed at a delivery driver's house in Burlington for about a week, and then got a sugaring job at a farm in Pennsylvania.
When he'd earned enough money, he returned to Florida, this time settling in the Tampa/St. Petersburg area.
"I went on a mission to open a bakery, but it didn't happen," Cooper said. "I didn't have money, and I couldn't get financing ... I was so poor. I still am poor, but at least I have a bakery now."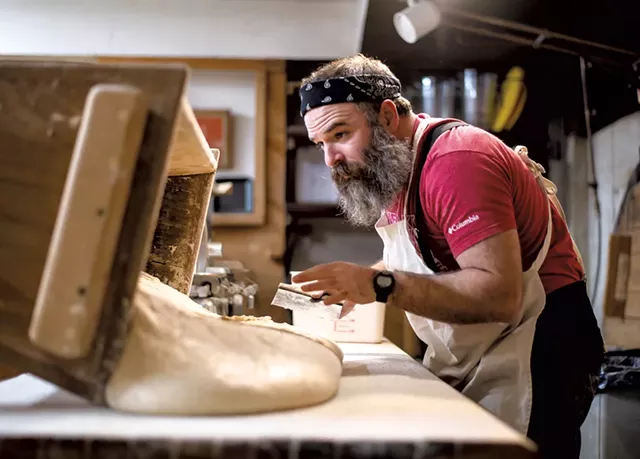 Glenn Russell
Trent Cooper preparing to portion and shape sourdough bread into bâtards
Cooper worked in restaurants and bakeries for several years. Last fall, after he learned that Rubaud had died, he emailed Julie his condolences and asked about the bakery. She put him in touch with Michael and Agnes Hibbs, who had purchased the property in October 2017.
Michael Hibbs, a retired engineer, said they'd been looking for a baker who'd be a suitable match.
"We wanted to see the place continue and not just fall into ruin," Hibbs said. "That's why we were pleased when Trent showed up. It seemed like he was the right person to take it over."
The other day, as Cooper's loaves rested before he baked them, he ate bread and cheese and pickles, delighting in each bite. "This is fantastic," he said. "This is the best part of my life."
Over the late-morning snack, he described his role as a baker as "just the catalyst between ingredients."
"I'm a steward of the levain," he said. "She is what makes the bread."
Cooper thinks his bread is best on Thursdays, when he makes an afternoon delivery to the Intervale Community Farm in Burlington. The levain seems to know that will be its destination, he said.
Standing at the farm last week, Cooper chewed on a piece and pronounced his verdict: "I wish I could make dough this good every day. My energy and the bread's energy, we were aligned."