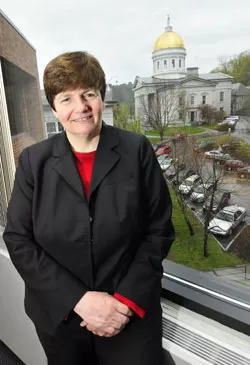 Jeb Wallace-Brodeur
Beth Pearce
She's one of Vermont's top-ranked officials, but that doesn't mean you've heard of her. You've certainly never cast a vote for her.
Plucked out of political obscurity in December 2010 to serve as state treasurer, Beth Pearce has spent the past year and a half adjusting to a few new roles: state banker, boss, politician. This year she's adjusting to yet another one: candidate for election.
Until recently, Pearce says, "I've taken more of a second seat, second chair in most of my career."
That all changed when Pearce, a longtime deputy to then-treasurer Jeb Spaulding, got a call shortly after the November 2010 election. At the time, she was at home in Barre recovering from foot surgery.
"Jeb called me up and said, 'I've gotta talk to you,'" Pearce recalls. "I said, 'Well, you know, the house is a mess and I'm limping around, but come on by.'"
Spaulding had some news for Pearce. Though he had just won his fifth two-year term as state treasurer, he was resigning to take a job as a top staffer to governor-elect Peter Shumlin. What's more, Spaulding had talked Shumlin into appointing Pearce to replace him as treasurer.
According to Spaulding, Shumlin "was persuaded that the state of Vermont would benefit by having someone of her caliber in the office and took her at her word she would take seriously the responsibility of running a legitimate campaign for election."
David Coates, a retired KPMG managing partner and consummate political insider, says it was remarkable that Shumlin chose Pearce. He could have picked any one of a number of established pols.
"He was badgered with people who wanted that position — some who are in the legislature now," Coates says. "He went for competence, and I give him high marks for that."
Pearce certainly doesn't fit the mold of a politically ambitious statewide officeholder in Vermont. Typically, lower-ranking constitutional officers — treasurer, secretary of state, attorney general, auditor and lieutenant governor — do their time, rely on experienced deputies and then run for higher office.
Not so with Pearce.
"I think the best state treasurers are those who are not using the position as a political stepping stone," Spaulding says. "I can't imagine Beth is aspiring to run for any other office. I think she was born to be state treasurer."
Coates, who serves on several state boards with Pearce, agrees.
"The treasurer's office shouldn't be about politics. It should be about competence — and she brings an extraordinary amount of competence to that office," he says. "She's so darn good financially and understands all of the aspects of what it takes to be treasurer."
Though a neophyte to elected office, Pearce has politics in her blood. Born and raised in West Springfield, Mass., Pearce and a twin sister were the oldest of five children in a family deeply enmeshed in local politics. Her grandmother campaigned for women's voting rights. Her father, a Western Union manager, served on the select and school boards and ran unsuccessfully for state Senate in 1960.
"When I would go down the street as a kid, people would stop and say, 'Your grandmother helped me with this, your dad helped me with this, your mother did this,'" she says. "That was a heritage I was proud of."
A younger sister got involved in Democratic politics and a brother became a political consultant, but Pearce spent most of her career as a financial professional in local and state government, eventually serving as a deputy state treasurer in Massachusetts. When her boss, Shannon O'Brien, left office after losing a gubernatorial race to a guy named Mitt Romney, Pearce applied to be Spaulding's No. 2 in Vermont.
Spaulding says he was struck by the first half of Pearce's email address: ECAFR.
"It was Elizabeth, C-A-F-R, which stands for Comprehensive Annual Financial Report," Spaulding says. "That's still her personal email address. She's just into the mechanics of state finance. I thought that email address said a lot about her."
It doesn't take long for Pearce to admit the obvious during an interview in her Montpelier office — a drab room on the fourth floor of the Pavilion state office building, decorated with Van Gogh prints and overlooking the east entrance of the Statehouse.
"I'm a geek. I'm absolutely a geek," she says. "I love talking to actuaries. I joke that at parties I'll gravitate to actuaries, which is not something most people would do."
Pearce talks a mile a minute with an accent that betrays her Massachusetts roots. When it comes to the job, she's beyond voluble, gleefully rattling off numbers and acronyms. But when asked about her political beliefs or her personal interests, she's more reticent.
"I like bird watching. I'm not the best at identification, but I enjoy the walk and the contemplative period with that," she says. "And I have a hobby that's a little offbeat: I like non-Euclidean geometry and areas of theoretical physics."
Mostly, Pearce makes clear, she loves her three grandchildren and her job.
With a staff of 34, Pearce oversees the flow of more than $4 billion a year in state funds. The office issues bonds, invests state funds, oversees three pension plans and seeks to return unclaimed property.
"It's a substantial amount of money that flows through the office — literally billions on an annual basis — so it's important to be transparent and accountable and to be sure the people's money is taken care of," says former governor Jim Douglas, who preceded Spaulding as state treasurer.
Perhaps one of the most important duties of a treasurer is to protect the state's bond rating, a measure of the state's fiscal responsibility that determines the interest rate at which it can borrow money. With two AAA ratings and one AA+, Vermont's is the strongest in New England. Though bond ratings are the product of a number of factors — not simply the job performance of an incumbent treasurer — Spaulding credits Pearce with aggressively defending Vermont's cash reserves when she served as deputy treasurer during the financial crash of 2008.
"Vermont didn't suffer the kinds of losses many other states did, and that was primarily the result of Beth's competence, not mine," Spaulding says.
Pearce is particularly proud of her office's response to last spring's floods and Tropical Storm Irene in late August. During the former, her staff worked to make sure child-support recipients and retirees received checks without interruption. During the latter, the office accelerated the distribution of local highway aid and education payments to towns hit by Irene — and extended education tax deadlines.
"It was a really big deal for us," says Christina Moore, a volunteer FEMA officer for the town of Halifax, which endured $4.4 million in damage during Irene. "Anybody that allows us to delay a payment becomes a hero in our minds."
When Pearce showed up in Halifax on Town Meeting Day, Moore says, the southern Vermont town was impressed that a statewide officeholder had traveled so far to visit them.
Pearce walks as fast as she talks, though her foot surgery left her with a pronounced limp that slows her on stairs. Driving around in her black Subaru Legacy — replete with the state's official No. 3 license plate — back and forth to a meeting of the State Infrastructure Bank Board, she nearly causes three separate traffic accidents. Perhaps she's juggling too much in her head to drive safely? This reporter fastens his seat belt.
Perhaps to prepare herself for the approaching campaign season — this will be Pearce's first election since her early twenties, when she ran for a role in West Springfield's town meeting — Pearce peppers her answers with talking points about job creation and renewable-energy financing. But it's clear that she'd rather be talking about CAFRs.
Despite Pearce's utter lack of electoral experience and presumably nonexistent name recognition, she doesn't have a declared opponent. Yet.
Vermont Republican Party chairman Jack Lindley says that will soon change.
"We have a great candidate. I'll let her make the announcement on May 14," Lindley hints.
One name that has floated to the surface is that of Wendy Wilton, a former state senator from Rutland who has served as the city treasurer since 2007. Wilton was evasive when asked last week if she would seek the job.
"Many people have asked me. I have thought somewhat about it, but I have not made a decision," Wilton said.
Back on the fourth floor of the Pavilion, a fourth grader from Londonderry has shown up at the office. As part of a school project, the girl had sent Pearce a letter that read, "I think state treasurer would be a cool job." Pearce's staff invited the girl up for a tour.
Guiding the 10-year-old around the office, Pearce attempts to impart upon us the thrills of cash management, unclaimed property and sound financial planning. As the tour drags on, the fourth-grader appears more and more skeptical of how cool a job state treasurer might be. But Pearce is animated. She thinks it's plenty cool.
"I love this job. I want to do this for a long time," she says. "This is what I like doing. I get excited about cash management."