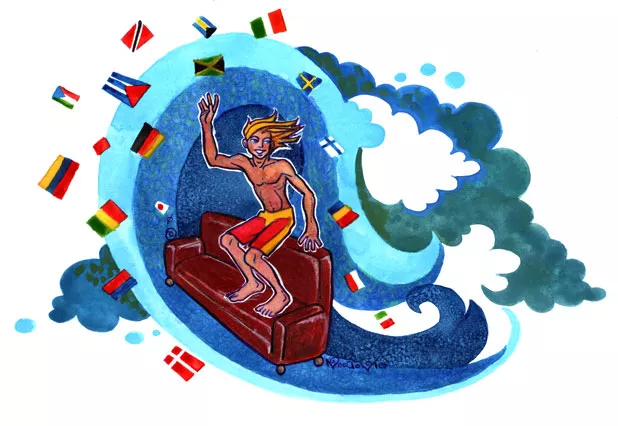 There's been a lot of talk about the new hostel set to open just up the street from Burlington's waterfront in early June, filling a gap for travelers looking to visit the city on the cheap. But what locals may not know is that people have been finding free lodging in Burlington for quite some time, using an increasingly popular website called couchsurfing.org.
CouchSurfing International is an online nonprofit that connects travelers with other members who are willing to let strangers sleep on their couch for a night or a few, free of charge. To wary outsiders, that setup may sound like a serial killer's dream. But people who have used the website to travel and host say they see couch surfing as a global hospitality movement that enables them to explore foreign cultures and make connections with other travelers on the cheap. Plus, it offers the cheapest vacation accommodations around.
While the site is most popular in the United States and Europe, couch surfers can be found all over the globe, from Egypt to Iran to Chile — and in small towns where you might never expect to find them. Burlington has nearly 200 registered couch surfers. Smaller Vermont towns such as Bennington, Putney, Brattleboro and Poultney also have residents who host and travel using the site.
To join CouchSurfing, people create a profile complete with references, friends and photos. A member must specify whether he or she "definitely has a couch," "yes, has a couch" or "maybe has a couch." People who "definitely have a couch" will almost always host a traveler, while those who say, "yes, has a couch" can be more discerning. Hosting is not mandatory; people can opt to use the site for traveling only. If you're not ready to offer a couch, another option is to make yourself available for coffee, so you can meet travelers, get to know them outside your living room and give them some pointers on your city.
Jamie Seiffer is a 22-year-old recent University of Vermont graduate who has been described by one fellow surfer as the "de facto leader" of the Burlington couch-surfing community. He first learned about the organization two years ago when his then-roommate informed him that they were going to have some strangers sleeping at their apartment for the weekend. Since then, Seiffer has had more than 60 guests visit his home in Burlington from places such as Mexico, California, Norway and Kenya, and claims he "has never had a bad experience." While he has hosted more frequently than he has been a guest, he has also surfed while traveling abroad.
"I spent a month backpacking around Europe, exclusively couch surfing, with the exception of one time in Dublin when I had to stay in a hostel," says Seiffer, adding that he would have preferred to sleep on a stranger's couch in Dublin, too. "I had an incredible experience. People welcomed me into their homes, gave me keys to their apartment, made me meals," he says. "I really got this sense that there is this global hospitality movement."
That movement isn't limited to twentysomethings. Although a lot of couch surfers fall into the "poor college student" demographic, a browse through the site's listings reveals that some of Vermont's working professionals and families also participate in the organization.
Seiffer emphasizes that he has met a wide range of surfers who chose to come to Burlington, including many who didn't know much about Vermont but were curious to learn more. Some of his guests want to go to the Ben & Jerry's factory, some want to tour the Magic Hat Brewery, and some leave their itineraries up to the host.
Seiffer knows which spots to hit. "I always try and take them to the lake," he says. "I think that's one of the best resources we have. If we can be outside, Mount Philo is a good hike … We check out music around town, see what is playing at Nectar's or Radio Bean. I like taking people to Sadie Katz [Delicatessen]." Other frequent destinations are Bluebird Tavern, the Intervale, the bike path and Higher Ground.
While the surfers' plans and cultural backgrounds may vary, Seiffer says all the ones he has met share the kind of openness one might expect from a traveler willing to stay with a stranger they met online.
"Some guy from Texas came; one guy had just graduated from journalism school at American University and was on his way to Nairobi to do reporting … now he's published in Time magazine. There were people from Norway; one guy from Boston who just wanted to get out of the city for the weekend," Seiffer says. "All the people do different things — some are students, some are professionals," he adds. "But just the nature of being on CouchSurfing and being willing to host or go sleep on some stranger's couch — no matter what, you're connected on some level."
Besides providing that sense of connection, couch surfing gives travelers the invaluable opportunity to speak to locals and get their perspective on a city, says Seiffer. When couch surfing himself, he notes, he was taken to places he would otherwise not have known existed. He can do the same for newcomers who've heard of Church Street and Lake Champlain but don't know where to find the best sandwich in Burlington, or what the town's South and North Ends have to offer.
According to the mission statement on couchsurfing.org, the organization is built on the values of global hospitality and cultural connection. "At CouchSurfing International, we envision a world where everyone can explore and create meaningful connections with the people and places they encounter ... The appreciation of diversity spreads tolerance and creates a global community," the site reads.
Carolina Pissarro is a current UVM student who has used couchsurfing.org to travel and host while studying abroad. When she participated in a UVM-led program in China this past summer, she and her roommates hosted more than 30 travelers she met through the site. Her experience with the organization seems to echo its stated vision.
"I was so surprised at how much I trusted all of [the visiting couch surfers], and all the things they did for us," says Pissarro. "They would cook us dinner and clean up around the apartment. One surfer even bought us a new showerhead and tried to act like he didn't. I was in awe at the generosity and cultural exchange I came across … Ever since, I've been spreading the word and hoping that, even in a world full of hostility and violence, people can see that there can be trust."
Cultural exchange, global community, international hospitality — it all sounds great, maybe even inspiring. But what about safety? Not everyone who hears about couchsurfing.org is as idealistic and trusting as Pissarro and Seiffer. It isn't unreasonable to think that couch surfing might turn dangerous if you run into the wrong kind of host, or traveler.
However, both Seiffer and Pissarro argue that CouchSurfing International does a lot to make sure that doesn't happen to its site's users. While connections made online will always be based on trust to some degree, the website urges users to take certain precautions and be informed about the members they choose to meet in person.
The main way to determine whether surfers are trustworthy is by checking out their references. For example, Seiffer's profile lists this reference written by Joshua Mayer of "Denton, United States": "Jamie was an exceptional host to me during my time in Burlington, VT. He showed me around town, introduced me to his friends, encouraged unlimited ice cream consumption, and was very trustworthy, including letting me use one of his bicycles. A model couch-host in my opinion."
The user can deduce that someone like Seiffer, who has dozens of similar references featured on his profile, probably wouldn't murder you in your sleep or walk off with your stereo. People's profiles and photos, the number and nature of their references and friends, and whether or not they have been "verified" by the site are all tools for analyzing whether they would be a good match. (Verification is an optional process requiring a minimum donation of $25 to CouchSurfing International, which confirms members' identities through the secure donation and their location by sending a postcard to their address.)
"I never feel unsafe with couch surfing. They have done an excellent job in creating all the tools I need to be able to tell whether or not someone is legit … there are some people who don't have any references, and that can be a big red flag," says Seiffer. He explains that he will generally only host or stay with people who have complete profiles, a good number of friends, and some positive reviews from people who have stayed with or hosted them.
Like Seiffer, Pissarro is a strong advocate for the organization; she urges everyone who is interested in traveling and making connections with people to give couch surfing a try. For her, she says, it's more than just a cheap way to travel: "You start forgetting that this website and these couches are free and start thinking about how many amazing people live on this planet."
Hosting strangers who chose Burlington as a destination over big-name cities such as New York, Paris and Beijing can also be a source of local pride. "Burlington is just a really incredible and really unique city, and I want to show that to as many people as possible," says Seiffer. Loaning out his couch, he says, "has given me the chance to show people my Burlington, but also has put into perspective for me how cool Burlington really is."