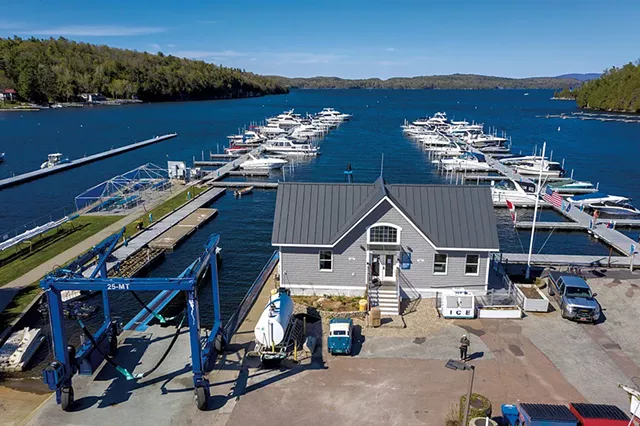 James Buck
Champlain Marina in Colchester
Vermont tourism officials would normally pull out all the stops in late May to lure visitors to the Green Mountain State. Ads featuring covered bridges, craft beer and Lake Champlain boating would pop up in the media markets and social media feeds of the 80 million people living within a few hours' drive.
But plans to entice out-of-staters this summer have gone out the window. Despite the state's relative success in containing the spread of the coronavirus and the gradual reopening of the economy, Vermont's annual influx of summer visitors may be a trickle at best.
"In no way, shape or form are we going to be back to normal in a month or two's time," said Jeff Lawson, vice president of tourism and marketing for the Lake Champlain Regional Chamber of Commerce. "The summer is going to be a challenge for everybody across the board."
With the pandemic continuing to afflict neighboring states and Canada, Gov. Phil Scott has not lifted an order requiring visitors to self-quarantine for 14 days. So local tourism organizations are looking closer to home for summer business.
"There's generally agreement that, given everything going on, it seems necessary to point the spotlight in the state, rather than out," said Nate Formalarie, spokesperson for the Agency of Commerce and Community Development.
Agency officials hope Vermonters who have been cooped up for months will be eager to explore their own backyard this summer, with short trips, staycations, and visits to restaurants and bars when conditions allow. For tourist-dependent businesses to weather the pandemic, Vermonters who vacation will have to go local.
"What we do feel certain about is that it's going to be Vermonters who are the first ones coming back," Formalarie said.
Boating is one hard-hit sector because the U.S.-Canadian border remains closed to nonessential travel. Unless those restrictions are relaxed, the annual migration of vacationing Canadians — many on boats they keep at marinas on Lake Champlain in Vermont and New York — will be on pause.
"It's certainly going to put a big damper on boating this summer and tourism in general," said state Sen. Dick Mazza (D-Grand Isle), who owns a general store on Malletts Bay in Colchester.
Mazza estimates that Canadians make up 30 to 40 percent of the summer boating economy in the state. Businesses such as his that rely on them may hit the doldrums this summer.
Nevertheless, local boatyards have been busy since the governor's recent executive order allowing marinas to reopen May 22. As the weather warms, workers have been racing to get boats out of winter storage and into the water.
"Every day I see more and more boats out there," Mazza said.
Peter Farrell, manager of Champlain Marina on Malletts Bay, said his business may take a modest hit if Canadians don't rent slips or buy food and fuel. But he's seeing strong interest from local boat owners and their families because they know that, done responsibly, boating can be one of the most socially distant activities around.
"That's the safest and healthiest way to take advantage of the lake this summer," Farrell said.
Meanwhile, state officials are trying to drive home the desirability of in-state vacations. At a press conference on Monday, Natural Resources Secretary Julie Moore noted that her family will be heading to Green River Reservoir State Park this year, instead of taking a long road trip like their North Carolina excursion in 2019.
The state is preparing its 55 parks for summer, but Moore warned visitors to expect fewer services and a different experience. Cabins and picnic tables won't be available. Groups will be limited to 10, she said, and visitors will be asked to wear masks and practice social distancing.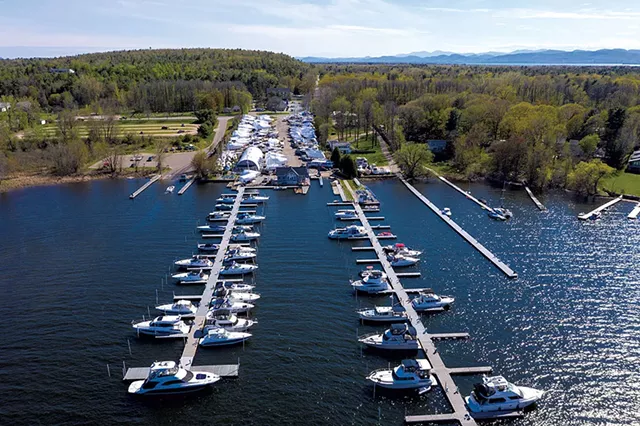 James Buck
Champlain Marina in Colchester
Moore nevertheless encouraged people to take part in the Venture Vermont Outdoor Challenge, an annual promotion aimed at getting people to share their experiences at state parks.
The commerce agency has already refocused its web-based marketing to promote online sales by Vermont businesses and to advertise virtual events such as farm tours, a beekeeping course and baking lessons from King Arthur Flour in Norwich.
As travel and social-distancing restrictions are lifted, the agency also plans to launch a Restart Vermont campaign to encourage residents to visit parts of their home state they might have overlooked.
"Maybe you've always wanted to get up to Lake Willoughby, but you've never been," Formalarie said, referring to a scenic glacial lake in the Northeast Kingdom.
The agency is seeking a marketing firm to design the campaign, which is expected to cost around $50,000. A recent request for proposals lays out in stark terms the challenge facing the state's $2.5 billion tourism economy.
"With travel restrictions, bans on meetings of any significant size, shelter-in-place orders and mandatory quarantines issued to contain the virus, the industry has been brought to a complete halt," the request reads. "Nowhere more so than in Vermont, with job layoffs in the thousands, and revenues effectively at zero."
According to the request for proposals, state officials envision a three-stage marketing campaign that focuses first on Vermont residents, then on out-of-state visitors when lodging and other tourism businesses reopen with restrictions, and finally on longer-term messaging for the "new normal."
Proposals are due May 29, and Formalarie said the agency plans to move quickly.
Despite the bleak summer outlook, Lawson thinks Vermont is well positioned to attract visitors again.
Millions of people who might not be inclined to get on an airplane can drive to Vermont. As family budgets take a hit, such shorter excursions may replace longer vacations. And Vermont's rural nature and wide open spaces may be particularly attractive.
"The state offers people the chance to get out and do activities that don't require them to be in close proximity, or even be indoors, for that matter," Lawson said.
If that kind of tourism can make a comeback, Lawson said, the state has a real opportunity to show people spooked by the pandemic the value of a Vermont lifestyle. Some could be lured to the state permanently.
"COVID-19 hasn't just changed the way people think about travel," he said. "It's changed the way they think about absolutely everything."