Gabe Dickens
Matthew Hall at his studio in Plattsbugh, N.Y.
Plattsburgh, N.Y. musician Matthew Hall has a question for you: How poopy is your butt? No, seriously. The question is repeatedly asked in interviews throughout the first two seasons of his web series, "TRASHburgh." The program plays like a loosely structured variety show, schizophrenically darting among sketch comedy, bizarre animation, musical elements and man-on-the-street interviews. Some segments are mere seconds long, which makes the show feel a bit like channel surfing, but without actually changing the channel.
"TRASHburgh" bills itself as celebrating "the trashier side of Plattsburgh," which suggests that the city itself is the main focus. But the show is really more like a window into some of the city's most interesting creative people. The Season 2 finale of "TRASHburgh" appears on YouTube on Tuesday, March 21.
In a recent interview with Seven Days at a funky Plattsburgh coffeehouse, Hall is quick to define what he means when he refers to his city as "trashy." In his mind, he's reclaiming the term, "taking ownership of it in a certain way, where it's not such a pejorative."
"Plattsburgh's pretty scrappy," he explains. "It's rough around the edges. It's not too posh or polished."
Hall, 29, is slight and scruffy, and sports a green-and-purple flannel shirt and a baseball cap that reads "Steel Force." He's a bit spacey and takes long pauses to shore up his responses. He brazenly admits to holding little mastery over basic concepts such as time, dates and geography.
Hall is active in the Lake City's music and nightlife scenes and has his hands in a plethora of creative projects. Aside from "TRASHburgh," he plays in punk bands Bren, Comrade Nixon and his semi-solo folk-punk project, Marco Polio. He also raps and makes beats for the hip-hop collective the Plattsburgh Home Team. He operates the independent music blog DIY Plattsburgh. He seems well-known as a go-to guy for music happenings. Before Hall can even sit down for the interview, an enthusiastic, almost ravenous fan accosts him to talk shop.
Hall moved to Plattsburgh from his native Syracuse in 2010, seeking a smaller, less chaotic city. He found Plattsburgh's size manageable and its proximity to other desirable cities appealing. He also likes its grittiness. Hall isn't sure if he coined the nickname "Trashburgh," though he claims he'd never heard it in the local lexicon.
Trashiness has been of interest to Hall most of his life. He recalls being equally enamored of John Waters and Jerry Springer while growing up. He adds that his web series draws inspiration from the old-school New York City public access television series "Midnight Blue," as well as MTV's "Liquid Television" and Nickelodeon's "KaBlam!" One might also see some similarities between various late-night programming on Cartoon Network's Adult Swim.
"TRASHburgh" began as an exercise for Hall to sharpen his videography and editing skills — and sharpen he has. He's been able to use those new skills in his day job at the North Country Food Co-op.
Hall mostly appears on screen as the show's host, an amplified version of himself at his worst. He mumbles into the microphone, staring vacantly and bleary-eyed into the camera, as if he's simultaneously battling a nervous breakdown and the worst hangover of his life. He's barely able to string a sentence together, sipping Black Velvet from a flask as he introduces various segments.
This downtrodden persona is, in fact, based somewhat in reality. Hall recalls his mental and emotional state when "TRASHburgh" was first gestating in 2015.
"I was severely depressed and definitely drinking too much and just not in a good place at all," he recalls. "[I was] having these dark, suicidal thoughts," he continues, calling the period "one of the darkest times of my life."
"I was definitely exploiting that a little bit and trying to make light of it," says Hall of his not-quite alter ego on the show.
He is without a doubt the creator of "TRASHburgh," though he doesn't necessarily define himself that way.
"I feel like I'm more of a coordinator," says Hall. His main responsibilities are hosting, shooting and editing. His creative associates conceptualize and pitch almost all of the show's content. In fact, many of the bits are conceived minutes before shooting, with little to no preparation.
Sam Egan, who also plays in Bren and Marco Polio, is one of the show's most frequent contributors, both on and off screen. He and Hall compose most of the background music. Egan also writes the interview questions, creates the animated sequences and frequently appears with Jessica Rigby as part of the show's de facto house band, the Super Super Serious Please Don't Laugh Band.
Egan also performs dramatic readings from Speakout, the reader comments section of daily newspaper the Press-Republican. Egan facetiously delivers these testimonials with over-the-top flair, highlighting their inanity and frequently misplaced outrage.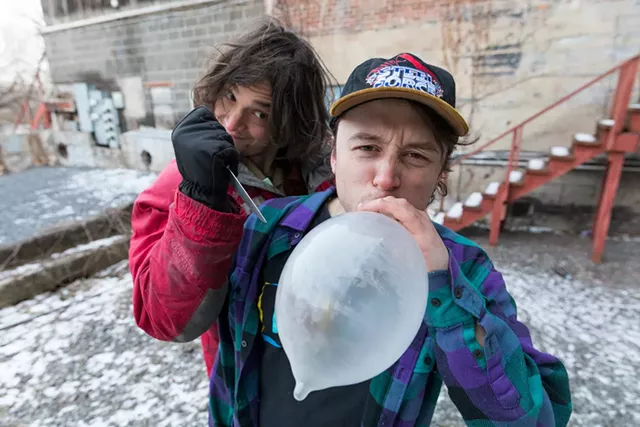 Gabe Dickens
Sam Egan (left) and Matthew Hall
Another regular contributor, ex-Plattsburgh resident Justin Passino, writes many of the show's sketches. In Season 1, he introduces us to Frances Berg, a wacked-out weatherman who's never right about the weather. He also portrays Chaz LOL, a douchebag gamer who thinks he's hot shit yet can't seem to get past the first Goomba in Super Mario Bros.
Hall finds that taking on a curatorial role is helpful for him and his admitted autocratic tendencies.
"I'm a big control freak, so I like to make opportunities for collaborative art," he says. "Even in that, I still have a hard time letting go."
Season 2 has noticeably better production values than Season 1. Hall purchased a green screen and a fancy, official "TRASHburgh" microphone flag.
Another difference is a slightly serialized progression for Hall's host character. A few episodes into Season 2, an alien or technological entity seems to be controlling what Hall says. Shortly thereafter, Egan declares himself the show's new host. Next, an imposter has replaced him. Later on, Hall lies naked, gagged and handcuffed on the floor of his apartment. Most recently, Hall is missing entirely, though his microphone remains alone on his apartment floor. The season seems to be building to some kind of grisly climax.
Another of Hall's favorite interview questions is: "What is the trashiest thing you've ever done in Plattsburgh?" He grins sheepishly as the tables are turned on him.
He recalls a particular New Year's Eve performance during which he faked a seizure onstage. By the end of his episode, he'd stripped off his clothes, revealing a makeshift cloth diaper and satin sash. For the rest of the night, he became "Baby New Year."
"Thinking back on it, that was really trashy. I don't know if I would do that again," he says.
As Season 2 draws to a close, Hall is unsure if a third season is in the cards. He's currently writing some new comedy material, but he's not sure if it's right for "TRASHburgh." He also thinks maybe he's taken the trashy thing as far as it can go.
"I feel like I've been able to explore [trashiness] really deeply, especially in performance," he says.
"I remember getting to a point where I was like, 'Man, I gotta try something else. I don't know how much further I can take this without getting into GG Allin territory, where I'm just smearing shit all over myself,'" Hall says. "You can't be GG. That's been done. I don't know how to progress any deeper without regressing."
Correction, March 15, 2017: An earlier version of this story incorrectly identified Matthew Hall as the founder of Rat Pâté Records. In fact, Andrew Wilson is its founder.