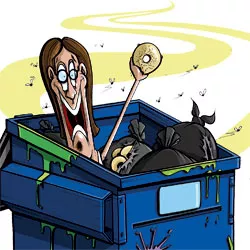 Most people looking to furnish their new apartments start by flipping through a Pottery Barn catalog. If they're slumming it, they might hit up IKEA. Fewer people rummage around in other people's trash to find chairs, couches, curtains and bathtubs.
But for renters and home- owners hoping to cut costs on decorating, or for those who want to take green living to the extreme, seeking out free stuff is the way to go. Between Internet classifieds and other people's trash — not to mention all the stuff college kids leave on their lawns on move-out day — plenty of free, used furnishings are out there and easy to find.
Henry Kellogg is a student at the University of Vermont who calls himself a Dumpster diver. His adventures in searching the trash disprove the adage that there's "no such thing as a free lunch" — or a free futon. For Kellogg, a much more fitting motto is "One man's trash is another man's treasure." What sorts of things can you find in a Dumpster? "It all depends on what you want," Kellogg says. "Everybody throws things away. It's just going to a landfill if you don't take it."
Kellogg originally started Dumpster diving for food, but he notes that Burlington's trash heaps offer plenty of good finds besides stale bagels and overripe bananas. Over the course of his Dumpster-diving ventures, Kellogg has come across wood, construction supplies, a table that currently resides in his dorm room and even an old blowtorch. His roommate has found a range of items, too, including an end table that she's repainted and plans to bestow on a friend as a present. She also takes old, discarded clothes, cuts the fabric into strips and weaves the strips into purses.
Kellogg is fairly typical of UVM's demographics: He's a white, upper-middle-class kid from Massachusetts who doesn't need to sift through junk to find a table for his dorm room, or a free dinner. But needing things isn't really what Dumpster diving is about for him. "The idea of getting something for free has a certain allure," says Kellogg, who admits that rifling through trash is more an exciting pastime for him than a necessity. "It's an adventure … Provided someone else doesn't need it more than me? I'm all good."
Some would say dumpster diving is a great way to act on environmental consciousness. It makes sense that using curtains or chairs destined for the dump is "greener" than shelling out for high-priced items made from recycled soda bottles or hemp. For Kellogg, a self-described hippie, "being green" is a fringe benefit of Dumpster diving, not the main selling point. "When you live life the way you feel it, I think being green is the natural thing to do," he explains.
But let's be real: There are reasons most people opt for Pottery Barn or other retail outlets over the trash heap. Aside from the obvious shortcomings, such as the rancid stench of Dumpsters and the social discomfort of jumping into one, the practice can have bigger risks. Kellogg admits that business owners have, on occasion, given him a hard time. On the other hand, he believes some businesses purposely put things in the trash that they know people might want.
A word of advice to wannabe Dumpster divers? Avoid open-toed shoes, "because you wouldn't want any squishy toes," offers Kellogg.
If you'd like to find free stuff, but the thought of jumping into liquid garbage makes you squirm, there are some cleaner alternatives. The Internet, for one. People often post their unwanted items on sites such as Craigslist, their neighborhood's Front Porch Forum or this paper's classifieds.
"You can furnish a house in two hours on [the] Craigslist free list," declares Kellogg. "I got a bathtub off there; you can get chickens, farm equipment … lots of things." Currently, in fact, his roommates are trying to furnish an entire house with free items — though maybe not chickens.
No doubt they'll have some luck on May 28 at the "Spring Move Out Project." That's when college kids leaving town for the summer bring mattresses, couches and other unwanted stuff to Loomis Street for a free community swap. Discarded items include kitchenware, furniture, computers, bikes, clothes, stereos, beds and more.
So, when you find yourself stressing over whether to purchase an eco-friendly bamboo table or chair, consider the greener, cheaper (albeit sometimes yuckier) alternative: other people's trash. As Kellogg points out, "If more people got into it, then Dumpsters would be much more social places."