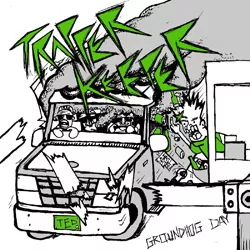 (Self-released, digital download)
Over the past decade, it seems as though punk rock has been wrung out onto mall storefronts and handed out to popular culture like free mints. There is good news and bad news here. The bad news is that any band claiming to be "punk" needs to be carefully vetted in order to determine its true modus operandi; overnight-sensation types still repeatedly find a way to cash in. The good news? Despite rampant Hot Topic-ification, Burlington still boasts some punk authenticity, especially in the form of Trapper Keeper.
With their newest release, Groundhog Day, Trapper Keeper prove that a legit punk ethos still exists on a local level. The band channels California-style punk à la Face to Face and NOFX, while keeping an East Coast hardcore backbone. It's a carefully crafted sound that proves time and commitment just can't be falsified. On Groundhog Day, Trapper Keeper have captured four tracks of fast, melodic punk from which the kids can take notes.
The EP was mixed and mastered by Kris Hayes from Candy Hearts and recorded by Justin Gonyea from Vultures of Cult. That's a fine pedigree, and the production throughout the EP is impressive, certainly TK's best to date.
"All My Friends Are Getting Famous" opens the record with a bang, as full guitar and bass tones present a short but powerful start. Wasting no time, Will Rutkowski dives in with catchy melodies, both vocal and instrumental.
"Muchos Gatos? Si! Muchos, Muchos Gatos!" is equally aggressive and arguably the best track, thanks to driving guitar and downcast, seasonally affected lyrics. Rutkowski sings about drinking alone and listening to downer music, repeating an anthemic hook: "It's getting cold in Vermont again." It's a suitable sing-along for the changing weather.
"Fuck What Foliage Stands For" is the EP's longest song at just under four minutes. It reminds us TK are ultimately an East Coast band despite their SoCal leanings. The song works well dynamically with the other three, and may hint at the band's artistic direction. Rutkowski's melodious guitar and vocal work unify the hard-hitting changes. Drummer Alex Pond plays with commitment and zeal throughout. He and bassist Chris Valyou have evidently put in the time to build a mean rhythm team. Valyou rifles through the songs with intensity and concentration.
"One Big Punch Vs. Another" is a rerecorded song from the band's 2011 debut Deadass that highlights their progression. With better sonic quality and sharper vocal attack, Trapper Keeper hit this song out of the park.
Groundhog Day has an undeniably adolescent ring, but it's merely a reminder that growing up doesn't require abandoning your musical roots. In that way, Trapper Keeper keep a valuable aspect of punk alive, Hot Topic be damned.
Groundhog Day by Trapper Keeper is available at trapperkeeper.bandcamp.com.