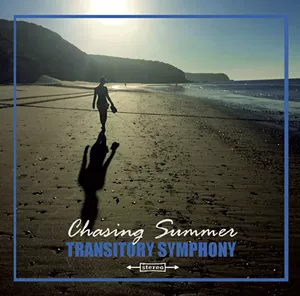 Transitory Symphony, Chasing Summer
(Self-released, digital)
There was a period of time in which almost every woman in my life, from lovers to friends to family, were all sending me Rainer Maria Rilke quotes. Whether in letters or social media comments — even spelled out in frosting on a cake — the women whose orbits I'd cross all agreed on this one thing.
"Perhaps everything that frightens us is, in its deepest essence, something helpless that wants our love," the Bohemian poet wrote. For whatever reason, I've always associated that quote with the feeling of loving something you know will disappear. That emotional state also permeates the latest Transitory Symphony album Chasing Summer.
The Hyde Park collaboration of Jim Heltz and producer Tom Haney, Transitory Symphony have established a portfolio of oddball albums that simultaneously display a sort of drugged-out wit and clever songwriting skill. That includes last year's single "Nothing but a Hole in the Ground," a savage takedown of "the Pit" — Burlington's infamous crater where the mall used to be.
Heltz and Haney aren't in a tongue-in-cheek mood on their latest LP, however. Opener "Oyster Bay" is a deliciously washed-out instrumental opener complete with flute and tender, pleading trumpet. Then "Girl From Another Town" begins a summer-romance tale that threads through the album. A laid-back country-rocker, the song is like a Polaroid of a summer crush, a vision of loveliness that already seems destined to end. Indeed, the album cover depicts that very image: a girl as a silhouette, walking away down the beach.
By "Cerulean Blue," a ballad with a Serge Gainsbourg feel, the lover has already disappeared and Heltz is mourning her passage. He cuts a philosophic figure here but throughout the record displays an ability to move through emotional phases in an honest way. Nostalgia yields to the fear of loneliness on "Vulnerable in the Night" before the outright despair of "Home Again."
"We need, in love, to practice only this: letting each other go," Rilke wrote. That was the quote a friend put on a cake for me after my beloved cat died. But it's the second part of the quote that has always floored me: "For holding on comes easily; we do not need to learn it."
Throughout Chasing Summer, Heltz grapples with how tightly to hold on to something that is slipping away. While the odd, jazz-rock vibes keep things sonically interesting, the psychological progression of love and loss ties the record together.
"Time goes by, and life goes on," Heltz sings on "About Her Too." "The embers cool, but the flame is never gone, the flame is never gone / She's always thinking about you / You're always thinking about her, too."
The album's curving narrative moves through all the stages of loss. But the resignation that colors the final tracks tells its own tale. The gentle folk of closer "Goodbye Oyster Bay" echoes the intro track's instrumental tease and serves as one last look over the shoulder. The autumn is here and the sun is setting; it's time to give up the chase. "Pack up my old dreams / Will we ever meet again?" Heltz wonders. One can hope, but that was never really the point anyway.
Chasing Summer is available at transitorysymphony.bandcamp.com.