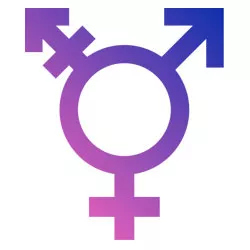 Gov. Peter Shumlin recently signed a bill that requires insurance companies to cover midwife-assisted births in Vermont. Buried in the new law — and virtually unnoticed by many — is a historic victory for the state's transgender population.
Language attached to the bill will allow Vermont-born individuals who have changed genders to obtain new birth certificates. A doctor's note is all that's required.
Vermont is the first state in the union to make it official: Surgery is no longer a prerequisite for a man to become a woman, or a woman to become a man, according to the National Gay and Lesbian Task Force.
Another legislative victory for trans Vermonters this year: A new law mandates that all single-stall bathrooms in state buildings be gender neutral. Transgender Vermonters and their advocates are hailing the laws as small but important milestones in the struggle for transgender equality — the most significant since Vermont enacted a transgender antidiscrimination law in 2007.
Birth certificates are important because they are often the basis for other forms of identification, such as passports and driver's licenses. And when a person's gender doesn't match the sex on the form, it can invite unwanted questions, says Kara DeLeonardis, executive director of RU12?, an LGBTQ advocacy group based in Winooski.
"It might seem small to some people, but it is the document we have to show for so many different things," DeLeonardis says. "It's proof of who we are."
Until now, transgender Vermonters could obtain an amended birth certificate, with the old name and gender crossed off and the new ones written in. But that had the effect of "outing" many individuals who would prefer to remain discreet, says state Rep. Bill Lippert (D-Hinesburg), who shepherded the legislation to passage. Under Vermont law, birth certificates are public records available to anyone who requests them.
The new law permits transgender individuals born in Vermont to get "clean" birth certificates, similar to what adopted children receive, and puts the old document under seal in a storage facility. Importantly, the new law gives medical professionals — rather than probate court judges — the authority to evaluate whether people are at a point in their transition where a new birth certificate should be issued, Lippert says.
"Full surgery and hormonal change may not be the right standard for a person who's transitioned," says Lippert.
That flexibility is important because the cost of gender-reassignment surgeries — between $5000 and $40,000 — puts it out of reach for most transgender individuals, DeLeonardis says. And health insurance rarely, if ever, covers it. Other trans people simply don't want surgery.
The law should make it easier for transitioned Vermonters such as Jean-Denis Couillard to secure forms of ID that reflect their present name and gender. Couillard, the HIV Prevention Program Coordinator at RU12?, has spent the last six months trying to change the gender on his passport.
To do so, the government requires a letter from a U.S. surgeon or doctor confirming a gender change. But Couillard's surgeon was Canadian, and that has complicated things. On top of that, the letter must be on official letterhead and conform to a specific script, Couillard says. So far, he's sent four application letters. All of them have been rejected for various minor errors.
"If someone went to them with a birth certificate with sex identified — problem solved," says Couillard, a 25-year-old who started to medically transition five years ago. "You don't have to go through that."
The new law almost didn't happen. Originally, it was part of a comprehensive, 78-page vital records bill sponsored by Lippert. When it became clear that bill wouldn't pass before adjournment, the birth-certificate legislation was tacked on to one that would: the midwifery insurance bill. Both Lippert and the Department of Health lobbied to make it happen.
Neither transgender-related bill — birth certificates or gender-neutral bathrooms — received a whole lot of attention or opposition, a fact that DeLeonardis views as "a sign of progress." By contrast, the debates over same-sex marriage and transgender antidiscrimination were contentious, high-profile battles. Former Republican Gov. Jim Douglas vetoed both bills before the Democratic legislature revived them.
"There were bigger things for our community to tackle before getting to this, but it's something that people have wanted and needed to happen for a long time," DeLeonardis says. "It has a lot to do with the advocacy of a few transgender people who kept it on everyone's radar."