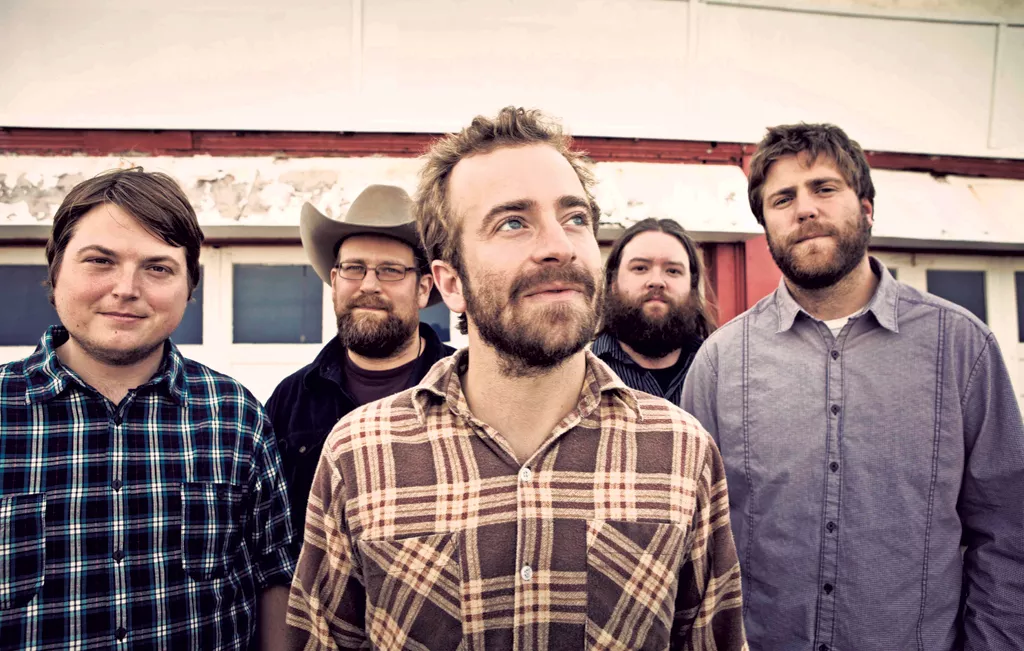 Since their inception in 2003, Trampled by Turtles have existed in a unique stylistic limbo. The Duluth, Minn.-based quintet is, technically speaking, a string band. Its 2010 record, Palomino, spent 52 weeks in the top 10 of Billboard's bluegrass chart. But the Turtles aren't a bluegrass band, exactly — which helps explain why TBT's 2012 follow-up record, Stars and Satellites, debuted on the alternative chart at No. 11.
TBT's new album, Wild Animals, released in July, further colors that already rather gray area. Produced by Low front man and fellow Duluth resident Alan Sparhawk, the record owes as much to Bill Monroe as Bon Iver and Band of Horses. While the group still employs traditional techniques common to bluegrass music, with Sparhawk's help, TBT have further explored the expansive, richly textured sound first hinted at on Stars and Satellites. The result is a sweeping, imaginative album that's not really bluegrass or indie folk or rock and roll, yet somehow all of those things. And it's all the more beautiful and emotionally gripping.
In advance of Trampled by Turtles' appearance at the Grand Point North music festival at Burlington's Waterfront Park on Sunday, September 14, Seven Days spoke with mandolinist Erik Berry by phone.
SEVEN DAYS: That the new record has a more expansive sound has been touched on by most people who have written about it. From your perspective, how would you say the band's sound has evolved?
ERIK BERRY: I guess I don't really view it as being dramatically different from Stars and Satellites. Certainly there are some aesthetics, sonically, that are really kind of icing on top. As far as listening to each other and how we play together, I think the evolution is just a process of getting better. One thing is that Alan [Sparhawk] was really encouraging us to play less. Do more with fewer notes, with more air and space. He said the songs were there, we just had to figure out how to support them.
SD: Coming from a bluegrass background, where there is often a premium on playing fast, did you have to shift your mind frame to play less?
EB: A little bit. But it was more breaking habits than anything else. It's our inclination to hit a note, then hit another note, then hit another note. Now that we've been playing a lot of these tunes live for a while, it's becoming second nature. I'm really excited for what we do next, because I feel like we're starting to get the hang of playing in space.
SD: What was the experience of working with Alan Sparhawk like?
EB: Alan was our first really hands-on producer. He wasn't shy about offering arrangements and playing. He was a full member of the band, essentially.
SD: You guys had mostly produced yourselves previously. So was it odd to have someone else guiding your sound?
EB: Part of the reason we went with Alan is that we're all friends of his and fans of his. So we were predisposed to at least be willing to try what he had to say. Before the recording process even started, he sent us a lengthy email saying, "I'm gonna make you play the songs 20 times. I'm gonna make you play them in different keys, faster and slower. We're gonna make a great record and we're gonna make it together." He laid it on the line, and that's exactly what happened.
SD: After playing around with the material like that, I imagine you must have started viewing the songs a little differently.
EB: After the whole process was done, Alan and I were hanging out one night and he told me that we're the string band he listens to most. He's not really into that kind of music. So he was really intrigued to be in charge of the banjo texture, the mandolin texture. "What can we do with that?" That was his attitude. Sometimes, as a player, it's kind of cool to be told to play this, or hang out here or don't play there. To be given direction like that and deliver is satisfying. Because a lot of what we're used to in this band is coming up with everything ourselves. So to satisfy someone else's idea was fun to do.
SD: You came up with the name Trampled by Turtles. Where did that come from?
EB: It was just a silly brainstorming session. I really wish there was a cool story behind it. But there isn't.
SD: What's on your stereo right now?
EB: I was just listening to a Jerry Garcia Band show from 1984.
SD: You're a Deadhead?
EB: Yes I am. But I believe on my stereo at home, my kid's Frozen soundtrack is probably on, since it usually is.
INFO
Trampled by Turtles play Sunday, September 14, at 6:40 p.m. at Grand Point North, Waterfront Park in Burlington. The festival is Saturday and Sunday, September 13 and 14. $49/79. grandpointnorth.com
The original print version of this article was headlined "Turtles in Space"