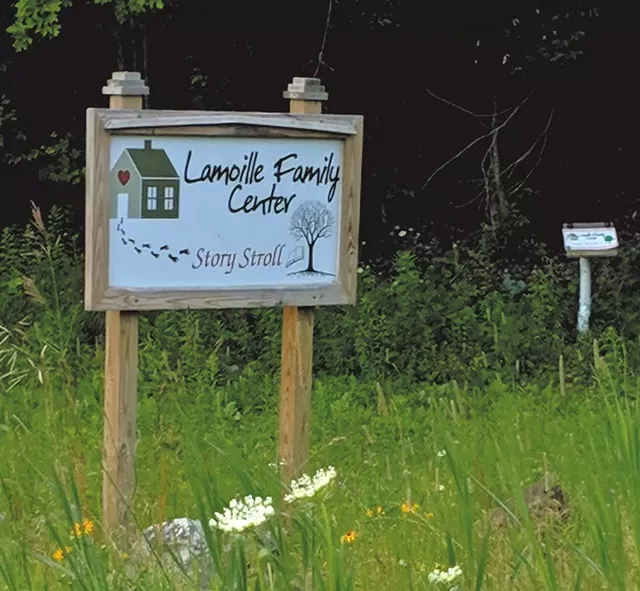 courtesy of lamoille family center
The Lamoille Family Center in Morrisville created its story walk trail five years ago and changes the featured book seasonally
The idea behind a story walk is simple — take apart a picture book and post its laminated pages along a trail. Families then enjoy an outdoor saunter, paired with reading enrichment.
The Kellogg-Hubbard Library in Montpelier hosts a loaning library of more than three dozen StoryWalks, created and trademarked by Montpelier resident Anne Ferguson and available for any Vermonter to borrow. The daughter of a librarian, Ferguson brainstormed the idea in 2007 with support from Kellogg-Hubbard program and development coordinator Rachel Senechal. Other communities have created their own literary walks.
Bree Drapa, director of the Westford Public Library, says the activity benefits emerging readers, who "can build their skills in a fun and new environment — working on confidence, reading out loud, comprehension and sequencing skills." For six years, her library has partnered with the Westford Conservation Commission to set up a story walk next to Westford School (146 Brookside Rd.). In keeping with this year's library summer reading theme of "A Universe of Stories," Drapa chose Aliens Love Underpants by Claire Freedman, a zany book with silly, colorful illustrations by Ben Cort.
For three years, Enosburg Falls Elementary School librarian and enrichment teacher Joanne Allen has installed story walks — thanks to a grant from RiseVT Franklin & Grand Isle Counties — on the Brownway River Trail, which follows the Missisquoi River. The walks can be accessed at the school, at 303 Dickinson Ave. Allen changes the story every two weeks through the end of October. Her choices have encompassed topics including friendship, problem-solving, risk-taking and gardening. In May, Vermont author Christy Mihaly visited the school and read her picture book Hey, Hey, Hay!, the featured walk at the time.
As a grandparent, Allen says she enjoys the relaxation of reading on a mowed trail away from traffic. As an educator, she appreciates the opportunity "to read outside with my classes, infuse movement, and pair activity with literacy."
Five Other Story Walks To Explore