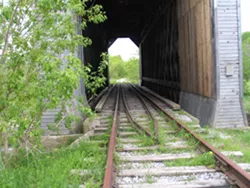 Future Lamoille Valley Rail Trail
For more than a decade, outdoor enthusiasts have gazed longingly at the former railroad line that runs between Swanton and St. Johnsbury, contemplating its enormous recreational potential.
The 93.2-mile railbed, which is currently owned by the state, traverses scenic stretches of three counties and 20 municipalities in Vermont's northern tier. It also intersects several existing recreational trails, including the 26-mile Missisquoi Valley Rail Trail at Sheldon Junction. Once completed, the Lamoille Valley Rail Trail, as it's called, would become New England's longest year-round recreational trail and the "backbone" for a network of trails statewide.
Virtually everybody wants the LVRT to happen, including the towns and businesses along the way that would reap year-round economic benefits from a steady stream of hikers, bikers, snowmobilers and cross-country skiers.
In 2005, then-Rep. Bernie Sanders secured a $4.94 million federal grant to convert the abandoned railbed into a full-time recreational corridor. The Vermont Association of Snow Travelers pledged $750,000 to satisfy the federal grant's requirement for a 20 percent local match, qualifying VAST as the prime sponsor of the multiuse trail.
"This is not just a project for Swanton and Greensboro and St. J. It's a project for the entire state," says Chapin Spencer, executive director of Local Motion, a Burlington-based advocacy group for nonmotorized activities. "It's not often that motorized and nonmotorized groups are running full speed on the same side."
So why is it that the LVRT is in danger of a derailment?
A last-minute complaint filed by two landowners in East Hardwick, whose house sits just 50 feet from the trail, raised a red flag for two of the three Act 250 coordinators who reviewed the project. As a result, the proposal is now in Vermont Environmental Court in Barre, where a judge will decide whether it should be subject to an Act 250 review.
Laird MacDowell chairs the LVRT Committee, a dozen-member body that represent the interests of both motorized and nonmotorized trail users. He says a formal land-use review — on a trail that passes through 20 municipalities and touches at least 500 adjacent landowners — could add another five years and $350,000 to the project, on top of the $150,000 VAST has already spent in legal fees alone. If that occurs, he warns, VAST would "step away" from the project and hand it back to the state, which is currently in no position to finance it.
"And if we walk away from this, it's going to be an abandoned railbed and I can tell you what'll happen," MacDowell adds. "It'll turn into an illegal ATV trail … and there will be no enforcement of anything."
It's been decades since the transportation corridor between Swanton and St. Johnsbury has been used for regular rail service in Vermont. The state acquired the line in 1973 after its previous owner, the St. Johnsbury & Lake Champlain Railroad Company, went bankrupt. Then, for nearly 20 years the Vermont Agency of Transportation (VTrans) leased it out to other users, though serious rail traffic had dwindled by the mid-1980s. In August 1995, use of the tracks ceased entirely because of erosion and flood damage.
As far back as 1997, VAST was using portions of the abandoned railbed as snowmobile paths, though the presence of tracks made it dangerous, especially when there wasn't enough snow cover. The promise of a nearly $5 million federal grant, in 2005, clarified VAST's vision, and motivated the snow-machine group to pledge $750,000 toward the rail trail's estimated $7 million price tag.
That same year, the state hired a contractor to pull up the track, ties and spikes, the first step in creating a multiuse recreational corridor. However, significant work remains to be done repairing collapsed bridges and washed-out embankments.
According to MacDowell, state regulators have surveyed the entire route for wetlands, rare and endangered species, and elements of historic or archeological significance, and granted nearly 30 permits needed to start construction. The committee has also sponsored public meetings in all three counties to explain the project's many benefits.
Last year, VAST asked the Act 250 coordinators in the three counties the trail crosses for a "jurisdictional opinion" on whether Act 250 applies. VAST and VTrans argued that it didn't, noting that similar rail trails, including the Missisquoi Valley Rail Trail, didn't undergo Act 250 reviews. After six months of deliberation, the coordinators agreed, noting that the proposed work constituted repairs of existing structures, not new construction.
But according to MacDowell, the East Hardwick complaint caused two of the three Act 250 coordinators to reverse their opinions. "They spent six months making their decision and in one day changed their minds," MacDowell notes.
So late last year, VAST and VTrans appealed the Act 250 coordinators' ruling to Environmental Court, where a decision is pending. Now, even if the landowners drop all their objections or reach a compromise, the trail's immediate fate is in the hands of the Environmental Court judge.
The Vermont Natural Resources Council doesn't think that's such a bad idea. In fact, the nonprofit is representing the East Hardwick couple and others who have formed a small chorus of complainants. Emphasizing that VNRC does not oppose the trail, and had nothing to do with bringing this case to court, attorney Jon Groveman argues that a formal land-use review would give all adjacent landowners and municipalities an opportunity to weigh in, and ultimately improve upon, the final project.
Groveman is "pushing back" on the allegation, made by MacDowell and others, that VNRC "uses Act 250 as a weapon" to get VAST to "play ball with landowners."
"We have a long-standing history of protecting Act 250 jurisdiction when it applies," he says. "But we don't want people walking around thinking Act 250 equals death to projects."
He adds, "Whether we were involved or not, this fight would still be going on, and the court would still have to wrestle with these issues. We have done nothing to delay this process."
Ed Stanak is the District 5 Act 250 coordinator — one of the two who reversed his initial decision on whether the LVRT required a land-use permit. Stanak refutes the claim that no other rail trails have been subject to Act 250, and points out that the facts considered in each application are unique.
Acknowledging the conditions needed to get federal grant money, Stanak assures, "I think we have a pretty good track record in Act 250 for understanding those types of contingencies and moving things in a timely manner."
Whether the Lamoille Valley Rail Trail is built this year or five years from now, everyone involved in the project agrees that local towns and businesses would benefit from the increased traffic and tourism dollars. In a study released in February, the University of Vermont Transportation Research Center reported that the Burlington Bike Path and the Island Line Trail brought between $1 million to $2.5 million to the local economy during the summer of 2008.
Experts say that the economic boon from the LVRT would be even larger, since the trail would be used year-round by a variety of users.
Says Local Motion's Spencer, "We've got to make this happen for the communities in northern Vermont … This project is too spectacular to fail."