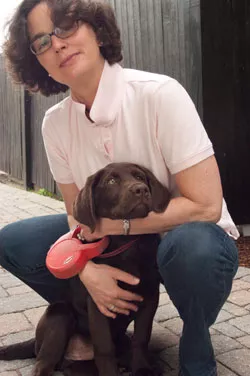 Matthew Thorsen
Krista Conley Lincoln and Bruno
Reading publications like this one, it's easy to come away thinking everyone in Vermont is dauntingly fit, biking to work and burning off extra energy in grueling Spartan Races on the weekends. Stats from the Centers for Disease Control and Prevention tell another story: Fifty-nine percent of adult Vermonters are overweight. Twenty-two percent are obese, meaning they have a body mass index greater than 30. According to Attorney General Bill Sorrell's 2010 Vermont Healthy Weight Initiative, obesity may cost the state more than $615 million per year.
Krista Conley Lincoln thinks her chocolate Lab puppy, Bruno, may hold the key to cutting the fat in Vermont and beyond. Bruno's role as "spokesdog" for Vtrim Online Solutions, a weight-loss program based on University of Vermont research, is just one of many additions since Lincoln took the company's reins in February.
For the company that Lincoln still refers to as a start-up, bigger could be better. And the businesswoman who used to call the Hong Kong government a client says she's ready to take Vtrim national — and even global.
The Middlebury-based CEO and managing director talks openly about her own weight-management struggles. Between seven months of bringing the Vtrim licensing agreement to fruition, a busy winter and a rainy spring, "I gained 10 pounds," she says.
So Lincoln got the dog "to force me to be more active" — and the weight is coming off. The entrepreneur, a Midd grad, suggests she's not far from Vtrim's typical client: "There are a lot of women in this program who are my age — 47 years old, with kids — who are getting older, and they want to lose weight. I feel like I can be emblematic of that," she says.
If all goes well, Bruno will become an emblem to lots of people ready to get off their butts. That was the goal of commercializing the program, says Beth Casey Gold, Vtrim's director of program management. She assisted UVM's Jean Harvey-Berino through more than a decade of behavioral studies that became the foundation of Vtrim.
Until now, Harvey-Berino's web-based behavior modification program has been accessible primarily to Vermonters; since 2001, about 2000 have completed it. But a study by a UVM team that included Harvey-Berino and Gold suggested Vtrim could benefit people far outside the Green Mountains. "We saw the necessity of making this program available to people who were willing to pay," says Gold. "What was so exciting about it was [that] the online aspect broke down the geographic barriers. We knew we had something we could take anywhere that was a really high-quality program."
That program, which started more than a decade ago as in-person meetings between UVM researchers and groups of waist watchers, is now based on a slick website. A tour of vtrimonline.com, led by director of online instruction Heather Leonard, suggests that Vtrim could easily prove as addictive as Facebook — or overeating.
One of Vtrim's main selling points is precisely the communal aspect that makes it look like Facebook and other social networks. While many online weight-loss programs are go-it-on-your-own deals, each 12-week Vtrim class is limited to 20 participants. They're led by a registered dietitian, called a "facilitator," who's received 45 hours of specific training in the Vtrim program. Weekly instant-message-based sessions connect students and a facilitator for discussion of topics related to healthy eating and exercise. Participants can also contact the facilitator by email, making the experience as hands-on as instruction in cyberspace can be.
As on a social networking site, each participant has a bio page and photograph. Message boards make it easy to discuss weight-loss issues. The students also get recipes (see sidebar). Originally drawn from The EatingWell Diet, a James Beard Foundation Award-winning cookbook by Harvey-Berino with Joyce Hendley and the editors of Charlotte's EatingWell magazine, these are now being conceived by a Burlington-based chef. The goals are optimum variety and seasonality, says Gold.
Leonard, who, like Casey, was one of Vtrim's first facilitators, says research has shown the program's most important tool is the self-monitoring journal. Vtrim participants log calories consumed in relation to their intake goal, then watch those calories burn off as they record the results of exercise. "It's a necessary evil to show how the food you eat and the exercise you do impacts your weight," says Leonard, who monitors her class' journals in her role as facilitator.
It's this emphasis on accountability that makes the program work, says Leunig's Bistro co-owner and general manager Bob Conlon. He's been through two 12-week in-person courses and says Vtrim is "not brain surgery. It was really just walking and portion control." The group aspect plays a strong role, too: "When you know you're going to see those people sit there and bitch," Conlon says, "there's an element of competition that keeps you going."
The new Vtrim is enhancing its social network with a revamped blog, coming in September. Replacing a blog managed by Leonard, the new one will be lifestyle focused and feature posts by experts on topics ranging from fitness to gardening, says Lincoln. A Vtrim smartphone app will also launch in September.
The website's recipe and meal-planning sections will also get beefed up, and fall will see the launch of an online Vtrim store selling measuring cups, running shorts and other health-focused products. But, notes Lincoln, prepared foods are not on the menu. "We don't want to be in the meal business, the shake business or the supplement business," she says. "We want to be in the 'real' business."
Lincoln's last gig was as a CEO for hire for companies such as Montpelier's Green Mountain Logic and Woodstock's Green Mountain Digital. Last July, Vtrim's special adviser, John Evans, and Todd Keiller, director of UVM's office of technology, contacted her about running a new, commercialized version of Vtrim. The program's lack of inflated promises, she says, is part of what appealed to her. "It doesn't say, 'We're going to give you sexy muscles in 28 days,' or that you're going to be able to get into a bikini by this time," she says. "I just want something real. I can have realistic expectations, and I can be supported in a compassionate and thoughtful and intelligent way."
Some of Vtrim's newest users will need extra compassion. One special program to begin later this year will directly target breast-cancer survivors. A Kaiser Permanente study published this spring demonstrated that women who experienced more than a 10 percent weight gain post-recovery were 14 percent more likely to have a recurrence. Vtrim is partnering with cancer networks to help pay for the programs. Leonard says versions of Vtrim intended just for men and elders will debut soon, too.
Students are another focus. UVM has offered single-credit Vtrim programs to undergrads since 2009, along with continuing education and staff options. The University of Maine followed suit last year. Lincoln says representatives from the University of Pittsburgh, the online University of Phoenix and the approximately 50,000-student-strong University of Florida recently contacted her about adopting the system.
Vtrim won't neglect Vermonters — this summer, state residents will receive a 15 percent discount on enrollment. But global corporate licensing has begun. Lincoln says the Vtrim team is in the process of hiring and training French- and Spanish-speaking facilitators to work with employees at a large company with offices in Québec and California. It will be following the lead of City Market, Green Mountain Coffee Roasters, Green Mountain Power and Vermont Federal Credit Union, which have all offered Vtrim to their employees.
With the idea of wasted tax dollars dancing in her head, Lincoln reached out to the military and landed a soon-to-be cemented deal to work with the U.S. government. Its programs will serve a still-to-be-determined mix of military families, active soldiers returning from deployment with weight issues, and enlisted National Guard and reserve members.
Lincoln is currently raising $350,000 to fund development of the website and smartphone app. But she says consumers shouldn't expect to see Vtrim infomercials featuring celebrity sponsors any time soon: "We want to be a business-to-business program."
That's not to say Vtrim will stay in the shadows. Lincoln believes the company will one day be recognized as one of Vermont's branded exports, like Ben & Jerry's ice cream or Burton's snowboards. Leonard, who's been with Vtrim since the beginning, concurs. "Vermont has led the nation in so many other things," she says. "Now we're leading in healthy lifestyles and programming that can help the rest of the nation."