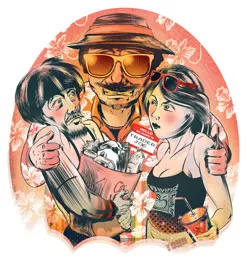 "Two-Buck Chuck" has become "Three-Buck Chuck" in the two years since Trader Joe's first approached South Burlington about building a store on Dorset Street. The city's development review board has granted the company preliminary approval to move forward with construction, and the proposal came before the city council last week.
Three renter-occupied houses are already slated for demolition this summer to make way for the grocery store and new retail and office space, just an organic onion's throw from Healthy Living Market and Café. Montpelier-based Malone Properties, the project's developer, owns the land Trader Joe's would occupy and also the parcel on which Healthy Living sits.
Project manager Paul Simon of the Burlington real-estate investment firm White + Burke says he is "very confident" the city council will soon OK the plan. He predicts that Vermont's first Trader Joe's will open its doors next year.
But at a recent meeting, South Burlington City Councilor Chris Shaw reminded Simon and his boss, David White, that the Trader Joe's parcel is zoned for a mix of residential and retail. Shaw suggested that the second floor of the 14,000-square foot, mixed-use building adjoining Trader Joe's might be better suited for apartments than for the offices the developer currently intends to put in place.
"It seems an ideal spot" for housing, Shaw said, noting that residents could walk to several nearby shops. The Blue Mall and University Mall are both within 100 yards of the project site.
White did not respond directly to Shaw's suggestion. But the real-estate adviser did defend elimination of the homes at 192, 196 and 200 Dorset Street. "They're not in very good shape," White said of the houses. And it's "probably not worth renovating" such energy-inefficient residences. "It's time for them to go," White declared.
South Burlington is already set to lose more than 100 affordable homes because they fall within a high-noise zone near Burlington International Airport.
Shaw didn't press his point at the April 15 meeting. But he and fellow councilors could vote on the plan at a scheduled May 6 meeting. One goal of South Burlington's "interim zoning" regulations — meant to slow development in Vermont's third largest city — is to encourage the building of more affordable housing. The Trader Joe's development will also need a stormwater permit from the Vermont Agency of Natural Resources, as well as a sign-off from the Army Corps of Engineers, which has jurisdiction over a stream running through the property.
Because of its reputation for good food at reasonable prices, Trader Joe's has earned a fan club in Vermont. Four speakers at the April 15 council meeting unanimously supported the store's coming to the Burlington area. There's also a Facebook page titled "I want a Trader Joe's in Burlington, VT" with 1221 likes. Simon says he neither created nor oversees the Facebook page, which posts close-up photos of Trader Joe's products such as dark chocolate edamame and Belgian-style Speculoos Cookies.
"I want these cookies now — come TJ's — NOW," one Facebook commenter wrote.
But the California-based company, which is owned by a German family trust, has followed a cautious strategy of expansion. Established in 1958, the chain operates nearly 400 stores in the United States, half of which are in California. Most are about the size of the 12,800-square-foot outlet planned for South Burlington. They aren't superstores, but Trader Joe's attracts outsize attention due to its jokey tropical theme, featuring employees wearing Hawaiian shirts, and the "extreme value" Charles Shaw table wine sold exclusively at Joe's and known affectionately as "Two-" or "Three-Buck Chuck," depending on where you live.
How is all that likely to work out for nearby Healthy Living?
Just fine, assures Katy Lesser, co-owner of the upmarket purveyor of many local and organic foods and beauty products. Having a Trader Joe's next door "will be great for us," Lesser insists. "There will be a wonderful synergistic relationship."
Yves Bradley, an agent for Pomerleau Real Estate who is not involved with the Trader Joe's deal, says Lesser may be right. While noting it's "somewhat unusual" for stores with a partly overlapping product line to be located side by side, Bradley suggests Trader Joe's "could pull people into Healthy Living who wouldn't go there otherwise."
Some have wondered aloud whether Trader Joe's is trying to put Healthy Living out of business by locating right next door. But Bradley says the store may have had few other location options thanks to "a property market for large retailers that's really, really thin around here." He notes that Whole Foods, a much pricier chain catering to a demographic segment similar to that of Trader Joe's, had tried for years to get permission to build a store on a difficult site on Williston Road in South Burlington and ultimately abandoned the effort in 2011.
Healthy Living's salvation may be its focus on local foods, Bradley and others suggest. "A lot of Vermonters value local food," the realtor says. Indeed, Lesser's store has prospered since expanding in 2008 from 8000 to 35,000 square feet — almost three times the size of the proposed Trader Joe's — despite the presence of a Hannaford supermarket across the street in the U-Mall. Lesser recently opened a second Healthy Living in Saratoga Springs, N.Y.
South Burlington City Councilor Rosanne Greco agrees that Healthy Living's emphasis on local sourcing has helped create a loyal customer base. But Trader Joe's lower prices could trump localism, she says. Upon learning of Trader Joe's location, Greco says, her first thought was "there goes Healthy Living." She adds, "If I were Healthy Living, I'd be pretty nervous."
In Davis, Calif., the opening of a Trader Joe's caused a 7 percent drop in sales at a nearby food co-op, according to a 2012 report on HuffPost Small Business. That in turn led to a wage freeze and a cut in retirement-plan benefits at the 40-year-old co-op, the story said. It added that revenues eventually did recover at the co-op, which operates in a college town with some resemblance to Burlington.
Pat Burns, manager of City Market in downtown Burlington, predicts a similar dynamic here. "There will be a three- to six-month initial period where Healthy Living will feel the impact and to some extent we'll feel it here, too," Burns says. But Healthy Living's customer base should hold steady over time, Burns adds, noting that while Trader Joe's does sell a lot of organic goods, it stocks little fresh produce.
Simon, the project manager, sees no reason for Lesser to worry about having a new neighbor, agreeing that Healthy Living occupies a local niche. And although Simon doesn't mention it, an estimated 80 percent of the products on Trader Joe's shelves carry the chain's private label. None of those items will originate in Vermont. Moreover, Trader Joe's won't reveal the sources of some of the organic products sold in its stores, according to a 2010 story in Sustainable Industries' online magazine.
But the company's food is "safe, affordable and delicious," Simon says. And he argues that "affordable living involves more than affordable housing." Trader Joe's will price items within the reach of the average consumer in an area with high living costs, Simon adds.
Trader Joe's other big selling point might be the 60 jobs that Simon promises the project will create in South Burlington. It will also produce a substantial but undetermined amount of property-tax revenue for the city. And because the project lies within an envisioned tax increment financing district, it will help cover the costs of roads, sewers and other infrastructure in the nearby City Center complex that South Burlington plans to build over the next 20 years.
South Burlington officials were unenthusiastic about the project's original design. A new plan features "more traditional downtown-type architecture" to make it more pedestrian-friendly, White told the council last week. Trader Joe's would now front the sidewalk on Dorset Street, with a "pedestrian plaza" situated between it and the mixed-use building, White said. A 125-car parking lot would be hidden behind the L-shaped buildings, Simon adds.
But even with these urban-style amenities, there's no reason to preserve or create housing as part of the project, Simon argues. Hundreds of residential units are planned for the City Center development less than half a mile away, he says. And truck noise from late-night deliveries could prove an annoyance to any residents at the site, adds John Simson, chairman of an affordable housing committee that works under the city's auspices.
Who lives in the houses that would be torn down as part of the Trader Joe's project?
Collin Bailey and two roommates have been renting the single-family clapboard house at 196 Dorset Street for the past year. Bailey, a customer service representative at Costco in Colchester, says it's a convenient place to live. But the house is "badly maintained," he adds, pointing to living-room ceiling damage.
Nebuchadnezzar Watson has been living next door at 200 Dorset since February, when he was released from jail after serving "six months, two weeks and three days" for a domestic-abuse conviction. "I get a little crazy when I drink," Watson says, displaying two anklets, one that monitors his whereabouts and another that measures his blood-alcohol level.
Where will he go if his rented home is torn down?
"I might move to the trailer park on North Avenue" in Burlington, Watson replies. "I know some people there."
What about Trader Joe's? Is he familiar with the store?
"I don't know nothing about Trader Joe's," Watson says. "What is it — some kind of restaurant?"