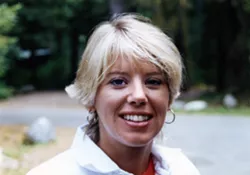 Tracy Lee Bryant, 49, of Waterbury died at home March 1, 2016, surrounded by family following a long battle with cancer.
Tracy was born May 25, 1966, in Hood River, Oregon, the daughter of Terry and Sunnee (Paden) Rodgers. She attended school in Stevenson, Washington, and graduated from Stevenson High in 1984. During school she was active in athletics. Gymnastics and diving were her favorite sports. She attended Linfield College in McMinnville, Oregon. As a young person, she often spent time in Yuma, Arizona, visiting her grandparents.
Tracy met Tom Bryant in 1992 in Portland, Oregon, and they were married there on New Year's Eve in 1999. While in Portland, Tracy worked as a leasing agent for Altec Equipment and as a buyer for a large department store. In addition, they worked together selling Turtle Fur products at a local mall.
Following the birth of their twin daughters, Alyson and Emily, in 2003, they moved to Vermont and settled in Waterbury. With previous experience in the food service business, Tom and Tracy opened Maxi's Restaurant in 2005. Tracy worked at Maxi's for several years until her health limited her activities.
Tracy was a cancer survivor, and as such, she was very involved with cancer support groups. She attended meetings, led discussion groups and was a presenter at conferences. She participated fully in the Weekend of Hope held every year in Stowe.
Tracy was devoted to her family. In support of her daughters, she held leadership roles with The Children's Room and the local Girl Scouts. Throughout her long illness she maintained a consistently positive outlook and optimistic engagement in life around her. Her many other interests included reading, cooking and her much-loved dog, Eloise.
Survivors include her husband, Thomas Bryant of Waterbury; her daughters, Alyson and Emily Bryant of Waterbury; her parents, Terry and Sunnee Rodgers of Crooked River Ranch, Oregon; her grandmother, Della Paden of Walla Walla, Washington; her brother Patrick Rodgers and wife Michelle of Chattaroy, Washington; her sisters, Stephanie Huss and husband Aaron of Bend, Oregon, Beth Ohremus and husband Steve and Becky Ohremus and husband Scott, both of Carson, Washington, and many aunts, uncles, nephews, nieces and cousins.
Tracy is also survived by her husband's family who cared for her very much. They include Tom's mother, Millie Merrill and husband John of Waterbury Center; brother, Zeph Bryant and Beverly Beech of Stowe, and sister, Page Tyler and daughter Ella Croft of Salt Lake City, Utah.
A service to celebrate Tracy's life will be held on Monday, March 7, 2016, at 4:30 pm at the Waterbury Congregational Church, 8 North Main Street, Waterbury. Following the service, everyone is invited to attend a reception in the church dining room.
In lieu of flowers, donations in Tracy's memory may be made to the North Country Animal League (www.ncal.com), or to Central Vermont Home Health and Hospice, 600 Granger Road, Barre, Vermont 05641 (www.cvhhh.org). Perkins-Parker Funeral Home and Cremation Service in Waterbury is assisting the family. To send online condolences please visit www.perkinsparker.com or the funeral home Facebook page.