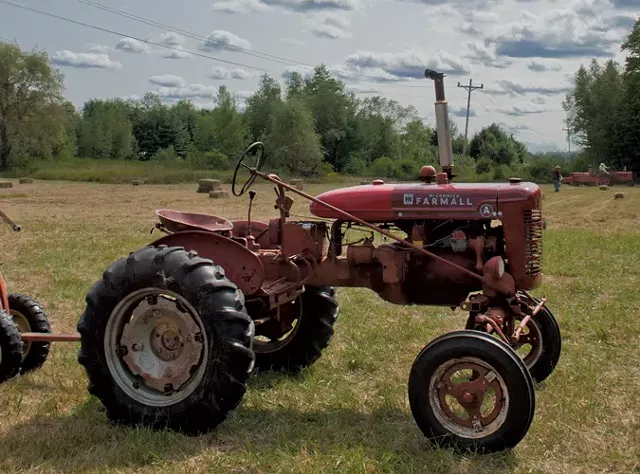 Hannah Palmer Egan
A tractor at the Connecticut River Antique Collectors Klub's annual show
"We are junk magnets," said Virginia resident Joe Hagerman, one of two blacksmiths manning a coal-fired forge at the annual show put on by the Connecticut River Antique Collectors Klub (CRACK) in Ely. Hagerman explained that he joined the group after meeting club cofounder Doug Driscoll at an antiques gathering years ago. He's traveled to the small hamlet in the town of Fairlee each August since then to demonstrate old-style smithing to visitors at the show, which features an array of antique farm machinery and other collectibles.
"Now," said Eric Hinckley, Hagerman's friend and copilot in the blacksmith shop, grinning at an 8-year-old girl from New York City, "let's see if you're a real princess."
The girl giggled. "How will you know?" she asked.
Hinckley held up the iron "princess sword" he'd begun fashioning. "Blow on it," he said.
The girl complied with a nervous smile.
Hinckley stuck the sword in the coals until it glowed red-hot, then placed it on an anvil and pounded it into shape. "If you're a real princess, it'll turn to gold," he said, picking up a brass-bristled brush. "Now I just have to dust it off to see if there's gold underneath."
As the brush grazed the sword, it turned from gray to gold. Hinckley dunked it in cold water and handed it to the girl. "Would you look at that!" he exclaimed. "A real princess!"
The girl beamed.
Doug and Ruth Driscoll founded CRACK with five other families in 1993. Its membership swelled to 160 families by 2001. On the sales floor of the old Ely store and post office (shuttered in 1972), adjacent to their home, the club amassed vintage toys, beer steins, maple syrup tins, oil lamps, kitchen implements, salt and pepper shakers ... just about anything people collect.
In barns and outbuildings, the couple built a blacksmith shop, sugarhouse, sawmill and other work spaces using salvaged and restored equipment. Each August, the Driscolls open their field and "museum" for an annual show and demonstration.
Last weekend, the gathering was showing signs of age. Membership has fallen to about 80 families, and the average age has risen. The Driscolls' son Kenny continues to welcome younger members, but recruitment hasn't kept pace with elders aging out.
On show days years ago, said CRACK founding member Steve Stocking, leaning on a 1929 Doodlebug tractor car, the entire field was filled with old farm implements and other antiquities. In the back hayfield, members threshed grain, spun cornstalks into silage and milled trees into boards, all on equipment from decades past.
"We used to cut ice back in February and store it in the icehouse," Stocking said. "We'd use it to make ice cream for the show's ice cream social."
But if this year brought fewer demonstrations, it still attracted a dedicated crew of collectors, tinkerers and hobbyists. They traded stories and know-how and showed off what their clickety-clacking equipment could do.
New members, mostly men in their thirties and forties, listened as older mechanics shared tips on fixing this carburetor or that three-point hitch. Kids sputtered about on vintage riding lawn mowers as a showpiece 1924 Bessemer field engine hissed and popped.
In the backfield, an old Farmall tractor swapped antique attachments to cut, ted and bale the hay as visitors trailed behind and tossed bales into a pickup truck.
The event served as a reminder that, even in the age of iPhones, self-driving cars and the internet of things, people can still power pretty much anything with a tractor engine.

Zach Perry: "My foot is so warm right now, because there's a deflector plate and the exhaust shoots out right onto my foot. [The 1964 Massey Ferguson M24-S Deluxe lawn mower] would be great for wintertime, but, then again, you wouldn't need a lawn mower in the wintertime, would you? We got this when I turned 6 and redid a bunch of components."
Ruth Driscoll: "My husband and I tried to make [CRACK] a family affair rather than a men's tractor-engine club, because we felt that was only fair. Women bring things they make or collect. We have about 50 washing machines. One has an attachment to stuff sausages, and you can even make butter with it ... We also have a bedpan collection; I think we're the only one in the country with that."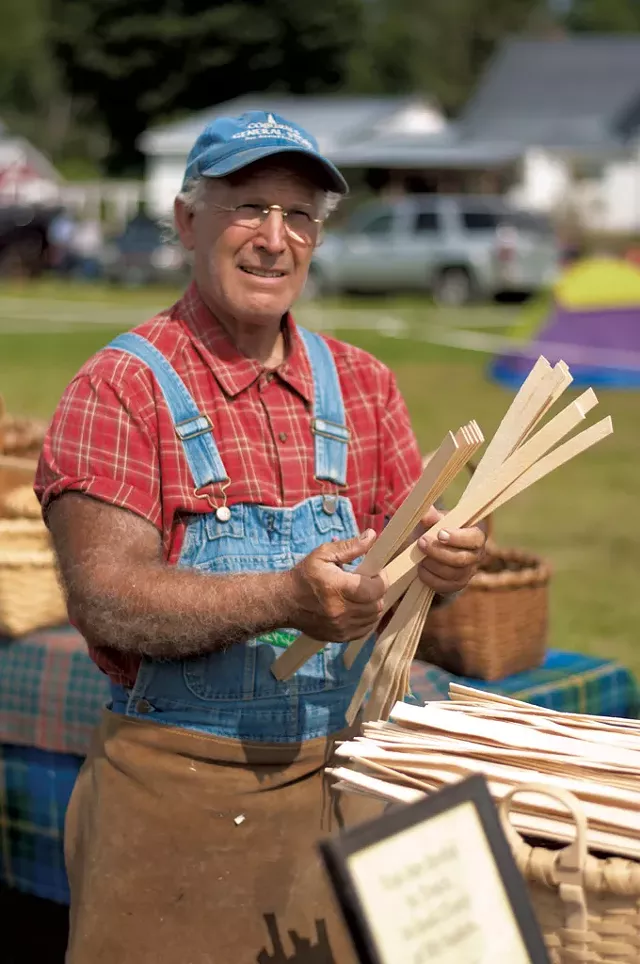 Jeffrey Gale: "I read Eric Sloane's A Reverence for Wood, and it struck me that traditional craftsmen were a thing of the past. I decided on my 30th birthday that I'd be a basket maker and just use hand tools. An average basket takes about four days [to make], but I was determined and continued to do it. If I had to make $2 per hour, I'd live accordingly. The Smithsonian has 10 of my baskets. The way I felt about it was, I don't want to look back at my life and feel like I didn't pursue my dream."
Steve Stocking: "There's a story behind practically every piece of equipment here. This [1929 Ford Doodlebug tractor] was parked ... for a number of years. I built them when I was young, so I figured I could get it running again. My wife and I take it on tractor rides — once we went 40 miles. We go across [Lake Champlain] on the Charlotte-Essex ferry; they have a lot of nice back roads over in western New York, too."
John Fleury: "This [1962 Wheel Horse Garden Tractor] was my father's; it was his pride and joy. He painted it, bought new tires, and we made the stack for it. Back in the day, it would have had a mower deck, but you could attach anything to it — plow, snowblower, whatever you want. This is the first time I've showed it since he died."