James Buck
Quincy Massey-Bierman practicing long jump
On a quiet corner of the University of Vermont campus, a wide-eyed teenager in a Seahorses T-shirt asks, "Are you guys doing 120s today?" To an outsider, the number might seem like a code for illicit activity. Except the only laws about to be pushed here, on the track, are Newtonian.
"We're working on integrated plyometrics," says Tor Dworshak before launching into an explanation of the lesson ahead. "Newton's third law says that for every action there is an equal and opposite reaction. The harder you can push on the track, the harder the track is going to push back."
This scene is unfolding on UVM's outdoor track, where a new, community-wide club called Sprinticity (rhymes with simplicity) aims to satisfy the Queen City's need for speed. Unlike other running groups in the Green Mountains, this one focuses specifically on sprinters, whether they're age 8 or 80.
"Going fast is fun!" explains Dworshak of the philosophy behind Sprinticity — and its appeal. "Driving a car faster is more fun; riding your bike faster is more fun; running faster is more fun. And it's not like a football team or a soccer team where you need people of the same ability to function as a unit — these workouts can be tailored to anyone."
Sprinticity officially launched in the summer of 2014; Dworshak is the group's cofounder and marketing manager. But the seed was planted when the son of artist Katharine Montstream and Alan Dworshak was a boy, growing up in Burlington — and having fun. "My parents had a Johnny Jump Up hanging from the doorway, and my mom would be painting a still life of flowers about four to five feet in front of me, and I would launch myself forward to try and grab the flowers, but I could never quite reach them," recalls Dworshak with a laugh.
"I was also climbing up and down the pipes and trying to grab the high doorways," he continues. "My dad still makes fun of how, the first time I did it, I was screaming with happiness. I've just always been a little jumper."
Dworshak's Sprinticity partner is Kevin Chu, a state champion hurdler and Middlebury College track standout who, in the winter of 2014, began to examine the dearth of fast fellowships around Burlington. "There are established distance-running groups in almost every city of every state that help bring together casual runners for workouts and competitions," he says. "Sprinting groups don't exist."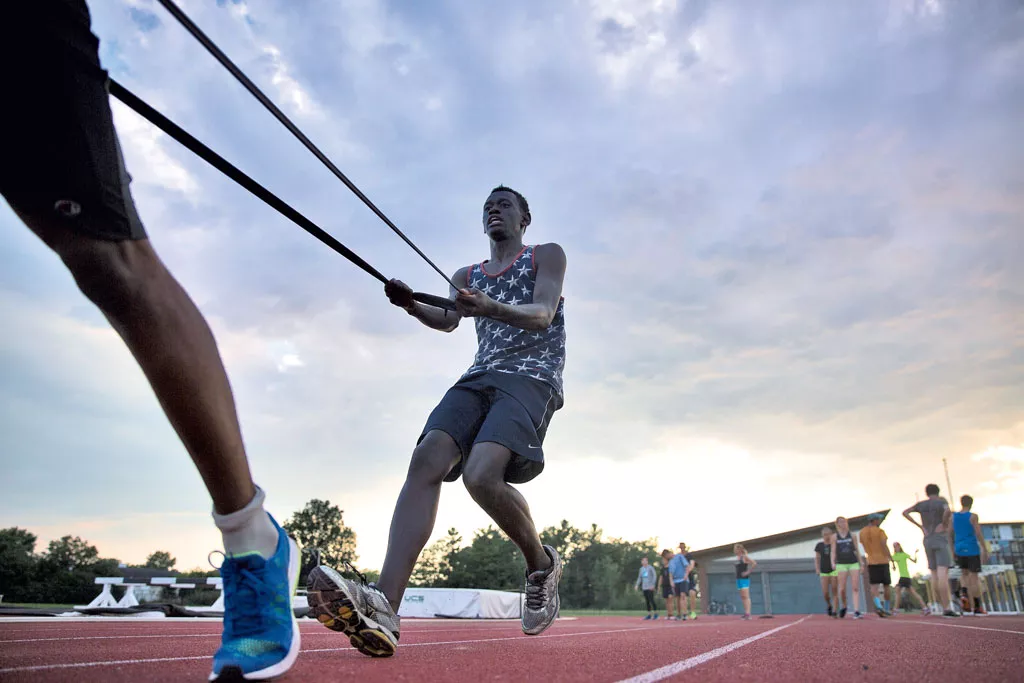 James Buck
Ismail Liban doing resistance training
That changed with Sprinticity. A few months after its founding, it had a foothold in northern Vermont, and a foundation of four Fs was outlined on its website: form ("Maximize efficiency from point A to B"); focus (concentrate for better performance); fast (develop speed — "Faster is better"); and fit ("It's good to be fast, but it's also good to last").
"Sprinting is a great way to get fit," explains Dworshak of the club's broader appeal to, say, baby boomers, as well as to blazingly fast high schoolers. "Most people think, I'm going to go jog for 40 minutes, but you can get just as much of a workout from 40 minutes of on-and-off sprinting at the track."
During a recent Sprinticity session, a dozen members are undergoing warm-up drills, working on strides and controlled acceleration before doing repeats of 100, 200 and 300 yards. What might look like skipping to the average onlooker is actually a sophisticated movement that forces the knee into a 90-degree angle. "This is about working your system super explosively for a short period of time," says Dworshak.
Sprinticity's season is also short — Dworshak will soon return to the University of Rhode Island, where he's a marketing major. And with the sun setting earlier every night, practice sessions officially came to a close last month. But the track club's founders aim to make it a year-round program and are already planning a series of meets for next summer.
"We also want to liberate sprinting from the monotony of 400-meter, eight-lane rubber ovals," says Chu. "We envision open races on the Burlington waterfront, Church Street and other iconic locations."
In the meantime, Vermonters can get a sample of Sprinticity this Sunday, September 13, at Open Streets BTV. For this second annual event, the city will close some two miles of streets in the Old North End to traffic, making way for biking, walking and other activities. Sprinticity members will roll out 90-meter runways and use a radar gun for top-speed challenges.
That just might seal the deal for prospective members. For $70 per year, Sprinticity members get training (choosing among four 75-minute sessions per week), a T-shirt and 15 percent off running gear at Burlington's Skirack.
They also get the kind of competitive camaraderie that fuels runners such as Ahmed Noor. The Vermont state champion in the 100 and 200 hails from Kenya, land of the long-distance runner, but says the thought of a marathon makes him miserable. Noor ran a six-mile leg of the Vermont City Marathon as a seventh grader, shortly after his family immigrated to Burlington. "I hated it — it was too long," he says. "You never know where the finish line is; in track, you're done a lot quicker."
And fast runs leave more time for trash talk with teammates, part of the Sprinticity fun. "One kid always tells me that he's faster, and we just go back and forth until we actually race," says Noor. Some practice days, he's so beat that he just lies down on the track, exhausted. "Other days," he says, "I feel really good — like I can just keep on going."
For Lena Unger, a senior at Burlington High School, part of the appeal of Sprinticity is the people. "It's so cool, because you've got everyone from a middle schooler to a senior citizen who's competing nationally and worldwide," she says, "and all these coaches who just love the sport."
The core draw, though, is much simpler. "Sprinting," Unger says, "is so freeing."