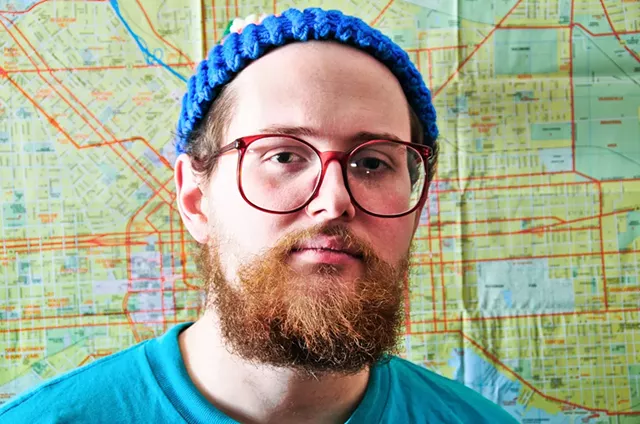 Courtesy photo
Dan Deacon
It's finally here: Waking Windows, Vermont's most cutting-edge music festival. From Friday, May 5, through Sunday, May 7, nearly 200 bands, solo artists, performance artists, comedians, speakers and DJs descend upon downtown Winooski. It's a bona fide musical feeding frenzy. And the people are ravenous.
If you've scoured the fest's monstrous lineup, you might be overwhelmed about who to watch. But if you stare at the daily breakdowns long enough, certain thematic and stylistic paths begin to emerge — kind of like a T. Rex or rocket ship hidden within an autostereogram.
There are near-infinite combinations of how to schedule your time over the three-day extravaganza. Here are seven curated paths that string together like-minded artists. Each includes five artists ordered chronologically and is specific to one day of the fest. Visit wakingwindows.com for set times.
Friday
The "Edge of Pop" Path
The "Edge of Pop" Path connects artists who are pop-adjacent. Each skews just a bit off-center while retaining the hallmarks of traditionally structured, radio-ready music.
Willverine (Monkey House)
Trumpeter Will Andrews recently revamped his "soulectro" project Willverine for a monthly residency at the Light Club Lamp Shop. He blends rootsy, soulful songwriting with warm, electronic production.
Norwegian Arms (Scout & Co.)
Brooklyn-based world traveler Keith Birthday incorporates freak-folk influences with thumping drum machine and atmospheric electronics.
How Sad (Main Stage)
Montréal's How Sad play synth-pop that ranges from blissful and chilled-out to giddy and anthemic. Their quirky sentiments come with titanic, '80s-inspired hooks.
Dan Deacon (Main Stage)
Dan Deacon's glitchy, fractured songs whip by at manic, breakneck speeds and contain elements of New Wave punk, EDM and noise-core.
Exit Someone (Lucky Cloud)
Exit Someone's Thom Gillies and June Moon sing sweet, languid duets over glistening, metallic guitar licks and tight beats.
The "I Can't Feel My Face" Path
Courtesy photo
!!! (Chk, Chk, Chk)
It's the end of the week, and the people are likely to get a little loose. The "I Can't Feel My Face" Path might be good for those who have, shall we say, "checked out" for the evening.
Kikagaku Moyo (Main Stage)
This psychedelic quintet traveled all the way from Tokyo to share its groovy, tripped-out, vintage-inspired rock.
Kiefcatcher (Monkey House)
Self-described as stoner metal, this Burlington-based outfit plays sludgy, gloomy music perfect for late nights and hazy basements.
!!! (Chk Chk Chk) (Main Stage)
After more than 20 years in the game, dance-rockers !!! (pronounced "chk chk chk") continue to pump up the volume with solid, disco-inspired synths and throbbing beats.
SnakeFoot (Monkey House)
Burlington's Ross Travis, aka SnakeFoot, is known for buttery hip-hop and R&B production as well as tweaked-out, bass-heavy live hardware performances.
Octo Octa (Monkey House)
Brooklyn's Octo Octa closes out the night with swirling, deep house vibes.
Saturday
The "Horny" Path
Get your mind out of the gutter, pervs. I'm not talking about anything lewd or lascivious. The "Horny" Path puts the brassiest bands in the spotlight. If their horns put you "in the mood," well, that's between you and your nether regions.
Brass Balagan (Main Stage)
Burlington's crimson-clad, brass-heavy radical street band uses its vast numbers to make monstrous incarnations of world folk music.
Caroline O'Connor (Scout & Co.)
This local multi-instrumentalist uses guitar, saxophone and loop pedals to create luxuriant, yearning music that falls somewhere between indie rock and R&B.
Kat Wright (Main Stage)
Though "Indomitable Soul Band" is no longer attached to her name, rest assured that the veritable queen of the Queen City still croons along with a hearty horn section.
Gnomedad (Lucky Cloud)
One of the grooviest acts on the Burlington scene, Gnomedad pack a preposterous number of influences into their spastic, sax-centric flow.
Iron Eyes Cody (Lucky Cloud)
The chameleonic Iron Eyes Cody dabble in folk, indie rock and soulful pop. Their bountiful blend of instrumentation includes saxophone, synth, accordion and mandolin.
The "Shredded" Path
Courtesy photo
The Mountain Says No
I hope you brought your earplugs, because you shouldn't go bareback on the "Shredded" Path. These acts boast some of the fiercest, loudest guitar work you'll hear this weekend.
Lizrd Women (Rotary Stage)
This raucous crew of college students claimed its WW slot after winning the second night of the recent Battle for Planned Parenthood. I guess we know who ripped it the hardest.
Sad Turtle (Rotary Stage)
Instrumental post-rock quartet Sad Turtle's intricately crafted compositions are as complex as they are sonically rambunctious.
Rough Francis (Main Stage)
These hometown heroes mix '60s garage rock and '70s proto-punk for an earsplitting concoction of raging riffs and shout-along hooks.
Sleeping In (Lucky Cloud)
Self-described as "lazegaze," this Burlington quartet underscores its shadowy songwriting with an onslaught of burly, fuzzed-out power chords.
The Mountain Says No (Rotary Stage)
Eerie. Haunted. Jagged. Soul-crushing. These are some of the many ways to describe the sonic magnitude of the Mountain Says No.
The "WTF" Path
Courtesy photo
Home Body
Keep an open mind when treading the "WTF" Path. Artists featured are frequently off-kilter and sonically dissonant, and they play by their own rules.
Seth Chrisman (Winooski United Methodist Church)
Formerly known as Widesky, the Hudson Valley composer makes ambient drone music full of hair-raising, otherworldly sounds.
ouzkxqlzn (Scout & Co.)
Local cellist Lauren Costello performs under this unpronounceable moniker. She uses a variety of conventional and unconventional items to create unsettling sonic sculptures.
Beth Israel (Monkey House)
Strains of shoegaze and post-punk drift in and out of Philadelphia's frantic, lo-fi weirdos Beth Israel.
Ursula (Scout & Co.)
Philadelphia duo Ursula use the tag "fuck off" to describe their 2015 record, Hair Salon. Their dissonant, no-wave style is both alienating and riveting.
Home Body (Monkey House)
Greenfield, Mass., duo Home Body replace traditional conceptions of electro-pop with noisy, glamorous experimentalism.
The "Down Home" Path
Courtesy photo
Hannah Fair
The "Down Home" Path plows the way for lovers of twang, folksy wisdom and music that harks back to simpler times.
The National Reserve (Main Stage)
Kick back and crack a brewski while enjoying the rootin', tootin' strains of Brooklyn-based alt-country band the National Reserve.
Silver Bridget (Four Quarters Brewing)
Johnnie Day Durand employs the power of the almighty singing saw to reinvent popular songs through an eerie Americana lens.
Mail the Horse (Rotary Stage)
Strains of blues, grunge, country and gospel converge in this Brooklyn-based quintet's brooding brand of rock.
Hannah Fair (McKee's Pub)
Local singer-songwriter Hannah Fair's unbridled vocal power is tempered by her vulnerability and uninhibited romanticism.
Eastern Mountain Time (Lucky Cloud)
You might shed a tear or two for EMT's classic take on ambling, low-key country.
Sunday
The "Hodgepodge" Path
Courtesy photo
Kalbells
For the final day of WW, consider the "Hodgepodge" Path. It highlights eclecticism and exposes you to five drastically different artists.
Ebn Ezra (Scout & Co.)
With Auto-Tune set to 11, Burlington singer-songwriter/producer Ebn Ezra blends New Age textures, tropical beats and R&B sensibilities — like if 1988 Enya merged with 2011 the Weeknd.
Bloodshot Bill (Monkey House)
Montréal's Bloodshot Bill plays lo-fi rockabilly that's indistinguishable from classic-era artists such as Elvis Presley and Roy Orbison.
Ava Luna (Rotary Stage)
Ava Luna's eccentric song structures present a fragmented take on classic soul. The New York City quintet also dabbles in garage rock and psychedelia.
EVNGwear (Waterworks Food + Drink)
This modern, improvisational-fusion supergroup features members of local acts such as the Seth Yacovone Band, Madaila, Whoarfrost, and Nico Suave and the Bodacious Supreme.
Kalbells (Lucky Cloud)
The formerly local lead singer of Rubblebucket, Annakalmia Traver, just announced her debut solo album as Kalbells. The eclectic project is built on playful melodies and a blend of organic and electronic elements.
Disclosure: Jordan Adams is a DJ at Waking Windows.