I have one thing on my holiday wish list this year. It's neither a Crock-Pot nor a trip to Fiji. What I want more than anything is for us parents to go out and look for just the right gifts for our children. No more hitting "enter" on the keyboard to order cheap plastic stuff from China.
Instead, let's go shopping in our hometown. Let's talk with local shopkeepers about the smartest, silliest, sturdiest, cutest, warmest, coolest, happiest, quirkiest, funniest toys and games available. Let's make physical contact with the playthings our children will hold in their hands. Maybe we'll get back in touch with our own playfulness in the process.
Remember the toys that had a lasting impression on you? I delight in recalling the lighted globe I got from my father when I was 8. We'd take turns spinning and stopping it. We swore to visit every place we landed on. Two decades later, we took a safari in Kenya — one of the very first places my finger touched on the globe. That simple, beautiful gift spawned another memory of a lifetime.
I asked some of my friends about their most memorable presents, and the answers all had a similar theme: toys that helped bring their own stories and selves to life. They mentioned paper dolls, handmade wooden stilts, Lincoln Logs, Tinkertoys, Fisher-Price Village, blocks, Colorforms, a baseball glove, a doctor's kit, a red wagon, a Davy Crocket raccoon hat and crayons.
Oh and yes, Barbie. Like it or not, she popped into many minds of the people I polled. One of my friends, who grew up to be a novelist, used her parents' paperback-book collection to build houses where Barbie and Ken could kiss. I liked to test the rules of gravity by dropping the dolls out of my tree house — another treasured gift from my parents, built by a local carpenter. I discovered that even if I switched Barbie and Ken's heads, they fell at roughly the same speed. Ultimately, I gave them a burial at sea from my rubber inner tube. (For more background on Barbie's cultural significance, check out The Good, the Bad, and the Barbie: A Doll's History and Her Impact on Us, by Tanya Lee Stone, $19.99, at Flying Pig Books and Phoenix Books.)
Here's a preliminary guide to presents that have the potential to reach into our children's heads and pull out a never-ending story. Whether you celebrate Hanukkah, Christmas, Kwanzaa or Winter Solstice, I hope there's something here that also makes you feel like a kid again while you shop for memories yet to be made.
*Nota bene: Many regional retailers may carry the toys highlighted in each category. I simply mention the store or stores where I saw or heard about it. So remember the words of Johnny Kidd & the Pirates, "You'd better shop around."
Speed Demons
Does your tyke like physical activity? Is he or she on the go and game for anything physical? Explore these suggestions to inspire, and tire, your indefatigable offspring.
Freestyle Spooner Board for young snowboarders, skateboarders, surfers and riders in the making. Kids can pretend they're hitting the slopes, seas and streets without leaving the safety and warmth of the family room. Before kids are ready for the real thing, the Spooner offers a preview of what board sports have to offer. Ages 3+, $44.99, Kids Town, Learning Express.
An autographed copy of Pirate vs. Pirate: The Terrific Tale of a Big, Blustery Maritime Match, written by Mary Quattlebaum, illustrated by Alexandra Boiger. In this 40-page book, Bad Bart, "the biggest, burliest boy pirate in the Atlantic," challenges Mean Mo, "the maddest, mightiest girl pirate in the Pacific." Ages 4-8, $16.99, Flying Pig Books.
Annika Jr. (for girls) and Merlin Jr. (for boys) Inline Skates, by K2 Skate, feature a "vibration-absorbing composite frame" on the company's comfy, trademark "Softboot." With 5-size adjustability, kids can get years of wear from tearing around. Adjustable sizes, 1.0-8.0, $66, SkiRack.
Quicky Kids Spade Sled, by TSL Sleds, is a tiny, half-pound, durable sled (shaped like a shovel) that offers high speed on the slopes. Miraculously designed to fit all fannies, young and old. Just sit down with handle between your legs and off you go. Parents should decide when their kid is ready for solo sledding, $4.99, Outdoor Gear Exchange.
Z-Curve Bow, by Zing, is an archery set with soft foam arrows that can travel up to 125 yards. Not to fear, the suction-cup tip won't hurt a fly, but does stick on many surfaces. Ages 8+, $24.99, Kids Town, Learning Express.
FiveFingers Footwear, by Vibram, is designed to give kids the feeling of running barefoot in the yard while still protecting their little paws from the elements. Made of thin, abrasion-resistant stretch nylon upper with a specialized rubber grip to avoid slippage. Think of FiveFingers as gloves for the feet. Kids sizes 11.5 to 4, $65-$85, Onion River Kids.
Funky Monkeys
Fashion-forward bambinos have funky taste buds. They love rocking duds, cutting-edge fads and chic accessories. Complement your progeny's wild streak with some of these trend-setting threads and toys.
Air Swimmers, by the William Mark Corporation, are five-foot-long sharks, also available as clownfish, which move around the room courtesy of a remote control device and helium. Air Swimmers look like they are moving through the water as they float overhead. Ages 8+, $39.99, Woodbury Mountain Toys, Learning Express.
Gnome Porcelain Lamp, by Seltzer Studios, brings the beloved lawn ornament inside and adds whimsy to bedside tables. Best for older kids because the mischievous little fellow plugs into the wall, $46, Jamie Two Coats.
Chicken Purse, by Pylones, is a regal-yet-whimsical hen-shaped handbag that hangs from a short strap. Crafted from sturdy rubber in soft colors, kids (or grandmothers) can tote everything from wallets to walkie-talkies in the belly of this sweet beast. Any age, $29.95, Jamie Two Coats.
Good Manners Flash Cards, by eeBoo, use polite pigs to demonstrate good behavior in familiar situations. One side of a card asks how to behave in a certain situation; the reverse offers a good suggestion. After all, kids who want to grow up to break the rules need to know them first. Ages 5+, $14, Isabean.
Spiketus Rex, by MadPax, are backpacks and tote bags that come in four "funtastic" sizes — Full Pack, Half Pack, the Nibbler and the Mighty Bite — all designed to "funk up your trunk." With soft dinosaur spikes covering these brightly covered satchels, kids won't just be kids; they'll be rock stars. For middle and high school students, or precocious grown ups, prices range from $12 to $60, Woodbury Mountain Toys.
Outdoor Explorers
Calling all nature lovers, outdoor explorers and animal observers! If your child fits this description, consider these options for feeding his or her fertile imagination.
Outdoor Explorer Kit, made by Seedling, includes a checklist of creepy crawlies to find, a sketchpad and colored pencils, as well as a magnifying glass and LED headlamp. Comes in a handy drawstring bag. Ages 5-10, $44.95, Isabean.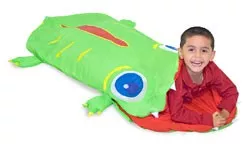 Animal-shaped sleeping bags, by Melissa & Doug, come in alligator, turtle or ladybug designs, with matching tents. (Kids tuck into the gator's mouth!) Ages 4-8, Bags $30; Tents $50, available at the Outdoor Gear Exchange. In a similar vein, Nap Mats come with a built-in pillow (removable for washing) and roll up to fit on your daycare-bound toddler's back. Designs range from butterflies to elephants. By Stephen Joseph, $49.99, Buttered Noodles.
ECHO Lake Aquarium and Science Center family membership is a gift that keeps on giving. Support the study of our local environment while encouraging the conservationist in your kid. Dual memberships for one adult and one child are $60 annually. Depending on the size of your gang, you can get them all in every day of the year, except holidays, for an annual expenditure of $100-$150.
Flip Kite, by Prism Kite Technology, has been called a kaleidoscope in motion. The eye-catching, spinning graphics add a burst of brilliance to the sky. Also exciting is the mechanism by which it flies — achieving lift via the Magnus effect, the same principle that gives golf balls loft. But the best thing of all? It requires no assembly. Great for all ages, and their parents, $29.95, Outdoor Gear Exchange.
Mermaid Island, by Peaceable Kingdom, a cooperative board game for kids invented by a little girl and her family while they sailed around the world. The goal of the game is to get the mermaids to the island before the Sea Witch can get there. Billed as a "lively, strategic game of chase." Ages 5+, $15.99, Flying Pig Books and Woodbury Mountain Toys.
Think Tankers
Most kids ask "why" as toddlers, and many never stop questioning how things work. Youngsters who fall into this category have a passion for experimenting, building, reading, constructing and deconstructing. Fuel their fervor with toys that test their minds.
Bilibo is an oddly shaped and weirdly wonderful, brightly colored, shell-like Swiss-designed thing with holes that look like eyes. It comes with no directions, so kids can interpret at will. Sit in it and spin. Stand on it and balance. Fill it with sand. Wear it like a helmet. Serve oatmeal in it. The shell is made of high-density polyethylene that's billed as "shock-resistant, weather-proof, food safe and completely recyclable." Ages 2-7, $33, Isabean.
Montshire Museum of Science offers a passbook for exploring interactive bubble stations, the region's largest collection of moths and butterflies, creative Rube Goldberg devices, topological puzzles, a colony of leaf-cutter ants, and much more. There's also 100+ acres of trails, a walking tour of the solar system and "the most intelligent water park" in New England (open in summer only). Passbooks contain 12 admission passes for $110.
Alien Conquest Battle Pack, by LEGO, features five mini-figures and provides an opportunity to defend Earth from invasion. There's even a tiny businessman to protect from attack, unless you and your rug rats share an anti-Wall Street sentiment and prefer that the Aliens win. Ages 6+, $14.99. Add an Alien Mothership, appropriate for ages 8-14, for $59.99. Available at many local stores.
Physics Pro, by Thames & Kosmos, is a kit that teaches kids to build wind tunnels, pneumatic shocks and hydraulic lifts. The main focus is water and air but the lessons grow from "why a streamlined shape lets a car drive faster" to "how power plants convert a current of water into electrical current." Ages 10+, $44.99, Woodbury Mountain Toys. Check out the Physics Solar Workshop, too.
The Strange Case of Origami Yoda, by Tom Angleberger, tells the story of Dwight, a so-called weirdo who's "always talking about robots or spiders or something." One day he shows up at school with a little origami Yoda finger puppet that spews schoolyard wisdom. The mystery is whether the Yoda is just Dwight speaking in a funny voice, or if the puppet actually has mystical powers. Grades 3-6, $12.95, Flying Pig Books.
Perplexus 3D Puzzle, by PlaSmart, is an addicting maze game that challenges everyone who dares to try. Players must maneuver a small marble around challenging barriers inside a transparent sphere. Ages 6+, $24.99, Buttered Noodles, Learning Express.
Artists in Residence
Every child loves to create, so you can't go wrong with a gift that is a piece of art or leads to one. Besides, no home in Vermont is complete without a box of art, books and crafts (the other ABCs) to help pass the coldest and snowiest of winter days. Here are a few gift ideas to warm the heART.
Kid Concoctions: Weird Wacky & Wild Stuff You Can Make at Home, an Alex book, has more than 200 recipes for fun. Create toys, contraptions, paint, dough and silly snacks with common household ingredients. Ages 6+, $9.99, Woodbury Mountain Toys.
Safety Pin Bracelets, by Klutz, comes with simple, illustrated directions for making 10 unique, sparkly bracelets with more than 1000 beads and 175 safety pins. Ages 8+, $19.99, Kids Town.
Tinte, invented by Burlington-based Learning Materials Workshop, is a set of notched hardwood building blocks, painted in 42 different colors, that comes in a wood box frame. Kids can create colorful forms and structures on the floor, and then hang them on the wall. A guide introduces the concepts of hue, value and intensity. Ages 3+, $195, Isabean. Variations on the theme, called Arcobaleno and Spectra, sell for $49.95 and $34.95, respectively.
Design Your Own Bear, by Vermont Teddy Bear Company, allows Project Runway-wannabes to test out their designs on an ursine subject. Select a bear size online, and then follow the step-by-step process of selecting specifications. Within two business days, a specialist will call to discuss details. They later provide a sketch, a price quote and a delivery date. Price varies, as does bear size. Ages 12+.
Harry Bliss
Bailey
Bailey, by local cartoonist, illustrator and author Harry Bliss, is the charming "tail" of dog's first day at school. Will he eat his homework? School proves to be an unexpectedly artful place for Bailey to do what he loves: read, fetch, paint, dig, sing and make friends. Ages 3+, $16.99, Flying Pig Books.
Laptop Buddha Board, by Canadian-company Buddha Board Inc., is a portable canvas and easel that gives Zen-like artists the chance to paint over and over again — clearing both mind and palette. The "laptop" reference is an antidote to (and pun on) the computer. Comes complete with water well and bamboo brush. Ageless, $39.99, Homeport.
Creative Habitat gift cards provide your pint-sized Picasso with the tools of the trade. Pick tried-and-true art forms, like pen and ink, or delve into scrapbooking or custom framing. All ages, all price ranges. Creative Habitat.
Nancy Stearns Bercaw is a journalist who has written for newspapers from the Korea Herald to the New York Times and is a frequent contributor to Seven Days.