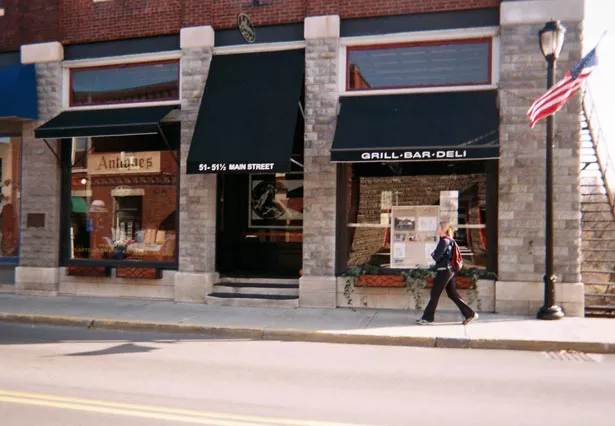 MIDDLEBURY - Local merchants are offering mixed reactions to Middlebury College's plan to open a bar in a prime downtown location it recently leased, paving the way for a classic college-town showdown this winter.
The 3500-square-foot Main Street space formerly occupied by Eat Good Food restaurant is also envisioned as a daytime venue for art exhibits, readings and perhaps open classes taught by Middlebury professors. Alcohol would be served only Thursday through Saturday nights under a plan being jointly developed by students and college administrators. Music and other entertainment would also be presented after dark, although noise ordinances will limit options in the three-story Battell Building, which houses apartments as well as offices on its upper floors.
The prospect of serving beer and wine downtown, either by the college or by an operator it designates, could spark concern among local residents and businesses, acknowledges Middlebury Dean Timothy Spears. "It's not easy any time you're bringing college students into a space where alcohol is served," he concedes. But Spears expresses hope that the "upscale" ambience envisioned for the place will foster responsible behavior. He adds that the bar could give the college an opportunity to educate students to drink responsibly.
The planners of the new space - tentatively named after its address, 51 Main - intend to apply for a license that allows 18-to-20-year-olds to attend events at which alcohol is sold to older patrons. Higher Ground, the South Burlington concert hall, operates under such an arrangement, notes Micah Gurard-Levin, a Middlebury senior and leader of the effort to open a multi-use space overlooking the Otter Creek.
A key aim of the unconventional initiative is to stimulate town-gown interaction, Spears explains. "A lot of students want to connect with people in the community, and this could be a place where that would happen regularly," he says.
The college also hopes that establishing a popular downtown hangout will encourage students to patronize nearby stores. "Anything we can do to promote foot traffic downtown is a good thing," Spears says.
Middlebury's 2400 students, many from wealthy families, have a disproportionately small impact on the retail economy of a town of some 8000 residents. Locals generally regard the college as a generous and hospitable neighbor, but relations are not always rosy, owing to what some perceive as an arm's-length attitude on the part of an elite school.
Few shops in the village sell the sort of merchandise that attracts a youthful clientele, Gurard-Levin says. In addition, he notes, "There's so much happening on campus that it's hard to pop in and out of downtown."
Some nearby commercial establishments take a favorable view of the venture. Two Brothers Tavern, a Main Street nightspot, welcomes the proposed move. "They may offer the same thing we do, but it's not a positive that we're the only place in Middlebury offering live music," says Megan Brady, co-general manager of Two Brothers. "Middlebury tends to be a sleepy town after five. So we're excited by this idea, because it might bring in more people from Brandon, Vergennes and maybe even Burlington."
Gail Freidin, director of the Middlebury Business Association, describes herself as "skeptically optimistic" about the proposal. Most members of her association are "waiting and seeing on this one," Freidin says, noting that the college is keeping local businesses apprised of its plans for 51 Main.
Vermont law requires bars to serve food as a condition of obtaining a liquor license. Making meals, or even just snacks, available at 51 Main could worry owners of existing Middlebury eateries, Gurard-Levin notes. The establishment might allay fears of unfair competition from a nonprofit but moneyed institution, he suggests, "if we were maybe to invite different restaurants each week to feature their products" at 51 Main.
Local restaurants could actually benefit from the college's serving food at the site, Freidin says, citing possible "spill-over" of diners unable to get a table at 51 Main. And if the college is going to open a bar, she adds, "I'd rather have it be downtown than on campus."
Students 21 and older are already able to buy beer and wine at The Grille, a popular lounge located in McCullough Hall. This casual on-campus food-and-games venue is also open to outsiders - an arrangement that rankles some local restaurant proprietors.
Among them is Dale Goddard, a Middlebury College alumnus and owner of the landmark Fire & Ice restaurant and pub. The Grille, which opened in 1998, probably draws off some customers who would otherwise patronize Fire & Ice, Goddard says. "I don't really understand the reasoning" behind the college's foray downtown, he remarks, adding, "Anybody who serves food and drink will be a competitor to us."
John Melanson, owner of Carol's Hungry Mind coffee house around the corner from 51 Main, also sees the college-leased space as a potential threat. "If they open their doors to the public and they allow seating there, they're going to hurt me," Melanson warns.
Middlebury College appears to be heading into largely uncharted terrain. Spears says that, as far as he knows, only Colgate University has done something similar to what Middlebury is contemplating.
Colgate, located in Hamilton, N.Y., helped renovate an entire downtown block in 2002. The Palace Theater underwent a $1.5 million makeover as part of the initiative. The three-story building hosts live performances and includes a 3200-square-foot dance floor, as well as a snack bar and juice bar. No alcohol is served at the venue, says university spokesman Charles Melichar.
The Palace has been the site of two brawls, however, as well as an incident in which a gun was fired in the theater. Those affrays resulted in a change of policy that limits attendance at many Palace events to Colgate students, staff and alumni.
The university also operates The Barge Canal Coffee House in downtown Hamilton, but it does not directly compete with any privately owned business, Melichar says.
Gurard-Levin says he hopes 51 Main will open on at least a limited basis before students leave for winter break in early December. The college signed a six-month lease for the space in September at a rental fee officials decline to disclose. Freidin notes, however, that rents for downtown retail sites range between $12 and $17 per square foot, which suggests that the college may be paying somewhere around $4000 a month for the space.